Amid Hurdles, Angelique Kerber Looks to Shine in New York

NEW HAVEN, Conn. – The tennis world was first introduced to Angelique Kerber in 2011 when the then-92nd ranked player in the world put together a stunning run to the semifinals of the U. S. Open.
The German upset top-30 players Agnieszka Radwanska and Flavia Pennetta along the way before falling to eventual champion Samantha Stosur in a three-set battle on Louis Armstrong Stadium. As a result, she rose nearly sixty places in the world rankings. It's hard to say how much a defining result can change the course of a player's career, but ahead of the New Haven Open at Yale this week, Kerber was incredibly candid about what that run did for her.
"Two years ago, when I reached the semis, I was like 92 or something in the rankings," the world No. 10 said on Sunday at the WTA's All-Access Hour in New Haven. "After that, I just … had a lot more confidence and started to practice harder, because I start to believe that I can beat the top players. Now I'm one of them."
Off the back of her run in Flushing, Kerber's 2012 season was a revelation. She started the year outside the top 30, but after her first two career titles, a Wimbledon semifinal and an appearance at the WTA Tour Championships, she finished the year ranked world No. 5.
Her 2013, however, has been decidedly mixed. A back injury during the early part of the year hampered her greatly, forced her to skip the first round of Fed Cup and led to some early round defeats for the ultra-consistent lefty. She also withdrew from Rome prior to Roland Garros with an abdominal injury.
"I think the most important thing for me right now is to be healthy, because I had a lot of injuries this year," Kerber said in regards to her season. "Right now, I'm feeling good and looking forward to being here."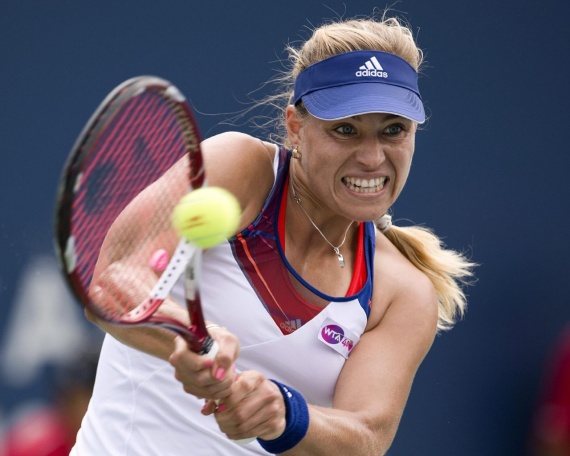 With a stop and start beginning to her year, Kerber is looking to peak at just the right time. "It's different," she said, when talking about if she needs to play herself into form. "I mean, right now I think I need a lot of matches because I had the injuries in the beginning of the year. I decided to have more matches for the Open, also more confidence and to see how my body is feeling … I think that was a good decision."
As the wise Gretchen Weiners – a character from the movie Mean Girls – once said, "You wouldn't buy a skirt without asking your friends first if it looks good on you." For Kerber, she also sought the advice of a good friend when deciding to add New Haven to her schedule as her fourth event in this year's edition of the US Open Series.
"I talked to Caroline [Wozniacki]. She won here a lot of times," Kerber said, laughing. "She told me it's great. It's not so far [from New York] and you can have a great preparation here. I talked to her most and she told me it's a great place. That's why I also decided to come here."
Kerber, who has never reached a Grand Slam final, bested countrywoman Sabine Lisicki in the quarterfinals at Wimbledon one year ago. Kerber said seeing Lisicki go one step further this year as the first German woman to make a major final since Steffi Graf did so at Wimbledon in 1999, could only mean good things for the sport back at home.
"For German tennis, it means a lot," Kerber continued. "After Steffi Graf and Boris Becker, we now have a lot of great German players and of course, after this final, the tennis in Germany is getting better and growing more and more."
For Kerber herself, seeing her countrywoman come so close to one of the biggest titles in the sport has only spurred her on.
"Of course, that final gives me more motivation," she admitted. "It shows that you can beat everybody and that's also why I'm trying to work harder right now."