Americans Dominate at Stanford Finals
Madison Keys d. Coco Vandeweghe 76(4) 64
Under clear blue skies, Coco Vandeweghe took the court to face fellow American Madison Keys. Earlier in the week, Keys had an injury scare during doubles with partner Jennifer Brady resulting in a walk-over giving the victory to doubles finalists Alize Cornet (FR) and her partner Alicja Rosolska (POL). While Coco Vandeweghe did not drop a set in the singles draw all week. On Sunday, that would change.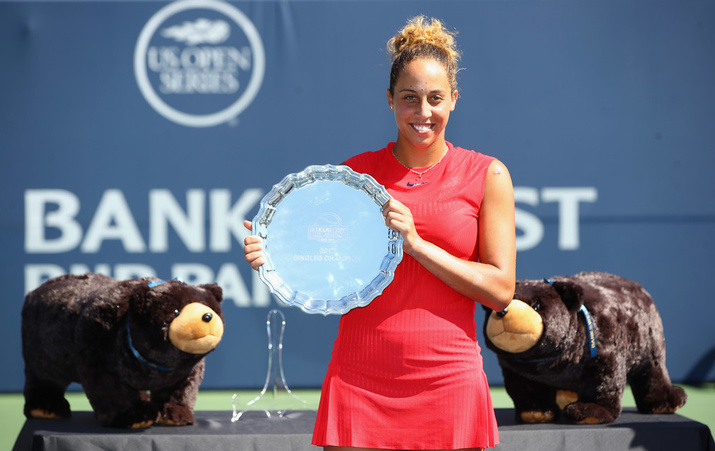 Singles final-Set 1
This first set was extremely tight. Both players delivered strong service and return games. Many serves were in the 114-117 mph range. Despite the pressure of deuce and ad-points, neither Coco nor Madison would yield. A tie-break ensued and the pressure was on. With Keys on serve, she captured the 1st point and Vandeweghe followed suit. Finally, Vandeweghe blinked and Keys was given an opportunity up 4-2. She would grab hold and not let go despite a strong challenge taking the tie-break 7-4, and the set.
Second Set Pressure
A seemingly undeterred Vandeweghe opened the 2nd set with a strong service game allowing Keys only one point. And the exchange of service holds began again. Rallies were mostly baseline with some exciting overhead smashes thrown in when possible. In game 6, with Madison on service, Coco had and let go of a break opportunity missing a textbook overhead that would have brought forth a deuce point. Instead, it was another Keys hold. Vandeweghe responded by "bouncing" her racquet. She delivered another 114-mph ace to hold again but Keys stepped up with a love hold score to level at 4-4.
With the pressure mounting on Coco, she would produce an unusual double-fault and an 8-point service game and she hit the final point long and was broken. She hung her head as Keys served for the match at 5-4 while Vandeweghe looked for ways to stay in the match but was also playing "safe" tennis. Keys produced a love hold and captured her 1st Stanford title and her first in 2017. This achievement was a crowning moment in a year of recovery from wrist surgery.
During her on-court speech, Keys remarked on the challenges and difficulties for her and her team and that the Stanford victory was a meaningful milestone. Keys went on to wish fellow American Vandeweghe luck in the doubles match to follow.
Spears-Vandeweghe
Later, a recovered Coco Vandeweghe took Center Court again with 1st-time partner Abigail Spears (USA) at her side. Coco's demeanor seemed no worse for the wear as smiles and laughter were visible. I was pleased to see these expressions, as given her history, I wondered if she would let the singles loss ruin her chances for the double title. Across the net stood opponents Alize Cornet (FR) and Alicja Rosolska (POL). This team took out young American's Kayla Day and Caroline Dolhide to reach the final.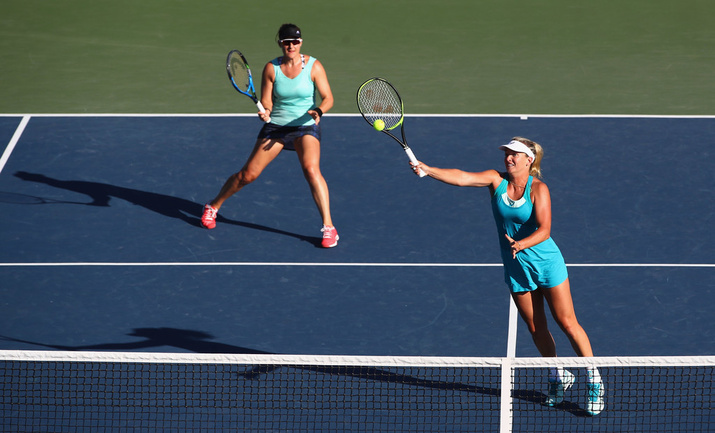 With both Coco and Abigail playing equally strong, they would quickly prove too much for their opponents. With a percentage of 1st serve points won of 84% and 2nd at 64%, breaks of serve were elusive. Vandeweghe-Spears took the 1st set 6-2 in short order.
The second set would follow a similar course with Cornet holding serve with a display of extra effort. In game 6 with Cornet in serve, a long string of points was played. Vandeweghe produced a winner at net showing mastery of "touch" pushing to deuce. The next ball would net giving the break to Spears-Vandeweghe. Coco would close easily holding serve to 6-3. She would thank Spears for pushing her to play doubles and that at least she was 1 of 2 for the day.
As I listened to Vandeweghe speak this sentiment, I recalled the Coco I witnessed at Stanford in 2016. There, during her Quarterfinal match against Alison Riske, she would first mentally implode and then physically fall and was forced to retire. As I watched her Sunday, I saw the growth in her mentality and ability to handle adversity and a let-down with a solid recovery. In that sense, I believe she won the most significant battle today, silencing the internal critic.
With solid results from the week at Stanford University, Keys, Vandeweghe and Spears are in prime position to build momentum for the final slam of 2017, the US Open.