All Things Come in Threes for Petra Kvitova

When Petra Kvitova stepped to the line to serve out the 2011 Wimbledon final against Maria Sharapova, the odds were that the Czech was a bundle of nerves.
If she was, she certainly didn't show it. Kvitova emphatically closed out the match, and her first Grand Slam title, with a hold at love punctuated with an ace down the center stripe. From that point, she announced herself to the tennis world and had a career year in 2011. She won the WTA Championships, was the WTA Player of the Year and the ITF World Champion, and stood a stone's throw away from the world No. 1 ranking.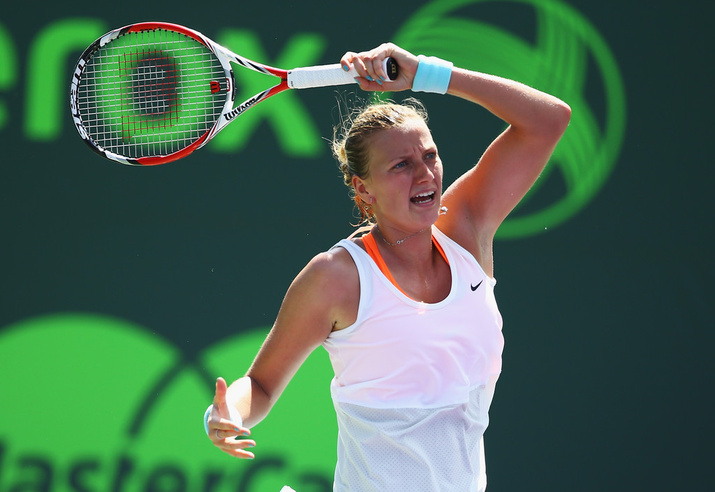 Since then, Kvitova's career has been anything but emphatic. Instead, she's been erratic and even enigmatic.
By any metric, Kvitova had a solid 2012 that featured two Grand Slam semifinals and two tournament titles on the North American hard courts, previously an Achilles heel for her. Plagued by the burden of expectation, or the law of averages, Kvitova has struggled since then to capture the form that took her to the top of the world. She's reached just one quarterfinal in five Grand Slams since the start of 2013 and lifted the trophy at just two tournaments.
While Kvitova's inconsistency has been her hallmark, it's given rise to another career-defining statistic. Momentum means little to her, whether it's from season to season, week to week, match to match, or even game to game. While the lefty has all the tools to easily work her way through most matches, her peaks and valleys often cause her to overcomplicate matters. Despite the question marks that often surround her fitness, Kvitova played 37 three-set matches in WTA events last year, won 25 of them, and set new modern-era records in the process. Dubbed "P3tra" not-so-ironically by fans, journalists, and even the WTA itself, Kvitova took the moniker and ran with it.
"I'm so up and down, so when I play well I'm winning, and when I'm down my opponent takes her chance," Kvitova said at the WTA Championships in Istanbul last season. "But I'm always trying to fight. So probably I will not play the same level, high level the whole match, and so that creates a three-set match."
Although she might not be leading the WTA in three-setters played in 2014 just yet, as #Aliz3 Cornet seems a worthy challenger to her iron-woman crown, #P3tra has had a resurgence this week in Madrid.
Leading by a set and serving for the match against Sorana Cirstea in the opening round, Kvitova dropped three straight games to lose the second set before clawing her way past the Romanian in a third-set tiebreak. Against Varvara Lepchenko in the second round, a player against whom she held a perfect 4-0 head-to-head record with the loss of just one set, Kvitova seemed primed for an easy day at the office on Tuesday. It was the American who took the first set 6-2, however, in nearly identical fashion to the match the pair played in Beijing near the end of 2013. However, Kvitova again pulled her game together and saw off Lepchenko 2-6 6-2 6-1 to advance to the third round and run her record in three-set matches to 6-2 this year.
Kvitova wasn't alone in having to battle in Madrid on Tuesday, when all but two matches on the Manolo Santana Court and 12 singles matches totalwent three sets. A meeting against countrywoman Lucie Safarova, one of the few players on tour who can match Kvitova for both power and head-scratching inconsistency, awaits her in the third round.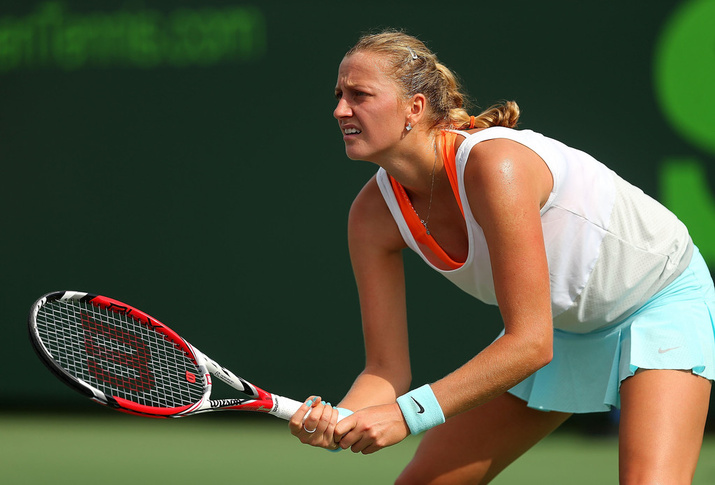 Against Safarova, Kvitova holds a 3-0 head-to-head record. While history is just that once two players step on court for a new match, it's often a good precursor for what to expect on a given day.
The last time the two played, which was earlier this year? They played three sets.