Alcaraz Is Fast Out Of The Gate At Roland Garros

On opening day on the red clay at Roland Garros, in a highly anticipated match on Court Philippe Chatrier, Carlos Alcaraz, the 19-year-old Spanish sensation who is co-favorite (along with Nadal and Djokovic) to win the tournament, defeated 28-year-old Argentine lucky loser Juan Ignacio Londero 6-4, 6-2, 6-0.
It was the first meeting of Alcaraz, world No. 6, and Londero, world No. 141. The Argentine, though, has been ranked as high as No. 50 with most of his success on clay.
It was the first time for Carlos, who likes to be called Carlitos or Charlie, to play on the famous center court. He'd qualified into the main draw last year, but lost in the third round. Londero had played on Chatrier in 2019, when he lost to Nadal in the fourth round.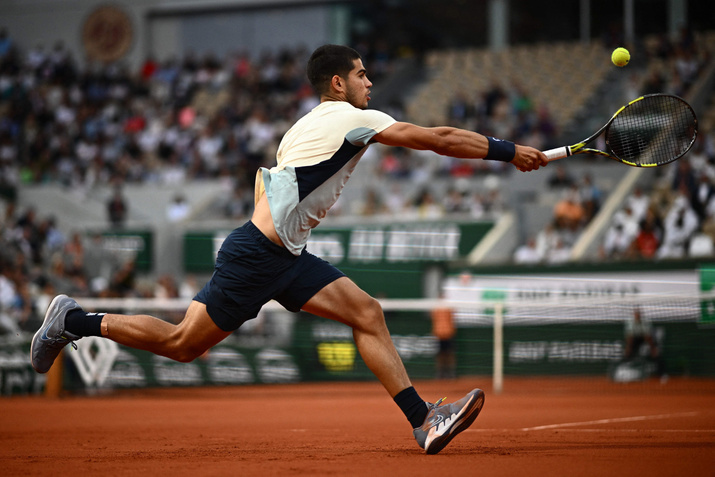 @getty images
Londero began by swinging freely, hitting with power and depth. He showed excellent feel with two outstanding forehand dropshots. He stayed level until Alcaraz broke at 5-4 with a blistering backhand cross return to take the first set.
In the second set, Alcaraz showed his beautifully disguised dropshot, as well as his crushing groundstrokes. He broke at 4-2 and held with a fantastic serve plus one, a piercing forehand down the line. Londero was still striking the ball aggressively, but he couldn't sustain that risk-taking level, and he started making errors.
In the third set, Alcaraz raced ahead with a 3-love lead and broke in a very long game with six deuces, when Londero finally missed a forehand swinging volley. Alcaraz then held with an ace and broke for the match when Londero double-faulted and missed a backhand crosscourt.
Afterward, the Spaniard said: "It was difficult at the beginning, but it's always special to play in such a great stadium, a great court. I'm really happy with the performance in my first match in Philippe Chatrier and hope to play more matches in this court."
Last year, when Alcaraz made his Roland Garros main draw debut, he was a qualifier who'd only been ranked in the Top 100 for one week.
He's now 29-3 with four ATP Tour titles. Here's how he's been making history in his record-setting season:
He's the youngest men's champion in the 20-year history of the Mutua Madrid Open.
He's the youngest player to beat both Novak Djokovic and Rafael Nadal and 1st at same event on clay (Madrid).
On 25 April, he became the youngest player to break into the Top 10 since Nadal, 18, on 25 April 2005.
He's the youngest and 2nd-youngest ATP 500 champion in 152-event series history (Rio de Janeiro, Barcelona).
He's the youngest men's champion and 1st Spanish men's champion in the 37-year history of the Miami Open.
He's the third-youngest ATP Masters 1000 champion since series started in 1990 (Miami).
He's the second-youngest player to win 2 ATP Masters 1000 titles in 286-event series history (Miami, Madrid).
He's the second-youngest men's semifinalist in 46-year history of BNP Paribas Open.
He's the youngest player to complete Sunshine Double of men's semifinals (Indian Wells, Miami).
On 21 February, he became the youngest player to break into the Top 20 since Andrei Medvedev, 18, in 1993.
Next up for Alcaraz is fellow Spaniard Albert Ramos Viñolas.