Across Three Continents: Houston, Casablanca, and Katowice

Ad-in: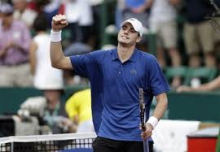 John Isner: Nobody knew more keenly than he did that his 7-8 record in 2013 fell well below the threshold of acceptability, so this week's triumph must have tasted especially sweet to him. Isner often produces startling ebbs and flows in his results, perhaps because he relies so much on one weapon (his serve), and this week offered a reminder of how quickly his momentum can swing. While he did not dominate the field, needing third sets to win three of his five matches, Isner recorded by far his best victory of the year over world No. 12 Nicolas Almagro to win the Houston title. Able to shorten points even on clay, he needed this achievement on American soil to boost his spirits before spending the next three months in Europe.
Tommy Robredo: A much more typical clay specialist than Isner, this Spaniard ground through the Casablanca draw for his first title in two years. Injuries have plagued the unassuming Robredo, once a member of the top ten, but he has returned to the top 50 at just the right moment as the ATP shifts to his best surface. The veteran won his title the hard way, too, defeating both of the top two seeds in Casablanca in tense three-setters that rewarded his experience. As players of this 30-year-old's age and older find increasing success on the Tour, he still may have time to rehabilitate a career that had sunk to the challenger level for most of last season.
Kevin Anderson: Like Isner, this former NCAA star hardly seems likely to excel on clay, a surface that usually exposes the awkward movement and uneven consistency of such giants. Also like Isner, he benefits from the extra time that clay offers him to set up his forehand and shield his less reliable backhand. Unlike Isner, though, Anderson had accumulated momentum throughout 2013 that he carried to his second final of the year in Casablanca. Denied there by Robredo as he was in Sydney by Tomic, he knocked off two seeded European opponents and continues to edge closer to the top 20.
Juan Monaco: Although he may have felt disappointed to lose the rematch of a Houston meeting last year with Isner, his three-set semifinal loss to the American this year marked the end of an encouraging week. Monaco had not tasted victory all season outside Davis Cup, where he somehow had won three of four matches, so he found himself in desperate straits on the eve of a clay season where his greatest opportunities arrive. Two straight-sets wins over Americans Tim Smyczek and Robby Ginepri provided him with reason to start trusting his game again. Depending on his draws, this Argentine could look back on Houston as a turning point in a few months.
Houston wildcards: Following usual practice for these small tournaments, Houston distributed its three wildcards among three rising Americans. While Steve Johnson could not survive his first match, the other two recipients thoroughly justified the tournament's decision. Especially impressive was the week produced by Rhyne Williams, a teenager with a blazing forehand and blazing temper to match. Williams channeled his emotions effectively in weathering consecutive three-set rollercoasters, evidence for his improved maturity. The more familiar Jack Sock rode his own imposing forehand to an opening victory and then a third-set tiebreak against Isner, the latter's sternest test of the tournament.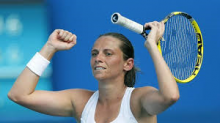 Katowice finalists: The marquee attraction in the Polish event's debut, Petra Kvitova became the only top-ten player on either Tour to enter a tournament this week. On the indoor clay that suits her relentlessly aggressive style, she reached her second final of the year but succumbed to the crafty Roberta Vinci. The second-seeded Italian veteran lost just nine games in her last three matches as she improved to a sparkling 7-1 in singles finals. Five of those seven titles have come on clay, her native surface, so one wonders whether she can emulate compatriots Francesca Schiavone and Sara Errani in unleashing a deep run at Roland Garros one year.
Deuce:
Men's top seeds: Both Nicolas Almagro and Stanislas Wawrinka had suffered painful setbacks earlier this season. Most notable were their five-set losses at the Australian Open to Novak Djokovic and David Ferrer, respectively, which came after each had held commanding early leads. This week offered an opportunity for Almagro and Wawrinka to gain some consolation, situated atop modest draws. Both men acquitted themselves well enough, reaching the final in Houston and a semifinal in Casablanca, but their 2013 trends of falling short at pivotal moments continue.
Katowice early rounds: The six seeds other than Kvitova and Vinci compiled two total victories among them in a collective implosion that threatened to embarrass the tournament. Such an avalanche of upsets happens more often at these small events than others, though, and the draw also featured plenty of suspenseful three-setters in its early rounds. Katowice attracted better crowds early in the week than many WTA tournaments of this level, a good sign for its future.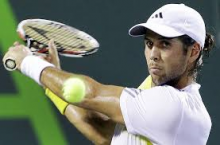 Fernando Verdasco: Finally winning a match for the first time since the Australian Open, the Spanish lefty fell immediately afterward to one of his compatriots. With significant quantities of points to defend during the clay season, he could slide swiftly down the rankings if he cannot string together more victories.
Ad-out: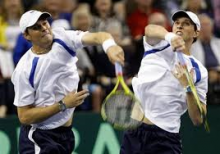 Bob and Mike Bryan: Perhaps still reeling from their epic Davis Cup loss, the twins could not convert a championship point in the Houston final and gifted their opponents an untimely double fault. While they eked out titles at the Australian Open and Indian Wells already this year, the Bryans have begun to show a few symptoms of decline by their lofty standards.
Jurgen Melzer: In his next event after reaching the Miami quarterfinals, he fell in straight sets to one of the men whom he defeated there, Tobias Kamke. Occasionally dangerous on clay, Melzer so far has not joined the group of veterans who have found age no barrier to showcasing their talents.
Ivo Karlovic: Struggling to win any matches at all this year, he managed to lose twice in one week at Houston. A former champion there, Karlovic lost in the final round of qualifying, gained entry to the main draw as a lucky loser when Sam Querrey withdrew, and promptly lost again in a third-set tiebreak. More lean weeks likely lie ahead on the clay, a test of the towering Croat's perseverance before his aces rain down on the grass.