15-Year-Old Marta Kostyuk Advances To Second Round at AO

One year ago, a 14-year-old Marta Kostyuk arrived in Melbourne for her first ever junior slam tournament and left it as the champion. Her return to Melbourne Park has proven even more successful, with three successive three set qualifying victories followed by a straight sets victory against 25th seed Shuai Peng in the main draw – driving her into the second round of her first ever senior tour level event.
Kostyuk's success is powered by a big serve, powerful groundstrokes off the ground and impressive athleticism. But the glue holding the Ukrainian's game together is her equal parts reflective and bombastic personality that provide a glimpse into life as an extroverted 15-year-old prodigy. In her own words:
On her feelings after her first slam main draw victory.
I cannot say that it's something, like, I don't feel like I did something incredible because the match was fast, and I was playing point by point. I cannot really say that I did something unusual. I feel like it's another match. It's very weird. And I just try to move on. I don't think like 'I'm in second round, oh my god! It's so good!' It's another match, another tournament and another experience. I cannot take it [to heart]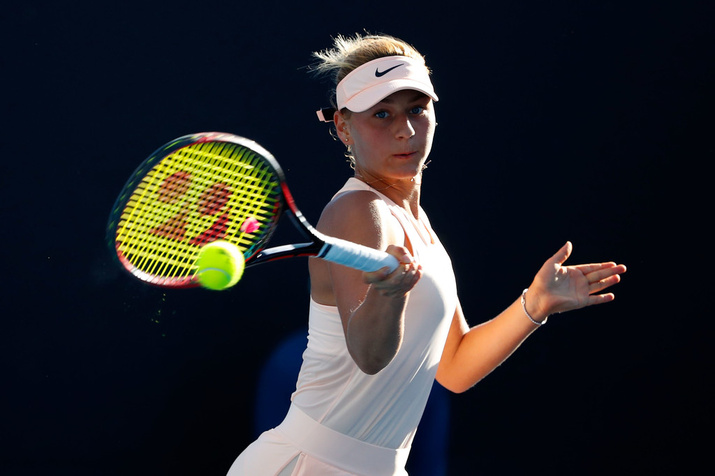 On guarding herself from the attention that comes with her success
It's a lot. A lot of people are texting me. I have to check every time if someone is writing me. I feel a bit, you know, when everything will pass it will be less attention. I'm trying to prepare myself that it will be different; it's not going to be [positive] like this all the time so I don't have to be upset, and it doesn't have to hurt me. I'm trying not to take these things [to heart] because if I will, then it will affect me in the future I will hurt myself in the future. If I lose my match here, like every player, I will get messages saying you are [expletive] because I lost. I just don't want to be hurt in the future. I'm just trying to do it in a line, because I'm a person who is up and down all the time: in life, on the court. These things I'm trying to control and to be like it has to be.
On her agent Ivan Ljubicic
Before I didn't really think about [the importance of signing with him]. When I signed a contract one and a half years ago, I still didn't understand how is it to work with such a person, to talk with his family. Only now, one month ago, practicing in Piatti tennis centre, I just realized how lucky I am to have him by my side - when he's coming to my matches was happy how. When he is saying a word to me, you can't imagine how I feel. I feel like "Ivan Ljubicic is talking to me". When he is saying this, I feel like I can beat everyone. And I start to only realize this now.
On his advice
Ivan gives me [advice] in social media and stuff. Nobody told me about all this attention. Because I think that they see that I'm not too much into this but if I say something, they will tell me 'Marta, calm down, concentrate on your tennis'
On whether she is known by senior players
I think that a lot of players know me, and they know me not only because of this tournament but because of other tournaments, like $25ks, Australian Open juniors last year. Not a lot of people are talking to me, but some of them, they know me. Sometimes they say hi, sometimes they don't. But conversations like "Hi, how are you?" No. Sometimes I start conversation first with someone in the locker room – doesn't matter which topic. I think a lot of people know me. I'm pretty sure… I hope! I don't want to take it personal [when they don't speak to me]. I don't want to take it [badly] at all. Because I'm just starting, and I have fifteen years more in my career, so I cannot do everything in once.
On whether she is prepared for the regular defeats that, unlike in juniors, are a constant on tour
My body feels like, here in Australia, in this tournament, I can do whatever I want. But two weeks ago, in a $25k, I lost in the first round. I learned from mistakes and I actually changed a lot here. In one week I managed to change so many things, like, you cannot imagine. I lost first round to Greek girl, and I was up, and I had set point. I did some mistakes in that moment, but after the match I was so upset, like: 'I don't want to go to Australia! I don't know what I'm going to do here, I will come, and I will lose in first round here in qualies! Why I'm coming here?' And then I was like 'calm down it's fine' [It was] one tournament before, and then you learn from mistakes and you do better.
On her toughest qualifying match
First match was the toughest because it was 38 degrees. There was one moment in second set, second game when I thought I will die. "I will die" because it was so hot, and rallies were so long and when I won that game, I switched next level and everything was quite easy until last game.
On the significance of her age
Every year I'm beating some records or something. It's just another record, so I just keep going. To celebrate everything I have achieved, it's just a bit weird [laughing]. I don't think about my age when I play. I have more opportunity because girls who are 25, 28 – they are coming to play against 15-year-old girl and they are becoming tight when I start to win. It's actually one of the good things. But I'm not thinking "I will come, I will win first game, and she will be frustrated, she will think "how can I lose to 15-year-old?'" When you play, you don't think about age. Especially because I'm playing against girls who are 20/15 years older than me. Age is nothing to me when I'm playing matches, and when people are saying 'you know, the girl you beat is ten years older than you.' So what? So what! When you play under 14, that period is different. But this, you have to adjust because everyone is different age and to be young is one of the advantages.
On whether she feels like her career is moving quickly
Now it still feels like it's going quickly, but because of the age eligibility rule it feels like this is my first pro slam and I feel like I don't know when I'm going to play my next slam. Because to get there, you need to have enough points. Because of this small amount of tournaments and wildcards, it's just getting tighter. But I'm just trying not to focus [on] it. Because when I'm coming on court and you're just thinking 'oh my god! I have to win now this match to rise my rankings because after that I'll have less tournaments'. You know? No, you just have to enjoy like I did here.
On her future plans for juniors
I will play only doubles in juniors [in Melbourne] because I don't want to play singles. It's enough, juniors. It's enough. It's too much. I was lucky and unlucky at the same time that I won first slam. Because next slams were horrible – I lost second rounds and it was amazing pressure. I know that a lot of people say that 'you have to deal with it and this, and that.' But it's still tough. When you come to pros, you're playing for money, you're playing for points, for this, for rankings. But in juniors it doesn't mean anything.
And only because I had to play this year, I played everything. But if I didn't have to, I'd say "i'm done with juniors and I don't want to play them anymore." Because it's really tough. Roland Garros? I came for the match. My motivation was very good and I was playing like I was playing practice match. Wimbledon was… Don't ask. [laughs] US Open was just… I knew before the match: 'Of course I'm going to lose. Of course. Why not? Another one!' It's just big pressure, a lot of energy and all for nothing, so I don't want to play.