Dunlop introduces iDapt, an innovation giving players the ability to build their dream racquet.
Choices. Everyone loves choices, especially when they are making a purchase.
"Whether it's mobile phones, skis, golf clubs, or any number of products on the market today, consumers have come to expect the ability to have direct input into what they use," said Kai Nitsche, V. P. and General Manager of Dunlop Sport Group Americas.
Following several years of product research and development, Dunlop has recently announced the release of the iDapt line of tennis racquets, a product that gives players the ability to individualize and adapt their frame based on their playing needs. The technology allows players to customize the headsize, look, feel and length of their racquet, a process that is revolutionary.
At first glance, curious shoppers are amazed when they see that their iDapt racquet begins as several components and requires assembly. And herein lies the beauty of the racquet: iDapt allows players to make several individual choices to suit their game, including: racquet head; the look of the racquet; feel (via Shock Sleeve); racquet length; and, gripsize.
"Tennis has become so performance oriented, and every player is different. With iDapt, players finally have a say in not only how their racquet performs and feels, but even how it looks," said Hunter Hines, Director of Marketing and Product Development. "iDapt technology gives players hundreds of choices to have a frame made to best fit the way they play. It's all about giving players the ability to truly choose their best fit."
Beginning August 15, 2014, the iDapt range will be available in select stores across the US where each racquet is built immediately by a certified dealer.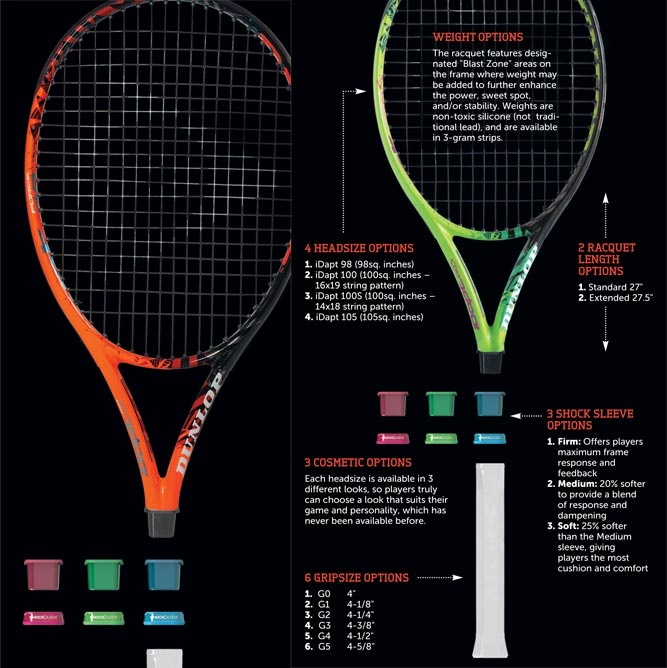 All components fit each iDapt racquet head universally, so if a player wants to make a change to their racquet in the future, like a different feel, grip size, or handle length, any part can be interchanged quickly and easily. Also, replacing one component of a racquet, rather than an entire racquet, is economical and can be handled by any iDapt certified racquet shop.
This uniqueness has created excitement and intrigue among players looking for a perfect racquet. And when athletes take iDapt to the court for the ultimate test, Dunlop is applauded further for creating a high-performance racquet with unparalleled power, control and feel.
"Dunlop is a brand with a tremendous history of innovation," said Nitsche. "With iDapt, we are giving players of all levels access to individualized technology that has historically been available to an elite few. We are proud to be the brand leading this product breakthrough into tennis."
In this competitive market, responding to consumer needs is smart business. iDapt gives recreational tennis players choices that result in the purchase of a true customized racquet, a product representing magnificent foresight by Dunlop. Now that's brilliant business.
Visit dunlopidapt.com to build your own racquet and to find an iDapt dealer in your area.
PATENTED IDAPT RACQUET FEATURES *initial range
4 Headsize Options
iDapt

98

(

98

sq. inches)
iDapt

100

(

100

sq. inches –

16

x

19

string pattern)
iDapt

100

S (

100

sq. inches –

14

x

18

string pattern)
iDapt

105

(

105

sq. inches)
3 Cosmetic Options
Each headsize is available in 3 different looks, so players truly can choose a look that suits their game and personality, which has never been available before.
3 Shock Sleeve Options
Firm: Offers players maximum frame response and feedback
Medium:

20

% softer to provide a blend of response and dampening
Soft:

25

% softer than the Medium sleeve, giving players the most cushion and comfort
2 Racquet Length Options
Standard

27

"
Extended

27.5

"
6 Gripsize Options
G

0

4

"
G

1

4

-1

/

8

"
G

2

4

-1

/

4

"
G

3

4

-3

/

8

"
G

4

4

-1

/

2

"
G

5

4

-5

/

8

"
Weight Options
The racquet features designated "Blast Zone" areas on the frame where weight may be added to further enhance the power, sweet spot, and/or stability. Weights are non-toxic silicone (not traditional lead), and are available in 3-gram strips.