Taylor Fritz To Open Upcoming World Team Tennis Season With San Diego Aviators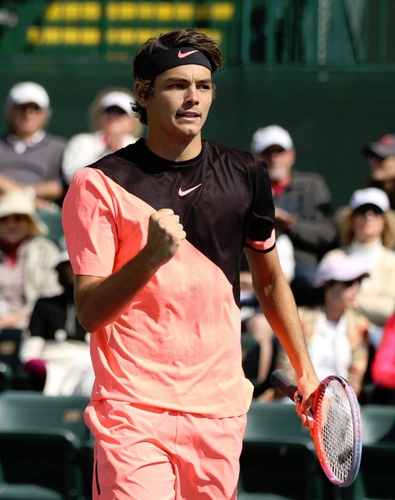 CARLSBAD, Calif. – (May 9, 2018) – Taylor Fritz, one of the up-and-coming stars on the ATP World Tour, has signed with the San Diego Aviators to play their first two home matches of the upcoming World TeamTennis season, which will be played this summer from July 15 through August 2 at the Omni La Costa Resort & Spa.
Fritz, a 20-year-old native of nearby Rancho Santa Fe, Calif., will play the Aviators home opener on Sunday, July 15 against the Springfield Lasers and the following night on Monday, July 16 against the visiting Philadelphia Freedoms.
"I'm very excited to open the season with the San Diego Aviators and looking forward to playing World TeamTennis at La Costa this summer," said Fritz, who currently lives in Palos Verdes, Calif. "I've always enjoyed competing in the team format in WTT and the atmosphere with the fans makes it even more special. It's going to feel great to play close to where I grew up and I hope fans will come out and support the home team."
In addition to Fritz, the Aviators 2018 roster will include Naomi Broady and Marcus Willis from Great Britain, along with doubles specialists Anna-Lena Groenefeld of Germany and Marcin Matkowski of Poland. This season will mark the second time Fritz will represent the Aviators in World TeamTennis after having played for San Diego during the 2015 WTT campaign.
In 2016, at the age of 18, Fritz advanced to his first career ATP World Tour final in Memphis as a wild card in only his third tour-level event. He was the youngest American to reach an ATP World Tour final since 17-year-old Michael Chang accomplished the feat in 1989. Fritz achieved a career-high No. 53 in the ATP World Tour singles rankings in 2016 and is currently ranked No. 68 in the world (as of 5/7/18).
Before turning professional in 2015, Fritz captured the CIF San Diego Section boys' singles title in 2013 while playing for Torrey Pines High School.
"We are delighted to have Taylor Fritz join us for our first two matches," said Aviators Coach John Lloyd, who returns for his fourth straight year at the helm. "He's going to bring a lot of energy and excitement in helping us to get our season off to a strong start."
The San Diego Aviators will play the following seven home matches this summer at the Omni La Costa Resort & Spa in Carlsbad.
Sunday, July 15 San Diego Aviators vs. Springfield Lasers 6 p. m.
Monday, July 16 San Diego Aviators vs. Philadelphia Freedoms 7 p. m.
Monday, July 23 San Diego Aviators vs. Orange County Breakers 7 p. m.
Saturday, July 28 San Diego Aviators vs. Orange County Breakers 7 p. m.
Monday, July 30 San Diego Aviators vs. New York Empire 7 p. m.
Wednesday, Aug. 1 San Diego Aviators vs. Washington Kastles 7 p. m.
Thursday, Aug. 2 San Diego Aviators vs. Springfield Lasers 7 p. m.

For the San Diego Aviators complete schedule, go to: http://www. sandiegoaviators.com/schedule
For ticket information, go to: http://www. sandiegoaviators.com/pages/ticket-options
About the San Diego Aviators: Owned by local residents Fred Luddy and Jack McGrory, the Aviators return for their fifth World TeamTennis season. For the fourth consecutive year, they will make their home on Center Court at the Omni La Costa Resort & Spa in Carlsbad, Calif. In 2016, the Aviators captured their first WTT championship as they defeated the Orange County Breakers 25-14 in the WTT Finals at the historic Forest Hills Stadium at The West Side Tennis Club in Forest Hill, N. Y.
After finishing the 2017 WTT regular season with a 9-5 record, the Aviators, who split f our regular-season meetings with the Orange County Breakers, advanced to the WTT Finals for the second straight year. They fell to their Southern California rival 22-18 last August before a capacity crowd at the Omni La Costa Resort & Spa. For additional information on the San Diego Aviators, visit www. sandiegoaviators. com.   

About World TeamTennis: World TeamTennis (WTT) showcases the best in professional tennis with the innovative team format co-founded by Billie Jean King in the 1970s. Recognized as the leader in professional team tennis competition, WTT features many of the world's best players competing annually for the King Trophy, the league's championship trophy named after King. In July 2015, WTT became the fifth major professional team sports league in the U. S. to reach the 40th season milestone. In 2017, team owners Mark Ein and Fred Luddy acquired majority ownership of the organization. The 43rd season of WTT presented by GEICO begins July 15 and concludes with the WTT Finals on August 5. On the recreational side of the sport, WTT Community Tennis operates team leagues and events, providing grassroots programming throughout the year. For more information, visit www.WTT.com.