Laver Cup Quotes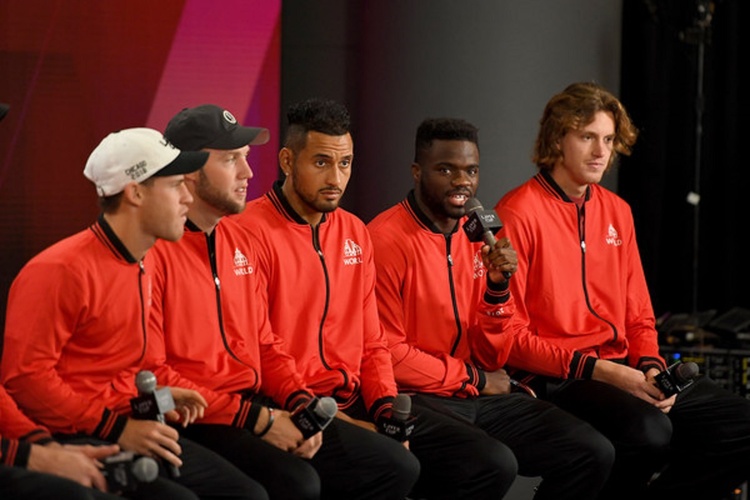 Karen Helf, who is covering Laver Cup for Tennis View, pulled a couple interesting quotes from press conferences:
KH: A question for Nick, going back to this being a serious competition, what's your strategy to keep your eyes on the prize and your feet off the basketball court until at least Monday?
NICK KYRGIOS: You know, this event is not about myself. It's actually quite easy for me to go out there and compete. Last year was heartbreaking. I don't really shed tears much, but as soon as I lost last year, it's the first thing that happened.
I'm going to do everything I can, and if someone needs me to be out there while they are practicing, picking up balls, anything like that, I'll be doing that. I will do everything for the team this week, so it's not hard for me at all.
Patrick McEnroe on being Team World Vice Captain with big brother John
VICE-CAPTAIN PATRICK McENROE: He's the captain and I'm the vice-captain. That tells you who gets the final say (laughter). Just like in our household growing up. He's the older brother; I'm the younger brother.
A funny Jack Sock when asked about playing Novak & Roger in doubles:
KH. A question for Jack. What do you make of playing Roger and Novak in the doubles? JACK SOCK: Who's that? (Laughter.)
And Sock reflects on 2017 vs Nadal-Federer:
Yeah, obviously going to be a legendary team. We got a little bit of it last year. Obviously, Novak wasn't there, but got to play Roger and Rafa last year, which is an epic matchup for their side. Sam and I had chances.