Istomin Wins Chengdu Championship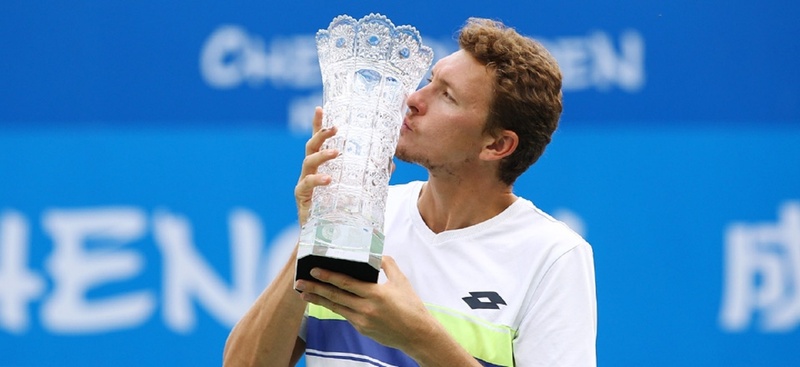 Denis Istomin defeated Marcos Baghdatis, who was forced to retire at 3-2.
- Denis Istomin won his second ATP World Tour title, prevailing in Chengdu.
- The 31 year old claimed victory when Marcos Baghdatis retired due to a back injury in the first set.
- The 10th player outside the Top 50 to win an ATP World Tour title this year, Istomin is projected to rise to No. 53 in the Emirates ATP Rankings.
- Baghdatis, meanwhile, was appearing in his 14th tour-level final and despite the retirement, the Cypriot will return to the Top 100 of the Emirates ATP Rankings.
- Jonathan Erlich and Aisam-Ul-Haq Qureshi tasted victory for the first time as a team.
- Individually, 40-year-old Erlich hoisted his 19th tour-level doubles trophy and first since emerging victorious in Shenzhen 2015 (w/Fleming).
- At the age of 37, Qureshi is enjoying a banner campaign with his fifth title of the season and 16th in total. All five titles have come with different partners, having prevailed with Marcin Matkowski in Auckland, Florin Mergea in Barcelona, Robert Lindstedt in Antalya and Rajeev Ram in Newport.
WHAT THE PLAYERS SAID
Istomin
"I know his situation, because I've had a lot of injuries. I know the feeling and we are good friends, so my first thought was to help Marcos when I saw him go down. Of course I want to win the title, but not this way. I hope he gets better and will be okay for the rest of the season."
Baghdatis
"I was feeling a bit of pain in my back during the week, but late after my match last night I felt some spasms. This morning I woke up a bit the same. After my warmup, it got worse… It's a bit disappointing to finish this way, but it's true that it's always positive to be in the final of a tournament. I have to thank all the people that made this event possible. They do a great job here. I love this place and I'll hope to come next year too."
Erlich
"We came here with really good energy. Both of us were really excited to play together and gave a lot of confidence to each other on the court. We executed really well this week. I said to Aisam that this was one of the best matches he's played and we've played against each other many times. It was a really high level today. I trust him 100 per cent on the court and when you trust your partner, you're taking two steps forward already. I'm happy we played four matches like that."
Qureshi
"This week is very special. When I came here, I was on one leg and I had an MRI and wasn't sure if I would even play. I signed up with Jon five minutes before the deadline. He was still in Israel. He took the risk and flew all the way here on Sunday. Thanks to him for trusting in me. I just focused on being the best partner I can be. He showed why he's won Wimbledon before and been Top 5 and won 19 titles. Everything he touched was a winner. He took over."