Irvine's Gage Brymer Wins Eighth Consecutive ITF Match in Advancing to Semifinals at SoCal Pro Circuit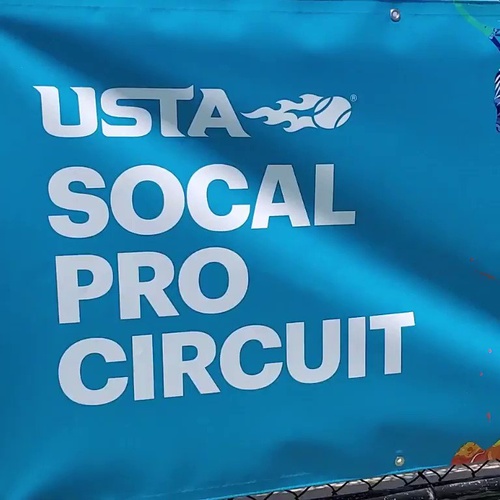 RANCHO SANTA FE, Calif. – Gage Brymer's winning streak continued as the Irvine resident won again Friday at the SoCal Pro Circuit ITF-level Rancho Santa Fe Open, a $15,000  Futures event taking place at the Rancho Santa Fe Tennis Club.
It was the eighth consecutive ITF win for the No. 2-seeded Brymer, who defeated qualifier Lucas Gomez of Tijuana, Mexico, 7-5, 7-6 (5) in the quarterfinals. He advances to Saturday's semifinals where he will face another qualifier in Minnesota high school senior Bjorn Swenson, who is headed to play at the University of Michigan in the fall.
What's even more impressive is that Brymer has yet to drop a set during his run, winning 16 consecutive sets.
The 27-year-old Brymer's 2022 grind on the ITF World Tennis Tour has been nothing short of miraculous as he has been all over the globe chasing his pro tennis dreams. During the past 19 weeks of 2022, from Jan. 17 to present, Brymer has played 18 tournaments, including the past seven weeks in Monastir, Tunisia, where Brymer pulled out his third career ITF Pro Circuit title with five wins in the final tournament before heading back to the comfortable confines of Southern California.
Brymer has gone 24-15 through his 18 tournaments in 2022. He started the year with five events in Cancun, Mexico, then traveled to the Dominican Republic, Monterrey, Mexico, followed by California stops in Bakersfield and Calabasas, Ecuador, and the seven tournaments in Tunisia.
Last week's NCAA Division I men's national singles finalist August Holmgren, of the University of San Diego and Denmark, advanced to the semifinals in overcoming a scare from 18-year-old Rancho Santa Fe resident and high school junior Hudson Rivera. Holmgren came back to win 5-7, 7-5, 6-4. He will next face No. 3 seed Duarte Vale on Saturday at 10 a. m.
Holmgren will do double duty on Saturday as he has advanced to the doubles final along with partner Alexander Cozbinov of Moldova, a small Eastern European country that sits between bordering countries Ukraine and Romania. The pair beat Rancho Santa Fe's Jacob Brumm and his ex-Baylor teammate, Tadeas Paroulek, in straight sets. Holmgren and Cozbinov will meet Abraham Asaba of Ghana and former Virginia Tech Hokie Mitchell Harper in a championship match to start not before 1 p. m.
Just like Holmgren on the USD men's team, Solymar Colling is also the No. 1 player on the USD women's team. The Orange, Calif. native Colling fell in her singles quarterfinal on Friday but did advance to Saturday's doubles finals with 18-year-old Claudia De Las Heras Armenteras of Spain. The duo will meet unseeded Russian duo Maria Kozyreva and Veronica Miroshnichenko, formerly of Loyola Marymount University by way of Moscow, in a match scheduled not before 1 p. m.
It will be an international affair in the women's singles semifinals as all four players hail from countries outside of the U. S. In a 10 a. m. finalfour matchup, Ya Yi Yang of Taipei will play No. 4 Kozyreva. In a match to follow the first men's semis, Bunyawi Thamchaiwat of Thailand will take on No. 2 Talia Gibson of Australia in the other semifinal.
Weekend semifinals and finals matches will be live-streamed and commentating done by Cracked Racquets podcaster Alex Gruskin. To view the live stream, go to: https://www. youtube.com/watch?v=ZIw2WDL4BsY
The first three weeks of the SoCal Pro Circuit are held in San Diego County – this week at Rancho Santa Fe Tennis Club, June 6-12 at the University of San Diego and June 13-19 at Barnes Tennis Center in San Diego. Each tournament features men's and women's main draws of 32 singles players and 16 doubles teams. Each tournament is open to the public, with free admission.
Following its San Diego County swing, the SoCal Pro Circuit resumes June 27-July 3 at Jack Kramer Club in Rolling Hills Estates before moving onto Los Caballeros Sports Village in Fountain Valley July 4-10 and concluding July 11-17 at Lakewood Tennis Center in Lakewood.