Hingis, Chan Take US Open Doubles Title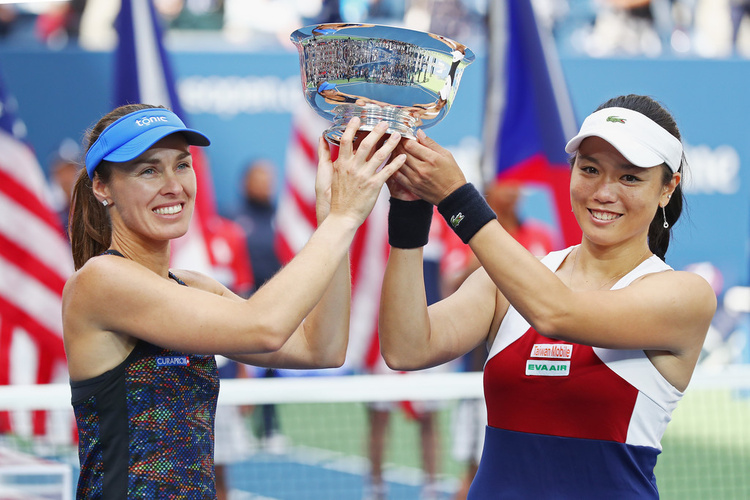 Doubles – Final
[2] Y. Chan/Hingis (TPE/SUI) d [7] Hradecka/Siniakova (CZE/CZE) 6-3 6-2
- Chan and Hingis win their first Grand Slam title as a team. They have now won seven WTA tournaments together – on all three surfaces – having previously triumphed this year at Indian Wells, Madrid, Rome, Mallorca, Eastbourne and Cincinnati.
- Chan and Hingis are the third team to win the title without dropping a set in the past decade (also Black/Huber in 2008 and Hingis/Mirza in 2015).
- Hingis sits first among active players for WTA doubles titles, with 62 – two ahead of Black (60). Navratilova leads the all-time list with 177. Thirteen of Hingis's 62 titles have come at Grand Slams (three at the US Open).
- Hingis becomes the thirteenth player in the Open Era to win three US Open doubles titles (also 1998 and 2015). The others to have achieved the feat are Court, Stove, Casals, King, Navratilova, Shriver, Fernández, Zvereva, Novotna, Raymond, Ruano Pascual and Suárez.
- Chan wins her first Grand Slam, having previously been runner-up at 2007 US Open (w/Chuang), 2007 Australian Open (w/Chuang) and 2015 Australian Open (w/J.Zheng).
- Hingis and Chan are projected to rise to No.2 and No.3, respectively, in the new rankings.
- Hingis also won the mixed doubles (w/Murray) on Saturday. This is the second time in the past three years she has won both titles, having also done so in 2015 (w/Mirza and Paes).