Halep: Post Match Press Conference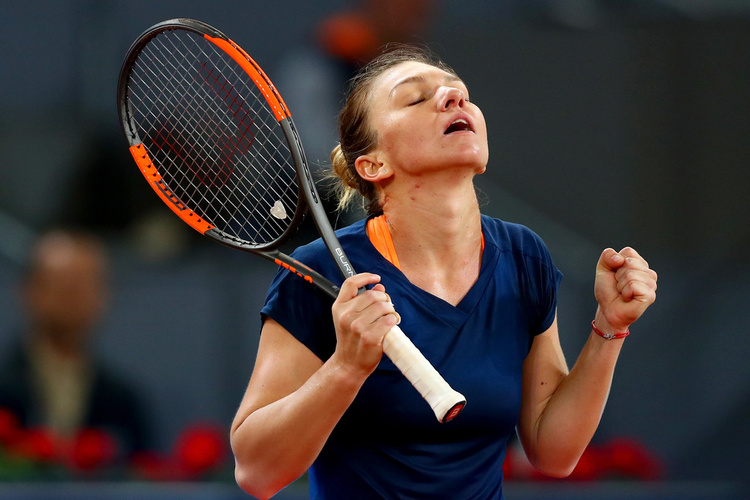 Q. Another Madrid final. Describe how you're feeling at this moment.
SIMONA HALEP: It's a very nice feeling. I heard that I am the first player who does three finals here this tournament. It's nice to hear that.
Yeah, it's nice. I mean, I cannot say that I expected this because it was a very tough beginning of the year. So I'm really proud that I could manage all the situations, all the emotions.
I'm here in the final.
Q. It looked like quite a nervous start for you. Do you want to walk us through that first game.
SIMONA HALEP: I was very nervous today. I don't know why. Maybe because I played semis again and I really wanted to be in the finals.
She's a very tough opponent, very difficult to play against her. I knew that. Maybe that's why I was a little bit nervous.
I just, yeah, don't know. I couldn't breathe too easy. I was tired all match. But now I feel good because I played doubles and I relaxed my body. So I feel good.
I don't want to remember the feeling that I had in the court. But now it's everything okay.
Q. The scoreline looked easy, but the second set was a difficult one.
SIMONA HALEP: (Smiling).
Q. Can you talk about that a little bit. It looked like you were getting frustrated.
SIMONA HALEP: You really want me to talk about it (smiling)?
I think I changed the game when the second set started. For three games I started to hit stronger and flatter. I couldn't win because she's pretty good at that level.
Then I had on-court coaching, which helped me a lot. Darren opened my mind, to say this. I just started to throw the ball a little bit higher, to calm down, because I needed some air after those three games. Was easier.
I mean, in the end, after 4-3, was not easy, the last two games. But still I felt that I can finish in two sets.
It was tough. I mean, she played really well. Her backhand was very strong today. I didn't expect that.
Yeah, I just tried to change something after 3-0, and it worked very well.
Q. Obviously at the beginning of the clay season you said you wanted to take it tournament by tournament. Some of us said you could have a really good week in Stuttgart, here in Madrid. You said, I want to see how it goes, I don't want to put any pressure on myself. Do you think that's one of the main reasons why this week has gone as well as it has gone for you?
SIMONA HALEP: Yeah, I think so. I never thought about the title that I have here and a lot of points. Anyway, before the tournament I was 8. Didn't matter that much.
I was relaxed. I didn't have pressure, like you said. Still I have the same feeling now. I'm not thinking about results in the next tournaments. I just want to keep the attitude very well on court, to keep my game, and to be able to think what I'm doing on court. Just to play without thoughts, feel the ball, but feel also the game and the opponent.
Q. You are the best Romanian tennis player. We've seen in the stands a few Romanian people supporting you. Ilie Nastase and Nadia Comaneci.
SIMONA HALEP: And Ion Tiriac. That's more difficult. I have to win every point (laughter).
Q. How do you feel with Nastase here in Caja Magica?
SIMONA HALEP: I feel always good when Ilie is watching my matches. I had him like a captain. Was really nice. He is very relaxed and always talking nice to me.
He was supporting me all the time. So it's nice to see them. Also Nadia, she was also here last year. It's nice to have these big people next to me. I hope tomorrow I can do my best.
Q. This tournament seems to suit better the powerful players with a really good serve. But here you are, your third final.
SIMONA HALEP: What do you mean, I don't have powerful serve (smiling)?
Q. I didn't mean that at all. But what I want to say is this looks like the tournament like you won't do so well, and you're doing it. How do you feel especially on court? Is it comfortable for you? Do you feel at home? What makes you play so good here?
SIMONA HALEP: Yeah, many times I said that I feel like home here. Also the crowd is supporting me all the time. The courts fit me. I mean, I feel every ball. I feel that the altitude is helping me also. I don't need that much power, that's why maybe.
I feel that I move well. The clay is very good. Everything is nice. I have so many Romanians next to me, even in the lounges and the restaurant, everywhere. People that are doing the courts are all Romanian. That's why I feel like home actually.
It's nice. I want to keep doing this in Madrid.
Q. Considering the result made by Kerber and Pliskova here, do you think this final will put more pressure on you for the next tournament, for example, Roland Garros, where you can be considered like a favorite?
SIMONA HALEP: It's far to think about being one of the favorites to win a Grand Slam because Grand Slam is different a little bit. It's tough.
But I'm not thinking about that. I'm just thinking that I have my chance if here I play final. It means I'm able to play also final in Grand Slams.
But still I didn't do many times. Just once. So I'll try my best. In the French Open, I'll try to win every match.
But I'm not thinking about the titles, just relaxing myself.
Q. Obviously you don't know who you're going to play tomorrow. Two different players in Sveta and Kiki. Talk about each one of them, what you expect if you play them.
SIMONA HALEP: Doesn't matter against who I will play, both of them are very strong. This year they are playing very well. They have confidence. They have good game for the clay. It's going to be very tough one, very big battle.
But I will be there. I will try to run. I will try to be focused. I don't want to be nervous again, so I will work on that.
I don't expect anything. I just want to go there and to do my game because if I do my game, I have a big chance to win.
Q. Have you spoken to Mr. Tiriac during the tournament? Has he said any congratulations or anything?
SIMONA HALEP: It's tough to receive congratulations from Mr. Tiriac (smiling).
Yeah, I talked every day. Yeah, he's supporting me. He's Romanian. He's next to me always. Yeah, I stop (smiling).