Goffin Wins Back-To-Back Titles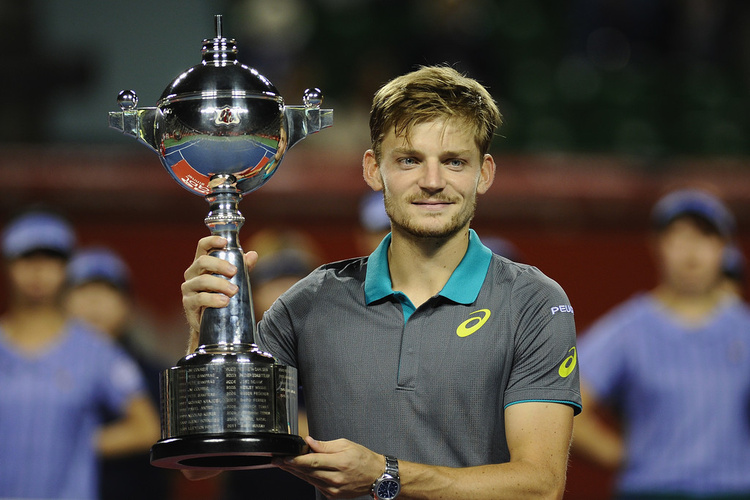 David Goffin defeated Adrian Mannarino 6-3, 7-5 to win the Rakuten Japan Open.
- David Goffin captured his first ATP World Tour 500 title in Tokyo, adding to the ATP World Tour title he won last week at the Shenzhen Open (d. Dolgopolov).
- Having started the week at No. 13 in the Emirates ATP Race To London, Goffin added a further 200 points on Sunday to move up one spot to No. 8 ahead of Spaniard Pablo Carreno Busta in the battle to qualify for the Nitto ATP Finals, to be held at The O2 in London from 12-19 November.
- The Belgian won his fourth ATP World Tour title (4-6 overall in finals). Last year, Goffin had finished as runner-up to Australia's Nick Kyrgios in the Tokyo title match.
- The 29-year-old Mannarino, who is now 0-4 in ATP World Tour finals, recorded the biggest victory of his career in the Tokyo semi-finals on Saturday by beating top-seeded Croatian Marin Cilic.
- The Frenchman is now 28-23 on the season, which also includes a runner-up finish at the Antalya Open (l. to Sugita).
- Ben Mclachlan and Yasutaka Uchiyama had the Ariake Colosseum rocking when they won their first ATP World Tour doubles team title and became the first all-Japanese titlists in Tokyo for 12 years. Her Imperial Highness Princess Mako of Japan watched the historic final unfold.
- The Japanese wild cards capped off a memorable week that saw them knock out another team in contention for next month's Nitto ATP Finals, top seeds and recent US Open champions Jean-Julien Rojer and Horia Tecau, in the first round.
WHAT THE PLAYERS SAID
Goffin
"It's a really special trophy for me, as I won the tournament last week and now have again today… It's a special feeling at a tournament I like. I have a lot of happy memories in Tokyo. It's difficult to describe my feelings.
"It's important for me to stay fresh physically and mentally… I am ready fight and I want to keep winning."
Mannarino
"David played really well… He broke me once in the first set, but he played three or four winners in a row, so it wasn't easy. I got the break in the second set, but couldn't hold my serve. The quality of the game was really good, but I wasn't good enough compared to him. I've had a pretty good season, definitely my best so far."
Mclachlan
"I am happy that I played my very best today. We got better and stronger with each match."
Uchiyama
"It hasn't really sunk in… We have been the challengers all week and today as well, but I noticed that they were feeling the pressure and at that point, we were able to play well and push our way to a victory. It showed us that if we play at our best, we can beat anyone."