Goffin Takes Shenzhen Open title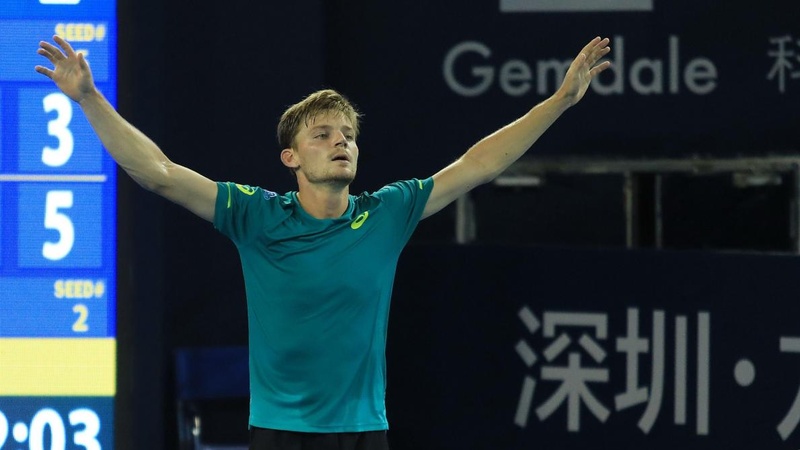 David Goffin defeated Alexandr Dolgopolov 6-4, 6-7, 6-3, to win the Shenzhen Open title.
- David Goffin won his first title of the season in his third final, ending a six-final losing streak that began after winning his first two tour-level trophies (2014 Kitzbuhel d. Thiem, 2014 Metz d. Sousa).
- The Belgian improved to 3-6 in ATP World Tour finals.
- The victory helped Goffin strengthen his position in the Emirates ATP Race To London. He sits in 13th place, but with Stan Wawrinka (fifth) and Novak Djokovic (ninth) both out for the rest of the year due to injuries, the Belgian is right on the bubble.
- It was Dolgopolov's third final of the season after capturing the title in Buenos Aires (d. Nishikori) and reaching the final in Bastad (l. Ferrer).
- He continues to display good form after also advancing to the Round of 16 at the US Open.
- Rajeev Ram and Alexander Peya won the title in their first tournament playing together.
- For Ram, it was his fourth title of the year, with three different partners (Delray Beach w/Klaasen, Indian Wells w/Klaasen and Newport w/Qureshi). For Peya, it was his 15th trophy overall and first since Basel in 2015 (w/Soares).
WHAT THE PLAYERS SAID
Goffin
"This one is really special because you know it's always tough to come back from injuries… It means a lot. I cannot be happier today."
"In the third I served really well. I stayed really focused even if I was a little bit tired… I served really well and I played two really good games at the end of the match."
Dolgopolov
"For sure I wanted to have an easier second set but I had some issues and overall he played better, I think… I had a good week."
Ram
"When he called, it was a great opportunity for me as well. So happy it worked out. I think we played some great tennis, and really played the big points well today in the final."
Peya
"It was an unbelievable week for me, I guess for both of us… Luckily I was able to find such a great one [partner] and it worked out perfect for us."