The no-fuss snack bar makes pre-match nutrition easy
For me, nutrition isn't particularly high on the pre-match checklist, especially when I'm rushing out of the office or house trying to make it to my match on time. Fortunately, pre-match nutrition has gotten a little bit easier thanks to a market full of pre-packaged sports nutrition products, like the new Generation UCAN Snack Bar. Generation UCAN is best known for powdered drink mixes used by marathoner Meb Keflezighi and former top-ten tennis player Mardy Fish, but now they've packaged their product into an easy, no-fuss bar, that's a perfect pre-match snack even if you're on the go.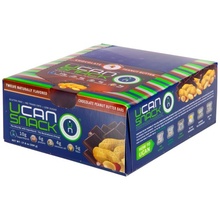 Taste is important when it comes to nutrition products, but one of my biggest concerns is always how my sensitive stomach will react. Generation UCAN's other products are all very stomach-friendly, but I typically don't have time to mix them on the way out the door. Fortunately, the Snack Bar is much easier to pack and it's just as easy on my stomach. After eating one, I felt full—but not bloated—and ready to play, without the jitters that other sugary, caffeinated products can cause.
Currently available in chocolate-peanut butter flavor, the Snack Bars have a firm chocolate shell around a soft, nougat-like peanut butter center. The end result is a texture that's somewhat similar to a Three Musketeers bar and I think they taste great, with none of the chalky consistency that sometimes comes with the powdered drink mixes.
Though the chocolate tastes great, it also means that you'll have a melty mess on your hands if you leave your Snack Bar in a hot tennis bag or car during summer. It also contains milk, soy, eggs, peanuts and treenuts, so folks with food allergies may need to look elsewhere.
Overall, I think the Generation UCAN Snack Bar is a great nutrition option for any tennis player who's looking for a little energy boost. It's easy to grab on the go and it tastes great without the sometimes chalky texture of UCAN's powdered drink mixes. Players who are really serious about nutrition will probably find the most to love, but even casual players can now enjoy the benefits of an easy, pre-match energy boost.
By Ryan Woodring
Holabird Sports Product Specialist
For more info and to purchase, please visit their website.