(FILA North America) - FILA serves as the official apparel and footwear provider of the BNP Paribas Open in Indian Wells, the largest ATP World Tour and WTA combined two-week event in the world. For this year's tournament beginning on March 6, the ball crew, officials, staff and volunteers will be outfitted in a selection of custom styles, set to make a cohesive statement on and off the court. The new items take design cues from FILA's storied history in tennis.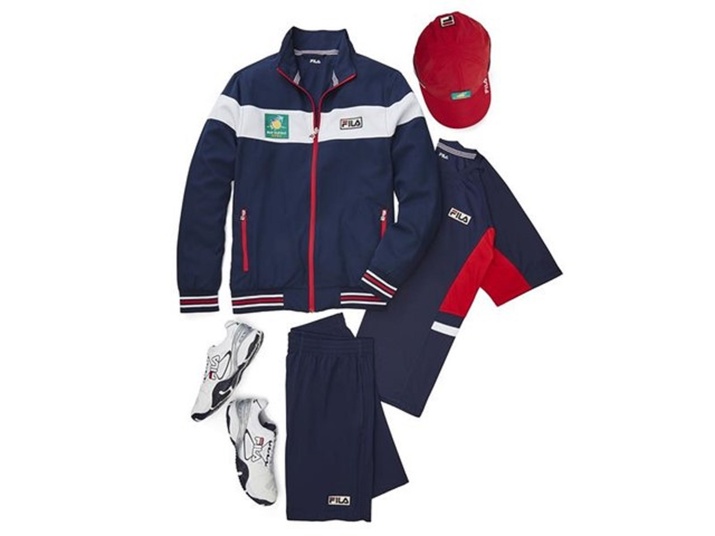 The on court fashions for the ball crew were created in FILA's signature red, white and navy color palette, featuring iconic heritage-inspired cut lines. The girls will be dressed in a navy polo dress with cut and sew underarm panels in red and white hues. The crew neck shirt for the ball boys was designed to mirror elements of the ball girl dress, and will be paired with navy shorts. Rounding out this group is the ball crew jacket, meant to supplement each look. This navy statement piece features a contrasting white chest stripe with red and white ribbed cuffs and a ribbed bottom, for a modern take on a classic FILA silhouette. To pair back to the apparel, the ball crew will wear FILA's Cage Delirium performance footwear.
The BNP Paribas Open officials will wear a polo shirt and matching jacket, each designed in a vibrant, atomic blue hue. The polo shirt features cut and sew underarm panels in white, while the jacket was created with red and white piping down each arm. To cap off their look, the officials will sport the FILA x BNP Paribas Open limited-edition footwear. The event staff and volunteers will also be dressed in a polo shirt and matching jacket. The navy polo shirt ties back to the officials' attire, with its atomic blue collar and atomic blue and white chest stripes. A clean and crisp white jacket for the staff and volunteers also features subtle atomic blue piping.
Hats and visors were created to complement the apparel and coordinate back to each uniform collection. All items for the officials, ball crew, staff and volunteers are embellished with the FILA and BNP Paribas Open logos.
Replica uniform styles will be available for purchase on-site at the event, within the FILA retail shop.