About Fast Track Tennis:
Fast Track Tennis' mission is to inspire and empower people of all ages, abilities, and cultures by making it easier, faster, less expensive, and more fun to learn, practice, and play.
So whether you're an accomplished player or just getting started, our unique "Feedback System" is a breakthrough innovation guaranteed to accelerate your game and your tennis journey.
About the Feedback System:
The Feedback system from Fast Track Tennis is a portable solo-use tennis simulator ideal for practice that can be done anywhere at any time and is suitable for all skill levels. The product is comprised of a 7' x 7' net, and an electric or battery-operated ball feeder, requiring only three tennis balls. The Feedback system is self-contained and can be used indoors, and outdoors, without the need for courts or practice partners.
The way Fast Track Tennis works is simple. Just set up the 7' x 7' net within any small or large space for continuous loop hitting with zero ball pickup. Balls are fed every three seconds to maximize muscle memory, refine technique, add new skills, and improve footwork and fitness.
To enhance performance, Fast Track Tennis has made the Feedback System a connected device that pairs with the brand's mobile app offering both PRACTICE FTT, an in-development performance tracker, and PLAY FTT, an online leaderboard game designed to maximize practicing while also making it fun.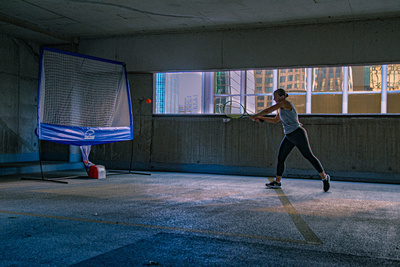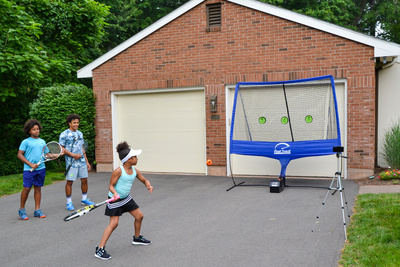 Features:
Fast Track Tennis optimizes resources. The product is affordable when compared to other solutions in the market, requires minimal space and affords users with an opportunity to hit more balls in less time than any other tennis training device in the market.
Features include:
7'x7' net that sets up easily in any small space for continuous loop hitting with zero ball pick up.
Three tennis balls 12 long lasting pressureless balls
Electric (or battery operated) Motor that continuously feeds balls every three seconds to maximize muscle memory with no need for a real court of practice partner.
Tripod with smartphone attachment included
iPhone PLAY FTT app, a connected game that lets players test their skills in real time against other players and win prizes.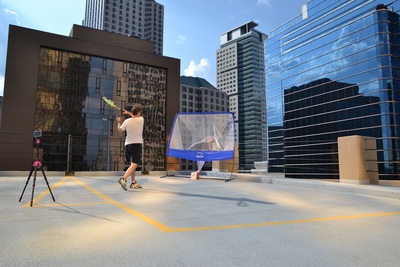 Benefits:
Fast Track Tennis forces you to move and be active. If you don't know how to play tennis it's a great way to accelerate the learning process. Fast Track Tennis feeds users 20 balls every minute, that's 200 live balls in just a 10 minute session. The fastest way to learn tennis is muscle memory and Fast Track can get you there faster than anything else in the market - and you don't have to pick up balls after you're done.
But, this isn't just for beginners. Whether you're a beginner, a 4.0 or a college level player, Fast Track tennis requires very little space, is easy to set up and is currently used as a training device as well as a pre-match warm-up tool by many college level players across the country.
For more information, visit https://fasttracktennis.com/pages/system