Babolat launched its latest advancement in bringing high tech tennis data to every player—beginners and pros alike. Popping the aptly named Babolat POP sensor into a simple black wrist strap will not only tell you the basics like speed, but also analyze your swing and spin. This information gets sent to your phone wirelessly where you see a full break down by stroke. If you hit faster backhands than forehands or your spin is all over the map, the POP will tell you.
This new innovation, created in collaboration with French tech outfit PIQ, which is also working on bringing more sensor based analytics to other sports like golf and skiing, is part of two big trends. The obvious trend is the data driven way to understand your game. As Genie Bouchard said at Friday's product launch at the Manhattan Plaza Racquet Club, "people can tell you when you're hitting the ball, but there's nothing more accurate than technology." The metrics she is most interested in are where in her stroke she typically makes contact with the ball and the speed of her arm on groundstrokes.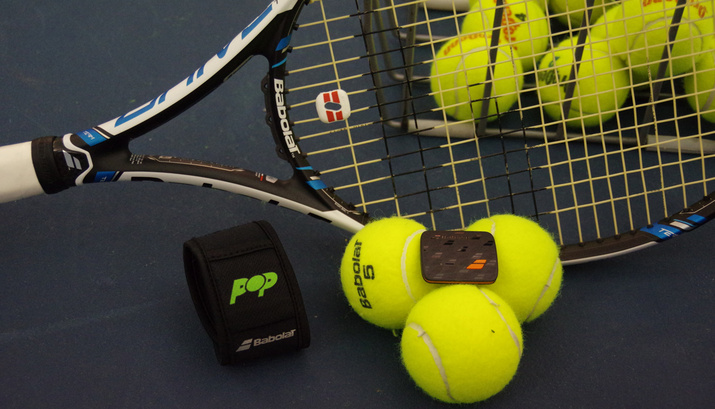 At Friday's launch, Bouchard used a PIQ sensor to measure her serves not only for speed, a common number to look at when comparing serves, but also her style and spin points. These points all get put together to produce one number, the "PIQ score," which Bouchard eagerly compared to the scores of Babolat players Jack Sock, Viktor Troicki, Sam Querrey, and Timea Bacsinszky, along with the scores of journalists, local kids playing at the event, and even fifth generation Babolat chief Eric Babolat.
This playfully competitive angle is the second big trend that Babolat taps into. The app accompanying the POP has a social tie-in that allows users to post their scores and see how friends are doing. Speed of serves, the length of rallies, and the topspin on a forehand all become a part of the PIQ scores users and networks compete for. Normed across sports, a tennis player will one day be able to challenge a golfer across the integrated platform. Supercomputers put together data from millions of strokes recorded over the course of two years to create the measures and calibrate the sensors that can now be used by pros and novices alike, with any tennis racquet.
PIQ CEO Cédric Mangaud explained that the product extends the fun of tennis beyond the court by giving you something, the data, to take with you after you put down your racquet. Playing "connected tennis" is designed to motivate users to play more and play harder, and ultimately better, while still emphasizing fun as the primary motivator. Speaking on next generation technologies that players can look forward to in coming years, Mangaud imagines wearable chemical sensors that will analyze the body's performance for accurate calorie counts and the like. He expects nano-tech based sensors to reach the consumer level in five to ten years, which would mean another level of accuracy with the potential to place hundreds of sensors on the player's body and equipment.
The POP will be released Fall of 2015 and carries a suggested retail price of $89.95. www. babolatplay.com/POP