Andy Murray - Staying Tennis Ready During Lockdown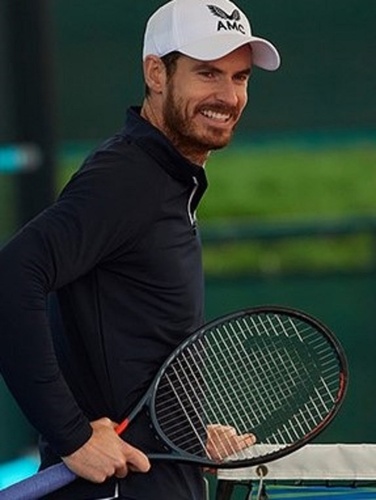 The last twelve months have been tough for tennis players. Courts have been closed, then opened, then closed again. Club tournaments and social events have been cancelled, junior tennis has been scaled back and there hasn't been much professional tennis to watch either.
Whilst clubs are still shut, I thought it would be useful to put together some of my tips on how to stay tennis ready for when we can all get back on court.
STAY ACTIVE
Keeping fit during the lockdown is really important. Tennis is a physical sport, especially if you are used to playing singles, and it uses most of the main muscle groups in the body, so you could be prone to injury if you return having not done any exercise for a couple of months. After my hip operation, I was encouraged to start moving as soon as possible, to minimise any loss of muscle strength and flexibility, and this is exactly the same reason it's important to stay active during lockdown.
Walking, running and cycling are all allowed at the moment, and there are hundreds of exercise classes online which you can do from home. I'm an ambassador for the NHS and they have put together some great fitness videos on their website for all abilities which you can see here.
PRACTISE BALL SKILLS
Hand eye coordination is an essential skill in tennis and speed of reaction can make all the difference in winning a point. A drill I practice in my own training sessions to help with hand eye coordination and anticipation is called Wall Ball. I stand facing a wall, with my coach standing behind me. My coach then throws the ball at the wall, and I have to react and catch it without it bouncing. If you haven't got a partner to hand you can also do this yourself - you will just be better at the anticipation part!
Another good ball skill to practice whilst you are at home, is the ball toss for your serve. Making sure the ball is in the right place for when you strike it during a match can be challenging when playing in the UK as we are often subject to adverse weather conditions, particularly in Scotland!
Practising your ball toss is a useful thing to do - it will help you feel more confident if the weather is bad. Stand near a wall or a door frame where there are straight lines and practice throwing the ball up along the line over and over again.
TARGET PRACTISE
One of my favourite drills on court is target practise. I'm very competitive so anything that turns my training into a challenge always appeals. I use tennis balls or tennis ball cans as targets, or if I'm feeling very confident I use the small bottles from my TRR Nutrition collagen shots which I take to protect my bones and joints, to aim at.
If you have space in your garden you can use your racket to hit tennis balls at a target, or if you are doing this drill indoors it's still just as effective to throw a ball instead. This is also a great game for children.
FANCY FOOTWORK
Keeping on your toes in tennis is essential in making the shot - the best players on the circuit all have great footwork in common. This is something you can also perfect whilst you are at home. A footwork drill I do during training is the figure of eight around two tennis balls. This drill takes up very little space, and all you need is two tennis balls or equivalent markers. Using the balls as reference points move around each ball and through the middle creating a figure of eight with your feet. You can start slowly, and gradually increase the pace as you get more confident. This is a great drill for footwork speed and moving to the ball, and every couple of rotations you can step out and hit a shadow ground stroke, to add some more specific movements to the exercise.
UPPER BODY STRENGTH
Maintaining your upper body strength is something else you can do from home. If you don't have weights you can use your own body weight for press ups or tricep dips. Burpees are good too if you are feeling energetic! If you want to add some weights into your routine, you can use litre bottles of water or baked bean cans.
FLEXIBILITY
Flexibility in tennis is really important as you move side to side and forwards and backwards around the court, plus you could be stretching upwards for a point or crouching low down to retrieve a short ball. I have incorporated lots of different flexibility practices into my training over the years - including Pilates and gyrotronics. There are plenty of different classes online or you can just incorporate some simple stretches into your day like touching your toes, lunges and chin tucks.
Good luck, stay fit and hopefully see you back on court soon!
For more information, please visit https://www. trrnutrition.com/staying-tennis-ready