Medvedev defeats Sinner 6-2, 6-4 to reach first semifinal in Marseille
Both have achieved career high rankings: Daniil Medvedev surpassed Rafa Nadal for the #2 spot, while Jannik Sinner sits at world #32. The 19-year-old Italian finished last season with his maiden title in Bulgaria and opened this season with his second in Adelaide.
The 25-year-old Russian has also been on a tear, winning two consecutive titles to close out 2020 - the Paris Masters and Nitto World Tour Finals - and began this season with the ATP Cup and final of the Australian Open (l. to Djokovic).
Their only tour level meeting was a year ago in Marseille and while Sinner took the first set, he dropped the next two.
Medvedev won the toss and elected to receive. The first point was a harbinger of things to come as both came out swinging, looking for a short ball to put away. While Medvedev took that point with a crisp inside-in forehand, Sinner held to 30 with an ace out wide.
The #1 seed opened with a huge serve and held easily to 15 when he crushed the crosscourt forehand. Sinner struck the ball off both wings with power and conviction as he held to love for 2-1. Medvedev hit his first ace and held to 30 when his opponent's return went wide.
The #5 seed appeared rushed off the ground as his opponent continued to play close to or inside the baseline and dropped serve following two consecutive forehand errors. Medvedev displaying deft touch around the net, held to love to consolidate the break.
Sinner, serving down 2-4, committed six unforced errors and dropped serve when he netted a backhand. Medvedev, up a double break, served with new balls and despite donating a double fault, secured the set when Sinner's forehand sailed long.
Sinner served first in the second and held to 30 for 1-0. Medvedev went 5/5 on first serves including an ace and held to 15 for 1-1. Sinner faced a break point but held following three winners, including a spectacular down the line backhand on game point.
Medvedev continued to unleash off the ground and although he threw in another double fault, held to 30 for 2-2. Sinner, understandably frustrated for receiving a time violation, lost his focus and the game as his opponent continued to excel on defense.
Medvedev donated his third double fault but held to 15 for 4-2 with an ace out wide. Sinner held to 15 for 3-4 as his opponent gifted four unforced errors. The Russian faced his first break point of the match when he overcooked a backhand but held for 5-3 following two consecutive monster serves, the last a 122 mph ace up the tee.
The nextgen superstar, serving to stay in the match, opened with an ace and held for 4-5 when his opponent's return went wide. The newly anointed world #2 struck two consecutive aces – one out wide, the other down the middle- as he closed out the match in 1 ¼ hours.
It was an extraordinary display of power, poise, and precision from the unorthodox Russian as he consistently rushed Sinner with a potent mix of offense and defense. Medvedev made 70% first serves, winning 80% on first and 60% on second serve points. He finished with 7 aces to 3 double faults and went 3/5 on break points.
His semifinal opponent is not whom he had hoped for or expected; his countryman, Karen Khachanov fell in three to veteran Aussie Matthew Ebden. This will be their first tour level meeting and rest assured; both will do their homework.
Teaser Image: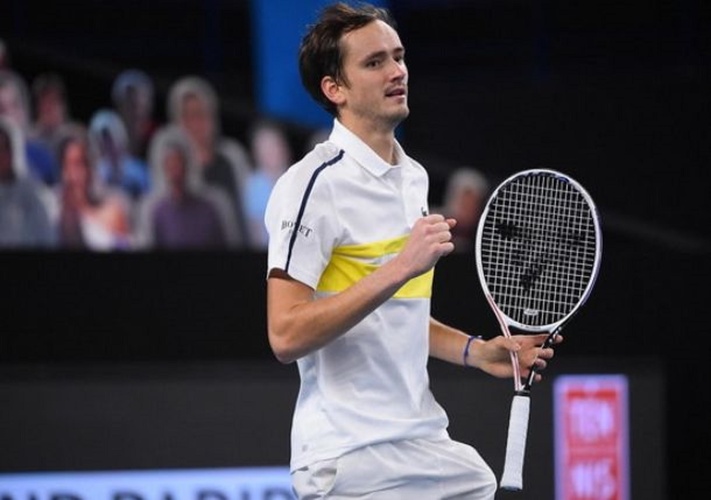 Inline Images: