Victoria Azarenka, victorious last week at the Western & Southern Open, continues to impress on the hardcourts at the BJK National Tennis Center. While play was suspended on all outside courts due to heavy rain, Azarenka and her countrywoman, Aryna Sabalenka, took the court in Louis Armstrong Stadium well past 9 pm.
Azarenka, a two-time Australian Open champion and two-time US Open finalist, most certainly expected a tough battle from the 5th seed given their grueling first round duel a year ago at Flushing Meadows won by Sabalenka in three.
The world #11 was nowhere near her best this evening and began to implode midway thru the first game. Up 40-0 on the strength of her serve and backhand, quickly found herself down break point as she donated a double fault and dropped serve when she overcooked a forehand.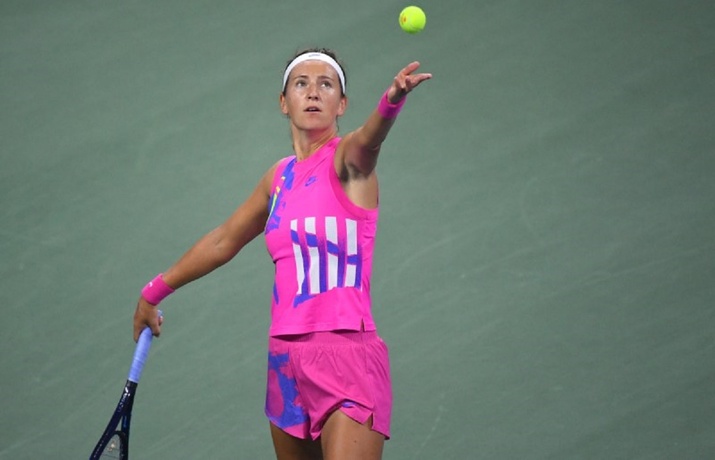 Azarenka, currently ranked #27, also faced a break point in her opening service game but held for 2-0 with a good serve and a brilliant inside-out forehand.
Sabalenka, visibly out of sorts and still reeling from the first break of serve, opened the third game with a double fault and proceeded to throw in two more as she once again dumped serve to go down 0-3.
Azarenka, sensing her opponent was struggling both mentally and physically when brought out wide, kept her foot on the gas as she served her first ace of the match, and held easily to 15 with another well- struck serve for a commanding 4-0 lead.
Sabalenka is a high-risk player and an excellent ball striker but is also prone to lackadaisical play and unforced errors. When playing someone as steady as Azarenka, she should have dialed it back, varying the spins and placement but was hell-bent on going big and for the lines, often missing badly.
Despite being down a double break, Sabalenka momentarily regained her focus and held to 15 for 1-4 behind strong serving and a fantastic inside-in forehand. Azarenka returned the favor, hitting an outstanding overhead smash on the way to holding to 15 for 5-1.
Sabalenka, serving to stay in the set, quickly faced 0-30 and dropped serve for the third time, relinquishing the set 1-6. In the blink of an eye, she committed 17 unforced errors to just 3 winners and won an abysmal 13% of second serve points.
Azarenka did not need her A-game this evening given her opponent's level and lack of conviction, but she did just that. The 31-year-old mom of a toddler struck 1 ace, zero double faults and, just 5 unforced errors.
Azarenka served first in the second and with new balls. She faced two break points as Sabalenka upped the ante and her intensity, unloading on the forehand and crosscourt backhand return but failed to convert when she mishit an overhead and forehand.
Seemingly incapable of stringing several good points and games together, the twenty-two-year-old dropped serve again as the unforced errors continued to accumulate. Azarenka up 2-0, held to 15 as she continued to play with confidence and measure while keeping her opponent on the run. Sabalenka appeared dejected and rattled but dug deep as she threw in an ace and two well-executed drop shots to hold for 1-3.
The slight change in momentum endured as Sabalenka forced the issue and errors, earning double break point following two exceptional forehand winners and converted with a remarkable crosscourt forehand that landed on the baseline. Sabalenka let out a roar heard only by the few spectators permitted in the stadium. Azarenka heard her loud and clear and was determined to shut the door in straight sets.
Sabalenka continued to struggle when taken out wide and faced break point when she donated her fifth double fault and dropped serve when Azarenka uncorked a monstrous inside-out backhand struck well inside the baseline.
Azarenka, just two games from the third round, held to 30 behind big serves and a sweet backhand drop shot winner. Never one to hold back, Sabalenka turned up the volume and with huge serves and formidable forehands, held to love.
Azarenka served for the match and did not have to produce much as her opponent donated three unforced errors on consecutive points. In a little over an hour, Victoria Azarenka secured victory and a spot in the third round.
She finished with 11 winners to 9 unforced errors and went 5/5 on break points. She was also outstanding on first serves putting 72% in play and winning 78% of first serve points. Her third-round opponent has yet to be determined since their match was suspended due to rain. She will play either Sachia Vickery of the US or Iga Swiatek of Poland.
Teaser Image: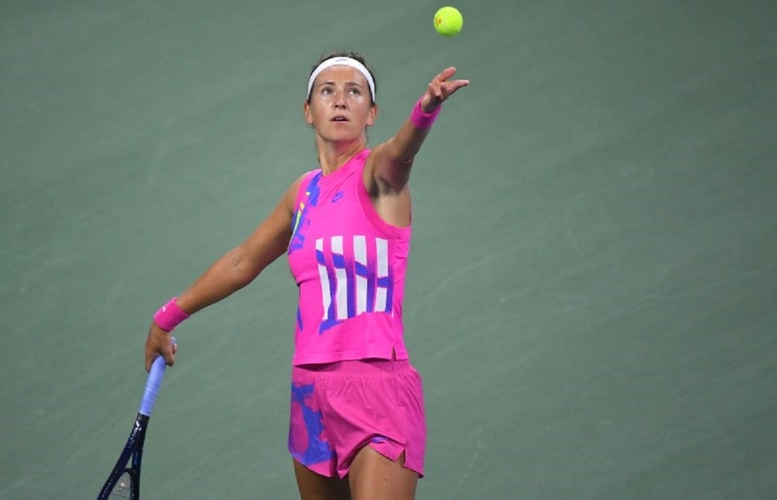 Inline Images: