When the going gets tough, the tough get going, and that is exactly what Rafael Nadal did in 2013.
Throughout his career, the Spaniard has possessed an indomitable spirit and a propensity to fight to the finish of every point, game, set, and match. When he was sidelined for seven months, however, many wondered if Nadal would be able to return to his former self.
Coming into Indian Wells, Nadal had captured titles in Sao Paulo and Acapulco. Despite winning both of these events, the King of Clay's former self didn't return until the final of Acapulco, when he thrashed fellow Spaniard, David Ferrer 6-0 6-2. But was Nadal back for good? How would he fare on other surfaces? Some skeptics and critics would understandably argue that winning two small South American tournaments on clay counted for little.
Following Indian Wells, all of the doubts regarding Nadal's return were immediately discarded. On the way to the final, Nadal took out Ryan Harrison, Ernests Gulbis, Roger Federer, and Tomas Berdych. His last test came against the 2009 US Open champion, Juan Martin Del Potro, a man who had rallied from a set down against both Andy Murray and Novak Djokovic to reach the final.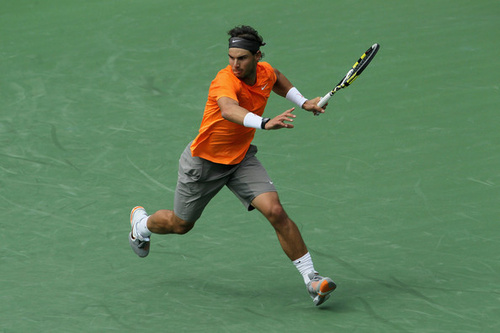 Nadal wasted no time asserting himself, breaking the Argentine in his first service game with an authoritative forehand winner down the line. Before he could blink, Del Potro was down a break at 0-3. Not ready to go away in the opening set, Del Potro hit an remarkable cross-court forehand return winner from well behind the baseline and well off the court to get the break back.
Del Potro's forehand, as it has on so many previous occasions, continued to dictate proceedings in the opening set. Behind several forehand winners, Del Potro broke Nadal at 4-4 and was able to close out the first set 6-4. On set point, Del Potro got the best of Nadal's speed with a half-volley drop shot followed by an extremely athletic lunging backhand volley.
Going into this match, Del Potro had won three of the last four hard-court matches played between these two men. And, after the first game of the second set, it looked more and more likely that Del Potro was primed to get the best of Nadal on a hard court yet again. He consolidated an early break and eventually moved ahead to lead 3-1 in the second. Three games away from winning the match, it was more than plausible to believe that Del Potro could be in the locker room in 20 minutes. Instead, he lost the final five games of the set, broken twice consecutively by Nadal.
In only the third game of the third set, Nadal obtained what would be the decisive break of the Indian Wells final with yet another forehand winner down the line. Del Potro was one of only five men to have won a grand slam since 2006, yet his opponent's spectacular performance left him helpless by this stage of the match. After breaking for 2-1, Nadal left no gaps in his game and was able to hold four more times before a Del Potro backhand error ended the match. The Spaniard emerged a champion in Indian Wells for the third time.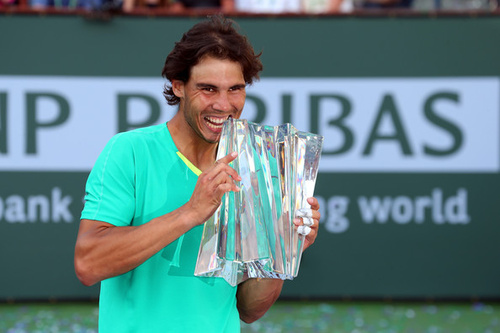 If there was any tournament this year where one could look back and say "Nadal was not supposed to do this," it would have been here.
Winning on clay was nothing new for Nadal. Of course, winning on hard courts was nothing new either for Nadal, who already had won both majors on the surface. Coming back from injury, though, commanding the clay courts would have come as scant surprise. But for Nadal to win on the hard courts of Indian Wells—taking down Gulbis, Federer, Berdych and Del Potro—was nothing short of astounding. In his first hard-court tournament since the previous spring, Nadal rose above several of the world's best players, who had been playing on hard courts for almost the full seven months of his absence.
This tournament confirmed everything that we already knew about the Spaniard and foreshadowed a brilliant 2013 hard-court campaign. He would go on to win Montreal, Cincinnati, and the US Open, an unfathomable feat that only two men before him had achieved.
2013 belonged to Nadal, no questions asked. And the year-end No. 1's ascent began with his victory over Juan Martin Del Potro in the Indian Wells final.
Teaser Image: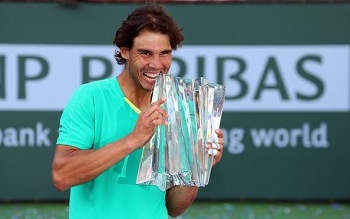 Inline Images: