Medvedev dismisses Auger-Aliassime 6-4, 7-5, 6-2 to reach 2nd US Open final
It was one-way traffic for the world #2 as he reached his final destination, the US Open final. The 25-year-old Russian is relishing another shot at the title, having lost in five to Rafa Nadal in 2019. Nadal's uncle and former coach Toni Nadal recently joined Felix Auger-Aliassime's camp and already it's paid dividends as his new charge reached two finals this season (Melbourne & Stuttgart), but it wasn't enough to halt the Russian's progression.
FAA, just twenty-one years of age, achieved a career-high ranking of #15 this past July and is the 12th seed. He opened the match and despite three double faults and two deuce points, held admirably with an ace and a forehand winner on the last two points.
Medvedev had a much easier time, holding to love for 1-1 with a 125mph serve up the tee. FAA, striking the ball with depth and accuracy, held to 30 for 2-1. Medvedev struck three winners including his first ace and held to 30 for 2-2. FAA opened the 5th game with a well-placed serve and an inside-out forehand and held with a big serve out wide.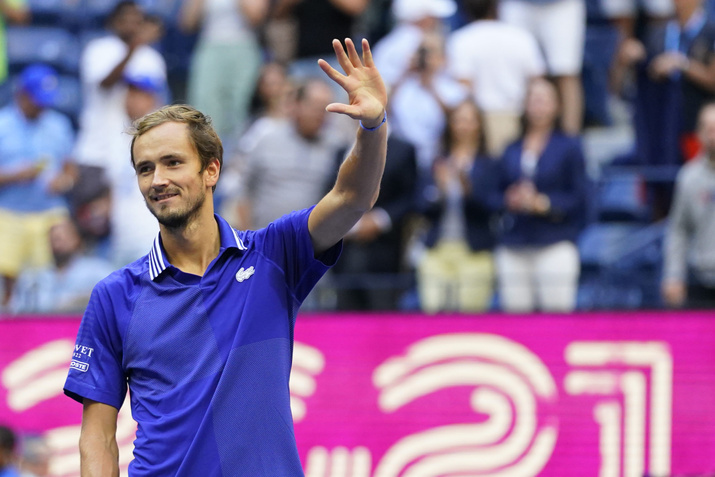 Medvedev once again held easily, hitting his second ace to level at 3-3. FAA lost the first point of the 7th game when Medvedev uncorked a fantastic squash forehand following an outstanding 25-shot rally. The NextGen Canadian donated two consecutive forehand errors and dumped serve with a third.
Medvedev opened with an ace and consolidated the break for 5-3 with a 120mph serve up the tee. FAA, serving to stay in the set, opened with an ace and struck two more, the last on game point for 4-5. The 2019 US Open finalist served for the set and with his 6th ace clinched it.
FAA served first in the second and held easily to 15 for 1-0. Medvedev committed three unforced errors but with well-struck serves including his 7th ace, and a forehand swing volley, held for 1-1. FAA missed 4/6 first serves including a double fault but held for 2-1 when his opponent overcooked a backhand.
Medvedev opened the 4th game with an overhead smash and with a monster serve up the tee, held at love for 2-2. FAA continued to misfire on serve and despite donating another double fault, held for 3-2. Medvedev hit his 8th ace but missed 5/10 first serves and it cost him as his opponent crushed an inside-out forehand return to reach deuce. FAA earned two break points and converted when his opponent gifted his first double fault.
The Arthur Ashe crowd, clearly behind the underdog, erupted in applause when he consolidated the break at love. Medvedev, serving to stay in the set at 2-5, threw in another ace and a crosscourt forehand winner to hold for 3-5. FAA, serving for the set, faltered when it mattered most, netting a running forehand on set point.
The Russian continued to apply pressure, turning defense into offense which caused the Canadian to overhit. He earned a break point with a terrific crosscourt forehand and converted when his opponent's backhand sailed long.
Medvedev consolidated the break for 5-5 when his opponent overcooked the return. FAA, staggered by the sudden change in momentum, failed to regain his composure and dumped serve following four consecutive unforced errors. The 2021 Australian Open finalist served for the set and while he missed 3/5 first serves including a double fault, secured it 7-5 with his 11th ace.
FAA served first in the third and though he donated another double fault, held for 1-0. Medvedev, keeping his foot on the gas, held at love with a 120mph serve out wide while FAA committed three consecutive unforced errors to drop serve for 1-2. Medvedev, serving with new balls, hit two aces and two double faults and faced a break point but held with a 125mph serve out wide.
FAA, a bit gassed and flat-footed, faced triple break point and dumped serve when Medvedev pummeled a backhand down the line. Medvedev, just 8 points from the final, missed 5/6 first serves yet held to 15 for 5-1 with a colossal forehand down the line. The world #15, serving to stay in the match, opened with a double fault but held to 30 when his opponent mishit the last three returns.
Daniil Medvedev, after two hours and four minutes, stepped up to the line for a place in the final and converted his second match point with an outstanding overhead smash. The Russian was exemplary on serve finishing with 12 aces to 4 double faults and won 81% on first and 52% on second serve points. He was equally effective at net winning 17/23 and converting 5/5 break points. He also took his chances when receiving, claiming an impressive 46%, and posted 37 winners to 25 unforced errors.
History will be made on Sunday no matter his opponent. Novak Djokovic is attempting to complete a calendar-year Grand Slam and top the leader board with the most slams with twenty-one. Should he face Germany's Sascha Zverev, both will be gunning for their maiden grand slam title.
Teaser Image: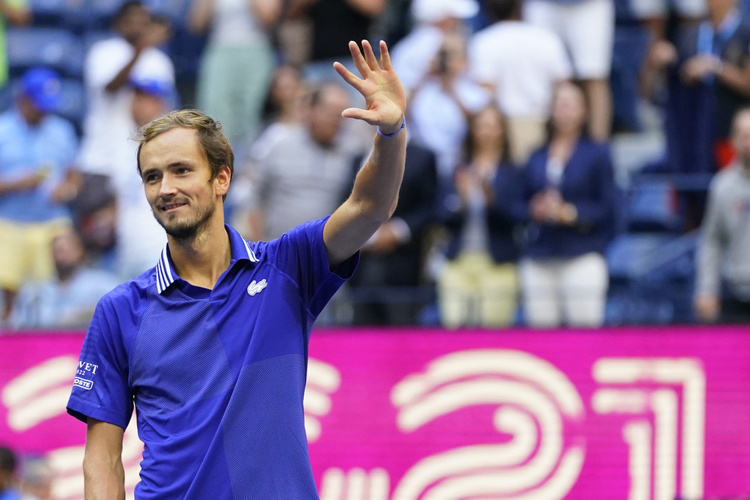 Inline Images: