Berrettini takes out Fognini 6-3, 6-4 to reach round of 16 in Madrid
What appeared on paper to be a popcorn match between countrymen, was anything but. Matteo Berrettini, the twenty-five-year-old from Rome came out firing on all cylinders and kept his foot on the gas for one hour and twenty-one minutes. The world #10 is playing with a ton of confidence having won his fourth career title last week in Belgrade, overcoming the red-hot Russian, Aslan Karatsev in the final in three.
Fabio Fognini, the fiery Italian from Sanremo, seemed flat-footed and at times disinterested. Fognini displayed flashes of brilliance but committed too many unforced errors. The former world #9 is still searching for the form that earned him his first Masters 100 title in 2019 Monte Carlo.
The thirty-three-year-old, currently ranked #28, was just over 500 for the season heading into this match while his opponent was 12-3. The only previous tour-level match was 4 years ago on the dirt in Rome which Fognini won in straights.
Fognini won the toss and elected to receive. Berrettini opened with a crisp backhand volley winner then an ace up the tee and held at love for 1-0. Fognini struggled from the start, donating two unforced errors on consecutive points. He faced a second break point following his first double fault and dropped serve when Berrettini ripped a forehand crosscourt.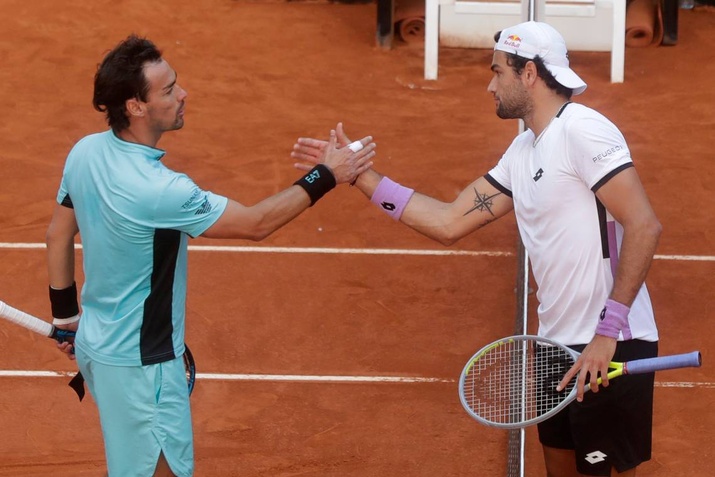 Although he opened with a double fault, Berrettini held to 15 for 3-0, striking his second ace on game point. Fognini faced another break point in the fourth game when his forehand approach clipped the net and sailed long. The world #28 fought admirably and held for 1-3 following three winners on consecutive points.
Berrettini opened with an ace up the tee and held to 15 with formidable groundstrokes and spectacular serves. Fognini appeared more engaged and dialed-in as he held at love for 2-4 following two outstanding forehands – down the line and inside-out - on consecutive points.
Berrettini struck his fourth ace and faced his first deuce point of the match but held for 5-2 with an outstanding crosscourt forehand. Fognini, serving to stay in the set, held to 15, hitting his first ace of the match on game point. Berrettini continued to serve big both up the tee and out wide, held at love to clinch the set 6-3.
Fognini served first in the second and upped the ante, striking his forehand with conviction including a colossal one inside-out to hold to 15 for 1-0. Fognini reached 30-30 on his opponent's serve but failed to generate a break point as Berrettini held for 1-1 with a fantastic inside-in forehand.
Fognini faltered as he played several loose points and dropped serve when he netted a backhand. Berrettini consolidated the break, holding to 15 for 3-1 with an exquisite forehand drop volley winner on game point.
Time was running out for Fognini. In the longest game of the match, he faced four deuce and three break points but managed to hold with an extraordinary drop shot, backhand down the
line and two forehand winners – crosscourt and inside-out.
While Fognini chirped to himself and perhaps his box, Berrettini got back to business, holding at love for 4-2. Fognini, despite reaching 40-15, faced three deuce points but held behind several punishing backhands both down the line and crosscourt.
Berrettini struck his 5th ace and held to 30 for 5-3 following two unforced errors from his opponent. Fognini served to stay in the match and held easily to 15 for 4-5 following three unforced errors from Berrettini.
The world #10 wasted no time, holding at love with an astonishing inside-out forehand drop shot to close out set the 6-4, and secure a spot in the round of 16. While the weather was pleasant, the handshake was chilly!
Some of the stats between the two were remarkably similar despite the seemingly lopsided scoreline. Berrettini finished with 16 winners to 13 unforced errors while Fognini had 17 of each.
While each made a high percentage of first serves – Berrettini 74%, Fognini 71% - the match came down to second serve points won. Berrettini was outstanding, winning 64% while Fognini folded at 37%. Berrettini converted 2/7 break points while Fognini created none.
Next up for Berrettini is either Albert Ramos Vinolas who just won a title on clay in Estoril or the veteran Argentinian, Federico Delbonis. Either way, it will be a tough out since both are lefties and accomplished on the dirt.
Teaser Image: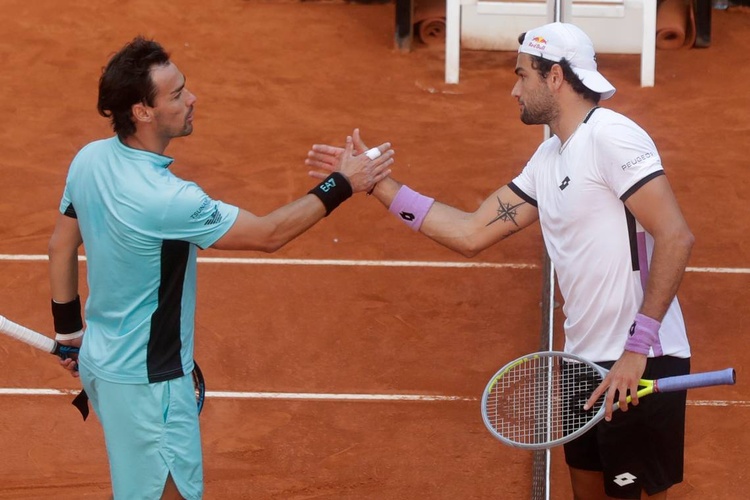 Inline Images: