Fabulous Fognini defeats de Minaur 6-4, 6-3, 6-4 to reach 4th round down under
Fabio Fognini was determined to reach the 4th round at the Australian Open for the fourth time (2014, 2018, 2020). The tempestuous but sublimely talented Italian reached a career-high ranking of #9 in 2019 soon after capturing his maiden Masters 1000 title in Monte Carlo where he took out Rafa Nadal en route to the final.
Fognini, currently ranked #17, entered the Australian Open with an abundance of confidence having reached the finals at the ATP Cup and survived a contentious five-set battle in the previous round against countrymen, Salvatore Caruso.
Alex de Minaur, soon to be twenty-two years old, won his fourth career title (all on hardcourt) at the start of the season and is currently ranked #23. Due to a recently imposed five day lockdown in the state of Victoria, no fans were permitted on site.
De Minaur won the toss and elected to receive. Fognini was on fire straight out the gates, and despite donating a double fault, struck two backhands down the line winners on consecutive points and finished with a fantastic crosscourt backhand volley.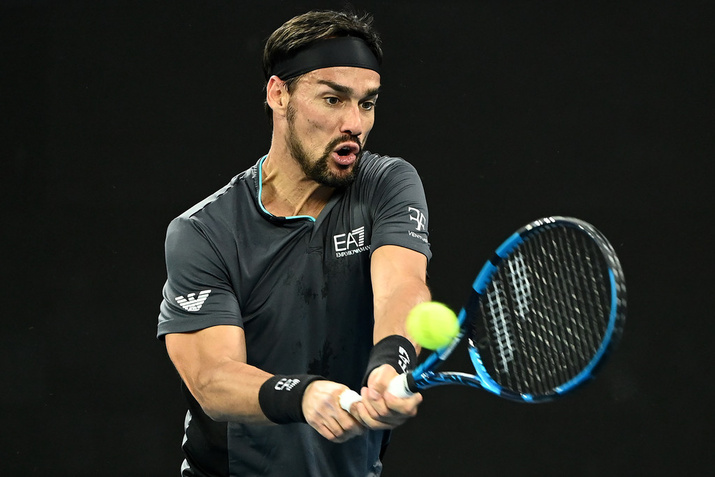 De Minaur missed 4/5 first serves but held to 15 for 1-1 as his opponent donated four unforced errors. Fognini held to 15, hitting a 119mph serve up the tee and an overhead smash on game point.
Both moved exceedingly well and struck the ball with pace and conviction, often extending the rallies with incredible defense. De Minaur once again held easily to 15 for 2-2. The fiery Italian, however, had a more difficult time going down 0-30 but held with an outstanding serve out wide on game point.
The young Australian, under the watchful eye of countryman and two-time grand slam champion Lleyton Hewitt, continued to hold easily to level the set at three games apiece. Fognini, undeniably in the zone particularly off the backhand, held to 30 for 4-3.
De Minaur, serving with new balls, opened the 8th game with his first ace but followed it up with his first double fault. Fognini earned a break point with a colossal crosscourt forehand pass and converted when his opponent's backhand sailed long.
Fognini, serving for the set at 5-3, quickly went down 0-40 and dumped serve following four consecutive unforced errors off the ground. It appeared as if de Minaur was on his way to an easy hold, hitting two additional aces, but dropped serve and the set following four incredible winners – two at the net – from Fognini.
The Italian, playing within himself, served first in the second and despite missing 5/8 first serves and facing a break point, held behind three well-placed serves including an ace up the tee, on the last three points.
De Minaur continued to struggle on serve missing 6/8 but held behind a spectacular crosscourt backhand volley and inside-out forehand on the last two points. Despite missing 4/5 first serves and donating his second double fault, Fognini held to 15 for 2-1 as the unforced errors from his opponent continued to accrue.
De Minaur, seemingly incapable of hitting a first serve, held easily to 15 for 2-2 as his opponent gifted him three consecutive unforced errors. Fognini struck his second ace and held easily to 15 for 3-2.
The world #23 once again struggled on serve as Fognini, seemingly at will, continued to rip the backhand both down the line and crosscourt, earning two break points. Following another brilliant backhand from Fognini, de Minaur dumped serve to go down 2-4.
Fognini, fiercely controlling and patrolling the baseline, held at love for 5-2 with an ace up the tee. De Minaur, under the gun and thumb of Fognini, dug deep and returned the favor, holding at love for 3-5 with a remarkable forehand down the line on game point.
Although this was their first tour-level meeting, Fognini was keenly aware of his opponent's quiet ferocity and competitiveness and knew he must close the door and close out the set on his serve. Behind two extraordinary forehands down the line winners, the world #17 held to 15 to go up two sets to love.
De Minaur served first in third and quickly faced triple break point following an exquisite lob and backhand down the line from Fognini and dropped serve when he double-faulted. Fognini maintained his composure as he opened with an ace and consolidated the break when his opponent's return sailed long.
De Minuar, serving at 0-2, regrouped admirably as he held at love following three unforced errors from Fognini. The Italian struggled on serve, missing 4/7 but held to 30 for 3-1 following an astonishing 23-shot rally.
De Minaur opened the 5th game with his 4th ace but it was all downhill from there as he faced double break point and dropped serve when he whiffed a forehand off a deep return.
Fognini underwent double ankle surgery last year when the tour shut down due to Covid-19 and it clearly has paid dividends. He was called for a foot fault on what he thought was an ace and held for a commanding 5-1 lead with another superb backhand down the line.
De Minaur, serving with new balls, held to 15 despite donating his third double fault. Fognini, serving for the match and fourth round, earned two match points but could not cross the finish line, committing six unforced errors including his third double fault.
It is never easy serving out a match even up a double break. Fognini, paralyzed by the weight of the occasion, collapsed and the door opened ever so slightly for his opponent.
De Minaur seized the moment and the momentum, holding to 30 for 4-5 as Fognini committed four consecutive errors off the ground. Fognini, once again stepped up to line to serve for the fourth round of a grand slam. It was far from easy but after a little over two hours, he converted his third match point with a huge serve up the tee.
It was a stellar performance, but he will need to serve significantly better against his next opponent, the 20-time grand slam champion, Rafa Nadal. Although the Spaniard leads the head-to-head 12-4, they split the last two matches, both in 2019.
Fognini knows he has the tools to beat Nadal in a slam for he did just that from two sets down in 2015 at the US Open and perhaps, more importantly, Nadal knows too.
Teaser Image: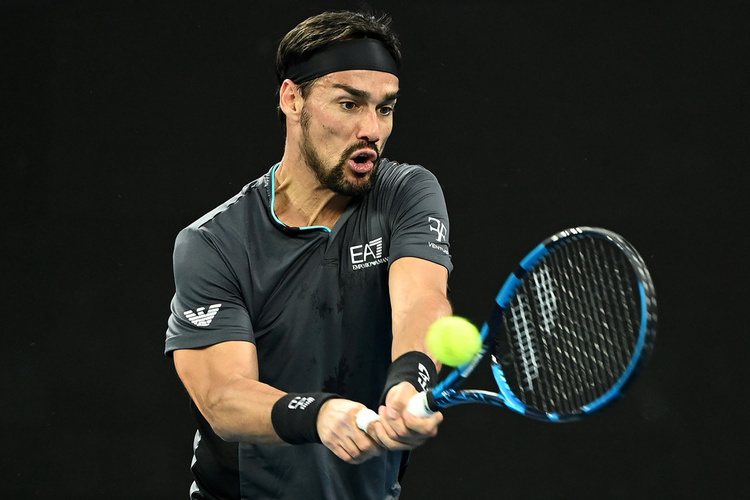 Inline Images: