Barty defeats Muguruza 7-6, 6-4 to claim Yarra Valley Classic down under
Ash Barty, the world #1, wasted no time reasserting her authority, winning her first tournament back since taking an extended hiatus from the game due to Covid-19. The 24-year-old Australian last played a year ago in Doha, taking out Garbine Muguruza in three in the quarters before losing in the semis.
While she led the head-to-head 3-1 and was victorious the last time they played, Barty was keenly aware of her opponent's prowess and notable accomplishments. Muguruza, a former world #1 currently ranked #15, is a two-time grand slam champion and a finalist at the 2020 Australian Open and many predict they will meet in the Aussie Open final in two weeks.
The 27-year-old from Spain has been in excellent form this week in Melbourne, losing just ten games in four matches including a 6-2, 6-2 rout of world #4 Sofia Kenin who had beaten her in the final at the Australian Open last year.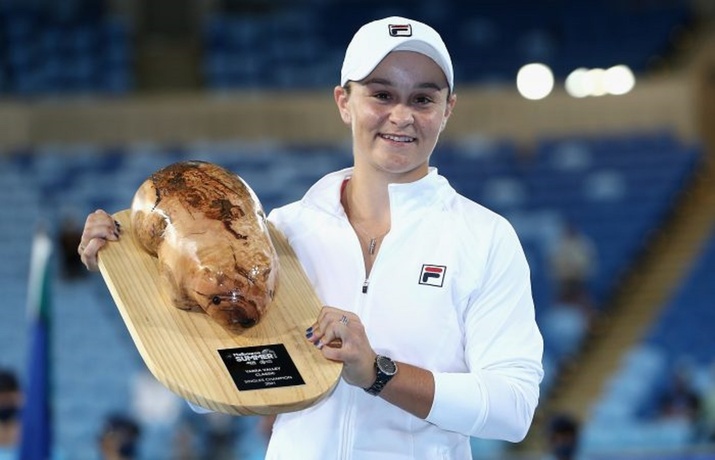 Barty won the toss and elected to serve and serve she did, hitting three aces and holding to 15 for 1-0. Muguruza displayed her all-court game, employing power and touch, and closed out the game with a fantastic slice backhand drop volley winner.
Although Barty struck her fourth ace, she missed 3/6 first serves and faced break point when her lob sailed long and dropped serve when she overcooked a backhand.
Muguruza had difficulty consolidating the break as she faced double break point following an outstanding inside-out forehand from her opponent. She served her first ace and double fault but managed to hold for 3-1.
Barty appeared a bit off balance but slowly started to find her footing, often moving forward to finish points. While she continued to miss on the first serve, she hit another ace and held to 30 for 2-3.
Muguruza, repeatedly taken out wide as Barty found the corners, faced another break point when she overcooked a forehand and dumped serve when she netted another forehand. Level at 3-3, Barty continued to employ the backhand slice to draw errors from her opponent and with a brilliant lob winner, held for 4-3.
Each player had settled in, finding their rhythm and range off the ground often going for the lines or acute angles. The Spaniard faced another break point off a let cord winner but battled admirably under pressure to level at 4-4.
The 2019 French Open champion continued to struggle on serve and dropped serve following an exceptional crosscourt backhand winner from Muguruza. The 2020 Australian Open finalist seemed in control as she served for the set at 5-4 but soon faced double break point and lost serve following four consecutive errors off the ground.
Barty, ever focused and composed, held at love for the first time in the set. Muguruza, down 5-6, would have to hold to force the tiebreaker. Following four consecutive errors off the ground from Barty, Muguruza held to 15 for 6-6.
Barty served first in the breaker and opened with an ace. She soon found herself up 5-1 despite donating a double fault and secured the breaker 7-3 following a well-struck crosscourt forehand winner.
While typically there are swings in momentum over the course of a match, none more salient than after a breaker, Muguruza was unable to change course as she labored in the opening game of the second set. Following six deuce and three break points, the Spaniard dropped serve on the 18th point when Barty unleashed on the crosscourt forehand.
Barty on cruise control hit her 7th ace and held at love to consolidate the break. Muguruza was in danger of going down a double break but saved break point and held for 1-2 following a huge serve out wide.
Serving with new balls, Barty held to 30 with her 8th ace. Muguruza opened the fifth game with a spectacular inside-in forehand and closed with a let cord winner for 2-3. Muguruza went for broke and the lines, extracting errors from her opponent. Barty could not maintain the break advantage as she lost serve following a double fault and a backhand error on consecutive points. Level at 3-3, Muguruza held at love for 4-3. The world #1 hits her 9th ace and third double fault but holds to 15 for 4-4, just eight points from victory.
Muguruza could not afford to drop serve but that is what she did after netting a makeable forehand and donating another double fault. Ash Barty stepped up to the line and served her way to victory with her 11th ace and another extraordinary lob winner for her 9th career title, second on home soil.
This match was not always played at the highest level or with the greatest intensity, but it most definitely provided the players with much-needed competition just days from the start of the Australian Open.
While this victory is sweet, another grand slam title – this one in her backyard – would most certainly be sweeter.
Teaser Image: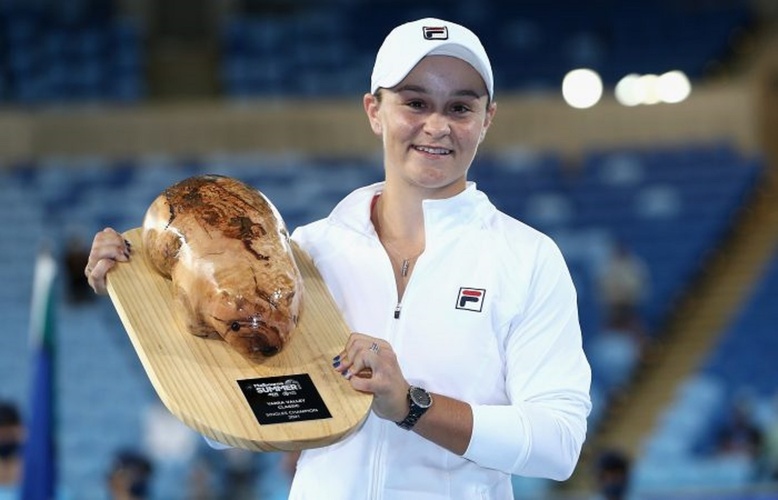 Inline Images: