Sakkari defeats Gauff 7-5, 6-2 at Abu Dhabi Open
In only their second tour-level meeting, Maria Sakkari from Greece, dispatched the American, Coco Gauff, just 16 years of age, in straights to advance to the third round at the WTA Women's Tennis Open, the first event of the season.
They last met five months ago at the Western and Southern Open which due to Covid-19, was played at the BJK National Tennis Center, the site of the US Open. In New York under more hospitable conditions, Sakkari had an easier time defeating the young phenom in straight sets.
Today's match in windy, but dry conditions, clearly had an impact as both consistently struggled on serve. Sakkari served first but probably wished she had not. The #9 seed and world #22 labored on serve, donating a double fault and following four deuce and four break points, dropped serve when she overcooked a forehand.
Gauff, currently ranked a career-high #47, wasted no time, holding to 15 for 2-0. Sakkari missed 5/6 first serves, donated two more double faults, and dropped serve again to go down 0-3.
The teenager seemed to be on cruise control, but she too had trouble on serve as she repeatedly caught the toss. The young American was often out of position as she failed to move up to the ball and it cost her; Sakkari broke back with a blistering backhand down the line pass.
Sakkari's experience and mental fortitude were on full display as she consolidated the break with a love hold, closing out the game with an ace out wide. Gauff seemed out of sorts as the unforced errors flew especially off the forehand. Following her first double fault, she faced break point and dumped serve with a poorly executed forehand volley.
Back on serve at 3-3, Sakkari continued to play aggressively from the baseline, often hitting behind her opponent. The twenty-five-year-old held to 30 and took the lead for the first time. Gauff continued to toil on serve and with the forehand and was broken at love to drop serve for the third consecutive time, affording her opponent the opportunity at 5-3 to serve for the set.
Sakkari, perhaps overcome by the sudden change in momentum and her seemingly commanding lead, could not secure the set as she dropped serve, broken at love, following another double fault and two incredible forehands on consecutive points from Gauff. The teenager, serving to stay in the set at 4-5, faced break point but held as Sakkari began missing off the return.
Level at 5-5, Sakkari continued to miss-fire on serve and despite donating another double fault, held for 6-5 with her well-placed, potent groundstrokes. Gauff, serving to stay in the set, at times appeared flat-footed and donated two double faults to drop serve and the set.
Sakkari served first in the second and maintained her game plan, attacking the Gauff forehand whenever possible. This tactic continued to pay dividends as she held at love for 1-0. Gauff seemed to reset, holding easily to 15 for 1-1 with a well-placed serve and formidable forehand.
Sakkari had a much more arduous time holding as she continued to miss with the first serve. Although she threw in her third ace, she gifted her opponent two double faults and faced four deuce and three break points. Gauff, racking up the unforced errors, let her opponent off the hook as she failed to convert.
Gauff, having failed to break, was quickly on her heels as she returned the favor, donating two double faults. Following three deuce and break points, the American dropped serve as she floundered at net, unable to handle her opponent's brilliant backhand pass.
Sakkari, serving at 3-1, played with fire as she continued to have issues on serve, throwing in two more double faults but managed to hold as Gauff misfired on the forehand on consecutive points.
Gauff appeared to have checked out as she was uncharacteristically mute but opened the sixth game with an ace and held at love for 2-4. Sakkari returned the favor, striking an ace and holding at love with a crisp crosscourt forehand volley winner for 5-2.
Gauff, serving to stay in the match, continued to catch the toss and donated another double fault and soon faced double match point. Sakkari secured victory and a spot in the third round with another fantastic forehand.
She finished with 4 aces and 9 double faults. She won 64% of first serve and 53% of second serve points. She will need to do considerably better in her next match against the two-time grand slam champion and reigning Australian Open finalist, Garbine Muguruza. This will be their first tour-level meeting which I am confident, will not disappoint.
Teaser Image: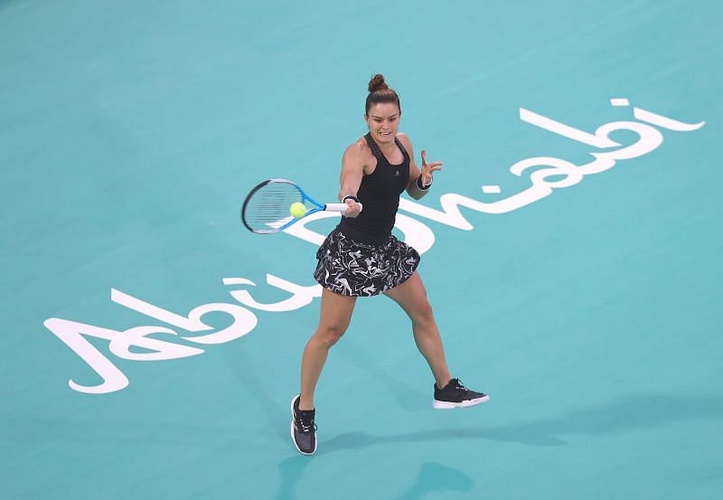 Inline Images: