A changing of the guard. It is a phrase that is bandied about in many sports, and tennis is no exception. It refers to that transition period when the next crop of players begins to displace the more decorated stalwarts in the winner's circle with greater and greater frequency. In men's tennis, the suggestion of a changing of the guard has come about multiple times, yet the Big 3 have stubbornly kept a steel grip at the top of the sport for over a decade. With what transpired at the ATP World Tour Finals in London, however, one is left wondering if the changing of the guard has now truly commenced heading in 2021.
To quickly recap, Novak Djokovic and Rafael Nadal came into the ATP Finals as the top two seeds and heads of their respective groups. As predicted, both also made it safely through to the semifinals, though it is worth noting, both finished second within their group. Even so, many were predicting a Djokovic versus Nadal final. While commentating for Tennis Channel, analyst Paul Annacone was not predicting that anticipated final, as he felt that there would be an upset in one of the semifinals. He did not know which. Though he could envision either semifinal ending in an upset, however, he was not predicting a Dominic Thiem versus Daniil Medvedev final. In short, it was inconceivable that when at least two members of the Big 3 reached the final four that both would fall short. But by the time play came to a close that Saturday, the inconceivable had happened. Thiem and Medvedev had both pulled off the upset to book their spot in Sunday's final.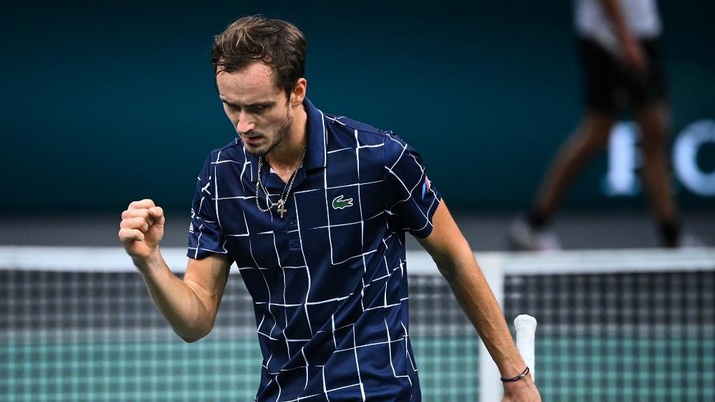 That Thiem and Medvedev were able to pull off the upsets is not entirely surprising. Both have steadily been making inroads in their rivalries with members of the Big 3. Thiem had also defeated Nadal and Medvedev had defeated Djokovic during the round-robin phase, so the notion that they could swap and defeat the other member of the Big 3 in the semifinals was more than feasible. It was instead the manner in which each man pulled off the upset that could signal an actual changing of the guard.
Thiem and Medvedev both did what fans are so used to seeing Djokovic and Nadal do in securing their prestigious victories. Thiem saw match points in the second set go begging against Djokovic in his semifinal and even found himself in a daunting deficit in the third-set tiebreak. Yet much like the man across the net from him had done on numerous occasions, Thiem continued to swing away, backing his game and never wavering in his belief that he would win the match, ultimately doing just that.
In Medvedev's case, he had been cruising through his service games in his opening set against Nadal before a careless game from nowhere saw him lose that set in the blink of an eye. He then kept it close in the second before appearing to come up short again, leaving Nadal to serve for the match. But the Russian, who had lost a couple of heartbreakers to the Spaniard in prior encounters, continued to compete and make the second seed earn it. In the end, it was Nadal who blinked, and Medvedev never looked back as he completed his comeback by winning in three.
If the last few years have taught fans and pundits anything, it is dangerous to assign too much importance to a single match or event. Djokovic and Nadal are highly unlikely to be going anywhere any time soon, and most assume that Roger Federer will be right back in the thick of it during the 2021 season following successful knee surgery. That said, there was definitely a different feel to what occurred in the final matches in London. A changing of the guard is hardly apt to happen overnight, but many may look back on the 2020 ATP World Tour Finals as where it all began.
Teaser Image:
Inline Images: