Daniil Medvedev defeats Sascha Zverev 5-7, 6-4, 6-1 to claim Rolex Paris Masters
Like 2020, this match was unpredictable, predictable, and anxiety-inducing. Daniil Medvedev and Alexander Zverev were seeking to reassert themselves at the top of men's tennis.
Medvedev, a 9-time finalist and 4-time winner in 2019, reached his first final since defeating Zverev in straights at the Rolex Shanghai Masters last fall while Zverev, following a disappointing five-set loss in the US Open final, was attempting a hat-trick, having won back to back 250 level titles in Cologne last month.
The 24-year-old Russian has had a sub-par season since the tour resumed late August following a five-month suspension due to the Covid-19 pandemic. They played six times before – all on hard court – with Zverev leading the head to head 5-1.
Medvedev, ranked 6th in the world and #3 seed, won the toss but elected to receive. Zverev, currently ranked #7 and seeded 4th, struck two aces in the opening game and held for 1-0.
Medvedev returned the favor and then some, striking two aces on consecutive points for 1-1. Both at 6'6", unloaded on serve, struck the ball with conviction, and kept the rallies short.
Zverev's second serve has always been his Achilles heel but this week in Paris, he served with authority hitting 8 aces to two double faults against Stan Wawrinka and just one double fault to 13 aces against Rafa Nadal. He opened the third game with a huge serve down the middle and held at love with an overhead smash.
Medvedev opened the fourth with an ace and closed with another. Level at 2-2, Zverev kept his foot on the gas, holding easily to 15 for 3-2. The Russian, playing at an extremely fast clip, continued to crack the first serve, and held to 15 for 3-3.
The seventh or "swing" game is invariably pivotal and for the twenty-three-year-old German, it was crucial. Medvedev was relentless off the ground, ripping the forehand both inside-out and down the line to lead 15-30. Zverev regained the advantage with two well-placed serves but Medvedev reached deuce – the first of the match – with a fantastic drop shot and backhand down the line pass.
Although Medvedev continued to dictate from the baseline, Zverev held for 4-3 behind adept serving making 9/10 first serves. Medvedev applied scoreboard pressure by holding at love with an ace up the tee while his opponent held to 15 with an ace up tee.
Medvedev, serving to stay in the set at 4-5, struck two additional aces and an exquisite backhand drop shot for 5-5 while Zverev took the lead 6-5 with an ace out wide.
The Russian had served at an exceedingly high level throughout the set, but it deserted him when he needed it most; missing 4/6 first serves, he dropped serve and the set 5-7.
It appeared as though Zverev would maintain the momentum given Medvedev's serious lapse in concentration at the end of the opening set, but the German would soon have issues holding serve.
Zverev served first in the second and held to 30 hitting his 6th ace. Medvedev continued to miss with the first serve but behind outstanding ball-striking off both wings, held for 1-1.
Zverev battled himself as well as his opponent in a fifteen-minute game that included the longest and most enthralling rally of the match at 38 shots in addition to his first and second double faults. Medvedev continued to dazzle with half-volley winners off both wings as Zverev struggled but held following eighth deuce and four break points!
Medvedev continued to misfire on serve but held to 30 for 2-2. Zverev had a much easier time, serving with new balls, hitting two aces, one on game point.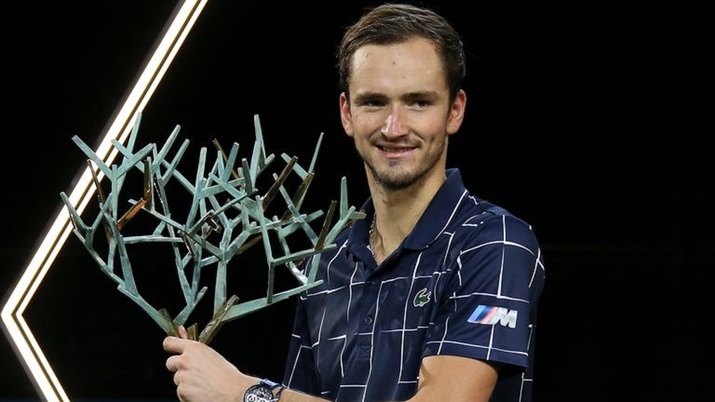 Medvedev, like a magician, pulled a rabbit out of a hat, hitting his 10th ace and held at love for 3-3. Zverev, ever so close to the finish line, struck his 10th ace and held easily off a let cord winner for 4-3.
A must hold for the Russian, Medvedev once again held at love, hitting his 12th ace on game point. Level at 4-4, the cracks began to emerge as Zverev quickly faced break point following an incredible backhand drop volley winner from Medvedev and dropped serve when his backhand sailed long. Medvedev, serving for the set, missed four first serves yet held at love behind extraordinary ball-striking and a second serve ace out wide on set point.
Zverev served first in the deciding set and dumped serve following three break points as his opponent, often well inside the baseline, continued to play aggressively.
It was anything but smooth sailing for the world #6 as he struggled to consolidate the break. Although he missed 7/16 first serves and donated his first double fault, he held following five deuce and four break points. Zverev knew all too well that this was his opportunity to reassert himself and rattle his opponent.
Medvedev consistently astounds with his uncanny ability to quickly regroup and reaffirm his authority. Although Zverev opened the third game with an unreturnable serve, Medvedev earned the double break with a brilliant backhand down the line return winner.
Seemingly on cruise control, the two-time Masters 1000 champion once again held at love for a commanding 4-0 lead despite missing 4/5 first serves.
Zverev, undeniably on thin ice, held to 30 despite two unforced errors off the backhand. While Medvedev's first serve was MIA for most of the second and third sets, his groundstrokes cleared a path to victory as he held to 30 for 5-1.
Zverev, serving to stay in the match, could not find another gear or inspiration as he quickly faced double break and match point and squandered his chance for a fourth Masters 1000 title with another costly double fault. After 2 hours and 7 minutes, Daniil Medvedev was the Rolex Paris Masters Champion.
With this most impressive come from behind victory - his 8th overall - Medvedev has equaled his career-high ranking of #4. Although he is the defending champion, he will skip the Sofia Open and finish the season at the ATP World Tour Finals in London.
This is the second consecutive year he has qualified for the season-ending championships and hopes to improve upon his performance last year where he was 0-3 in round-robin competition. While he failed to win a match, all three were close, especially the three-set (two tiebreaks) loss to world #2, Rafa Nadal.
Teaser Image: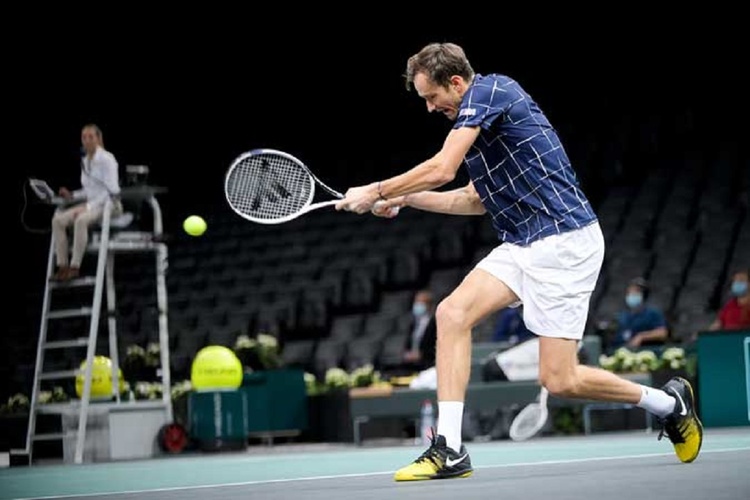 Inline Images: