The teenager, ranked #54 in the world, dismantled the reigning Australian Open champion, Sofia Kenin, 6-4, 6-1 in 84 minutes. Swiatek is the first player from Poland – male or female – to win a grand slam title. This was their first tour level meeting, but four years ago, Swiatek secured a straight sets victory in the third round of the juniors at Roland Garros.
Swiatek seemed to fly under the radar, but those in the know knew to pay attention as she dispatched last year's French Open finalist and 2018 champion by the same score (6-1, 6-2) in the first and fourth rounds, respectively.
Angelique Kerber was the last player to win two slams in the same season (2016 AO, US Open); Kenin, ranked #6 and just 21 years of age, was hoping to do the same.
Swiatek served first in cool, sunny conditions with half the court covered in shadows. The 19-year-old who travels with a sports psychologist, seemed to have left her nerves in the locker room as she held at love with a fantastic crosscourt forehand.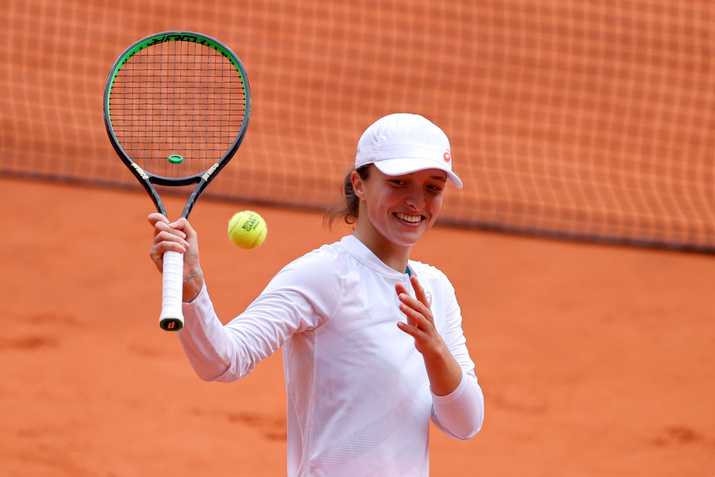 Kenin, the more experienced of the two, opened with a great serve out wide but dropped serve following two backhand errors on consecutive points. Swiatek consolidated the break, holding to 15 when her opponent netted the backhand return. With an ace out wide and a handful of unforced errors from her opponent, the American held to 30 for 1-3.
Swiatek, more often than not, dictated play from the back of the court, keeping rallies short and moving forward whenever possible. Her serve, however, continued to let her down as she missed 3/5 first serves and dumped serve when she donated a double fault.
Kenin leveled the set at 3-3 behind well-placed serves and several backhand errors from her opponent.
Swiatek continued to miss with the first serve and despite two deuce points and another double fault, held for 4-3. Swiatek possesses easy power in addition to an exceptional slice backhand drop shot which she repeatedly utilized to great effect.
Kenin continued to struggle off the ground especially when taken out wide. Not known as a grunter, she significantly upped the volume as they engaged in a spectacular, 19-shot rally won by Swiatek with a brilliant crosscourt forehand winner. Kenin, despite making 11/16 first serves, donated her first double fault and following 5 deuce and 3 break points, dropped serve with another backhand error.
Swiatek served for the set at 5-3 and reached set point but dropped serve following another double fault and a blistering crosscourt backhand return winner from Kenin. The American, serving to level the set at 5-5, missed 3/5 first serves and lost the game and set following an incredible lob from her opponent.
Swiatek served first in the second and soon faced break point as she repeatedly missed the first serve. Kenin, on break point, off a first serve, crushed the inside-in forehand return to take the lead.
The American, however, was unable to consolidate the break as she threw in another double fault and watched another extraordinary backhand down the line from Swiatek pass her by.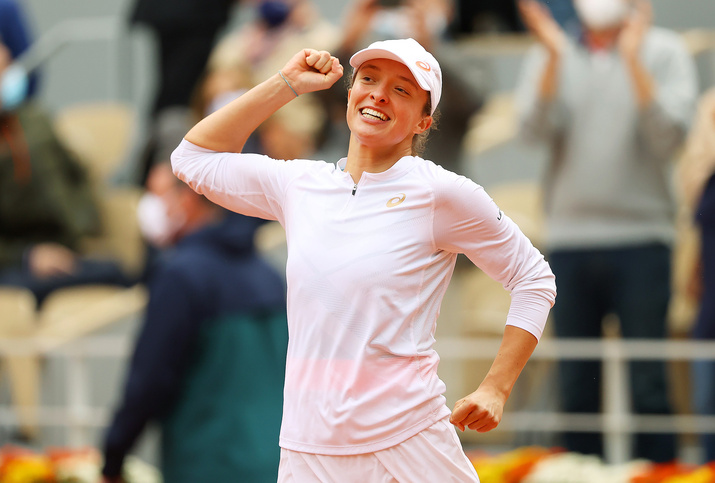 Swiatek, level at 1-1, held easily to 15 for 2-1. During the changeover, Kenin received treatment on her left thigh which had been wrapped throughout the fortnight and soon thereafter, left the court for a three-minute medical time-out. While Kenin had her leg re-wrapped, Swaitek, with jacket on, began hitting serves in order to stay warm and loose.
Although Kenin opened the 4th game with a well-struck serve and crosscourt forehand, she once again dropped serve when she overcooked an inside-out backhand. Swiatek, poised and confident hit an ace out wide and held at love for 4-1.
Kenin, clearly frustrated and rattled, opened with a double fault, and quickly faced triple break point. Swiatek needed just one as she converted with a hard-hit crosscourt backhand that landed on the baseline and sideline!
Swiatek, serving for history and grand slam glory, opened with a well-placed forehand down the line passing shot and closed out the game, set and match with another crisp crosscourt forehand winner.
Iga Swiatek is the first player since Justine Henin in 2006 to win the French Open without the loss of a set. The teenager won 68% of first serve and 52% of second serve points and converted 6/9 break points. She was 6/7 at the net and finished with 25 winners to 17 unforced errors.
Sofia Kenin had struggled to find her form leading up to the final and today was no different. Swiatek, however, maintained her high level of play and focus that earned her a spot in the championship match.
Although this is the last grand slam of the 2020 season, we will surely see much more from these two young, compelling champions.
Teaser Image: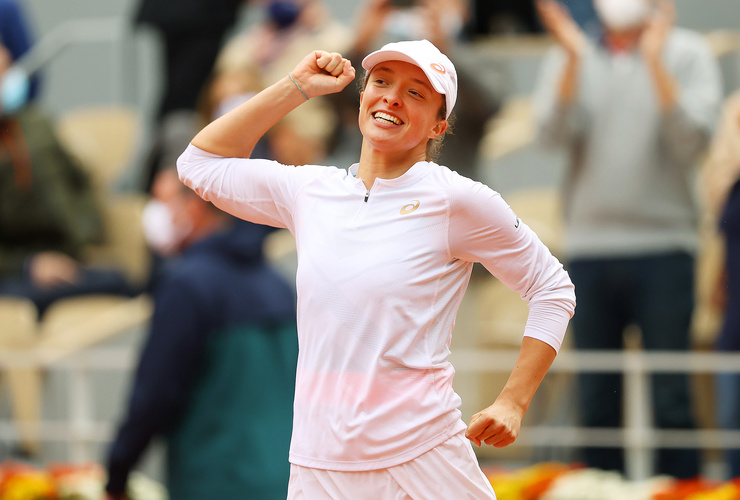 Inline Images: