Dominic Thiem defeats de Minaur 6-1, 6-2,6-4 to reach first US Open semifinals
Dominic Thiem, the 27-year-old Austrian and #2 seed, is thru to his first semifinal at the US Open. Although he reached the penultimate round with the loss of just seven games, it was far from easy.
Alex de Minaur, just twenty-one years of age, was competing at an exceedingly high level having defeated three quality players, including the #11 seed, in the previous rounds. The #21 seed from Australia, with three career titles, was determined to extend his historic run in New York.
Thiem served first under the lights in Arthur Ashe stadium and despite missing 3/5 first serves, struck an ace, and held to 15. De Minaur quickly went down 0-30 as Thiem unloaded with his spectacular one-handed backhand and with another ripped down the line, earned a second break point. De Minaur dropped serve when he overcooked a forehand.
Thiem, up a break at 2-0, could not buy a first serve, throwing in his first double fault and dumped serve when he netted a forehand.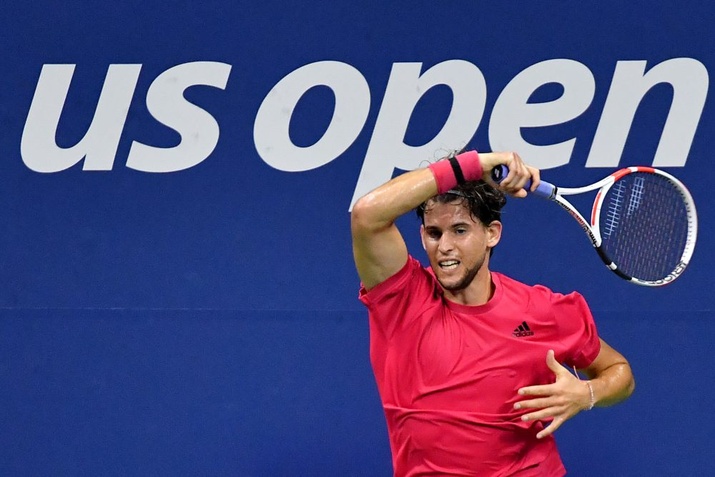 The Australian is very quick about the court and is not afraid to move forward. He was unable, however, to consolidate the break as he gifted three unforced errors to drop serve. Thiem, serving at 3-1, appeared to have once again lost focus as he faced triple break point following three consecutive unforced errors.
He miraculously saved all three with an ace, a crosscourt forehand and a backhand volley winner on consecutive points. He battled himself more than his opponent as he faced three deuce points and a fourth break point before consolidating for 4-1.
Despite reaching 40-15 and making 6/8 first serves, De Minaur once again dropped serve following two unforced errors and a blistering backhand down the line from his opponent.
Although Thiem had a commanding lead, it was anything but a dominating performance as he frequently lost focus and momentum. The Austrian regained his focus and intention as he struck two aces, one at 135mph, to close out the set at love.
De Minaur appeared to have reset as he held at love to open the second set. Thiem, however, continued to struggle on serve missing 4/10 first serves and although he donated another double fault, held for 1-1 with a huge serve out wide.
De Minaur, spirited and steadfast, once again held at love with an ace out wide. The world #3 and three-time grand slam finalist had an easier time in his next service game as he held to 15 with his fifth ace.
De Minaur, serving at 2-2, went up 40-0 despite missing 3/8 first serves but dropped serve as he threw in two double faults, one on break point.
Thiem, employing the slice backhand more than usual, opened with a well-struck overhead and closed with a 118mph ace out wide for 4-2. De Minaur, deflated and dazed, dropped serve again following a netted forehand and his third double fault. Thiem, serving for the set and a commanding lead, struck another ace and held at love for the first time to close out the set 6-2.
De Minaur served first in the third and faced double break point as Thiem continued to up the ante, hitting a remarkable flick lob on break point. Thiem, a bit more composed with a two sets lead, held to 15 with an ace out wide.
De Minaur, serving at 0-2, held to 30 despite missing 6/7 first serves by continuing to go for his shots, particularly off the forehand wing. Thiem threw in another double fault but held to 15 for 3-1 with another ace out wide.
De Minaur returned the favor, holding to 15 for 2-3. Thiem, ever so close to the finish line, seemed a bit indecisive as he committed five unforced errors to drop serve.
De Minaur, a fierce competitor and agile mover, battled to consolidate the break as he quickly faced triple break point but held with an incredible backhand down the line.
Thiem, determined to close out the match in straight sets, dug deep as he faced a deuce point. With a massive inside-out forehand and ace out wide, he held for 4-4. De Minaur, just eight points from the locker room, quickly faced double break point and dropped serve when a wicked slice backhand from Thiem extracted the error.
After a little over two hours, Dominic Thiem served for the match and wasted no time as he struck four breathtaking winners, three off the forehand, to hold at love and close out the match.
Thiem, with repeated lapses in concentration and dips in energy, was lucky to finish in straights given De Minaur's tenacity and competitive nature. The Austrian and #2 seed finished with 11 aces to 3 double faults and 43 winners to 31 unforced errors. He won an impressive 83% of first serve points but will need to do better on second serve points if he hopes to reach the final.
His semifinal opponent is the 2019 finalist and #3 seed, Daniil Medvedev. Thiem leads the head to head 2-1 but this will be their first best of five encounter, and it promises to be a blockbuster with so much on the line.
Teaser Image:
Inline Images: