Jennifer Brady, from the United States, had not dropped a set in five matches en route to her first semifinal appearance at a grand slam event. Though she won today in straight sets, it was not exactly straight forward.
Yulia Putintseva from Kazakhstan had reached the quarterfinals twice at Roland Garros but this was her first quarterfinal appearance at the Open. Putintseva, the #23 seed, led their head to head 2-0, winning on hardcourt and clay in 2018. The twenty-five-year-old was match tough as she dispatched the #8 seed, Petra Martic, in three sets in the previous round.
The twenty-five-year-old American served first and held to 15 with an ace and a huge serve on game point. Putintseva dropped serve in her opening service game as she donated a double fault and overcooked a forehand. Brady, looking to dictate off the ground, ripped a backhand down the line winner off a second serve and secured the break with a spectacular inside-out forehand.
Brady opened with an ace and despite hitting two more including one on game point, struggled to consolidate the break as she donated two unforced errors, one off each wing.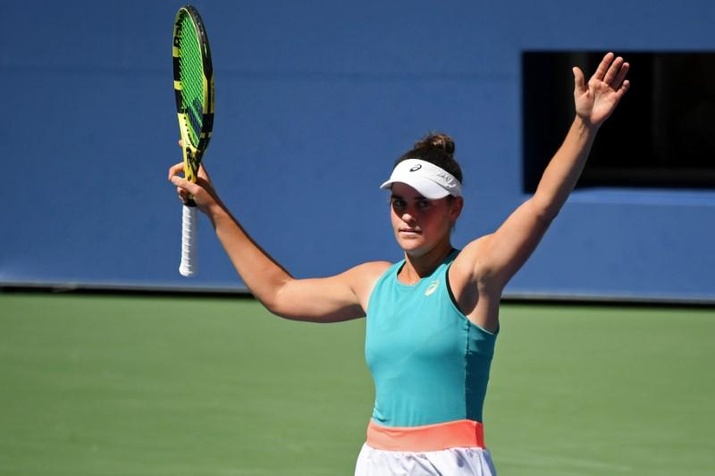 Putintseva, serving at 0-3, opened with an ace but dropped serve again as Brady maintained her ground game assault, striking balls from well inside the baseline.
Brady once again had difficulty consolidating the break as she missed 4/6 first serves and dumped serve following two netted backhands on consecutive points. Putintseva found her range off the ground extracting errors from Brady as well as employing the slice backhand drop shot to great effect.
Putintseva won the opening point of the sixth game, by far the best rally of the set as they both utilized all corners of the court. Putintseva held at love following two unforced errors from Brady and a fantastic inside-out forehand on game point.
Brady, trying to regain her focus and the momentum, held to 15 for 5-2 behind well-struck serves. Putintseva, serving to stay in the first set, held easily to 15 following three unforced errors from her opponent.
Brady, serving for the set, opened with a stunning inside-in forehand winner and closed it out with two more off the forehand, an overhead smash and her fastest serve of the set.
The 28th seed from Harrisburg, PA was a set away from the semifinals at her home slam but in order to secure victory, she would have to battle not only her opponent but her nerves.
Putintseva served first in the second and after two deuce points and one break point, dropped serve and her racquet in disgust as she misfired on a forehand down the line. Brady consolidated the break, holding to 30 for 2-0. Putintseva regrouped admirably, holding at love as she benefitted from four consecutive unforced errors from her opponent.
Brady, still up a break at 2-1, gave it back as the unforced errors, particularly off the backhand, continued to accrue. Putintseva, level at 2-2, received a soft warning for coaching from the chair umpire. After a fantastic forehand volley winner from Brady, she faced triple break point and saved two behind exceptional inside-out forehands but dropped serve when another went wide.
Brady once again had a difficult time consolidating the break as she let a 40-0 lead slip following two unforced errors. She battled and held to 30 hitting two aces, including her fastest of the match at 111mph out wide on game point.
Putintseva, hanging on by a thread, quickly faced triple break point following a sublime lob from Brady for 0-40 and three stab volleys to secure the break.
After 1 hour and nine minutes, Jennifer Brady served for the match and a spot in the semifinals. She opened with a 110mph first serve and a marvelous forehand for 15-0 and did not lose another point in closing it out.
Brady finished with 6 aces and 0 double faults. While both had similar first and second serve percentages, it was Brady who excelled on second serve points winning an outstanding 72% while her opponent won 44%. Brady struck three times as many winners as Putintseva, illustrative of her aggressive style of play.
Brady will face Naomi Osaka next. She is 1-1 versus Osaka, their last match two years ago on clay won by Osaka.
Teaser Image: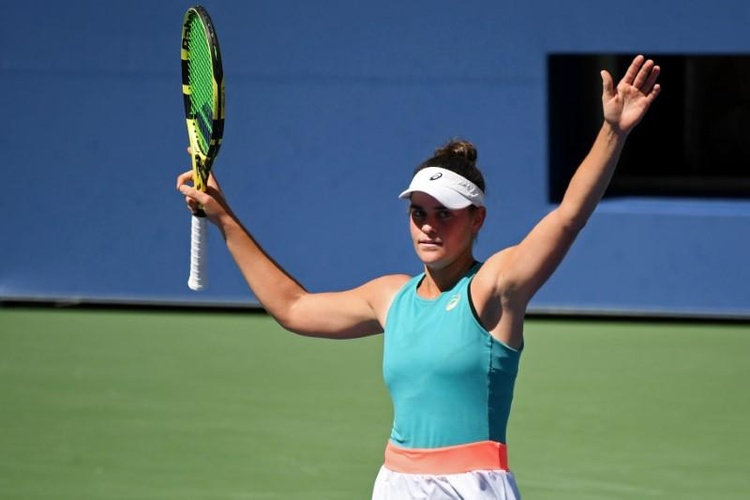 Inline Images: