Sofia Kenin of the United States has quite an impressive resume for a 21-year-old. She is the reigning Australian Open champion, #4 in the world and the #2 seed at her home slam. The last three years she has lost in the third round so mission-critical this evening was reaching the fourth round for the first time. Standing in her way is the versatile and supremely talented Ons Jabeur.
The twenty-six-year-old from Tunisia is 27th seed and currently ranked #31, a career-high. They have played four times on three surfaces all won by Kenin and their last meeting was in the quarters at the 2020 Australian Open.
Given her familiarity with her opponent's game, Kenin knew she had to remain alert given Jabeur's extensive arsenal. Although she hits a powerful two-handed backhand, she also uses the slice and the drop shot to great effect.
Kenin, a fierce competitor who never gives up on a ball, won the toss but choice to receive. Jabeur held to 15 on the strength of her formidable groundstrokes and closed it out with an ace. Kenin had a harder time holding serve as she missed a couple of first serves and donated a double fault but on the power of her groundstrokes, leveled at 1-1.
Both hit the ball with conviction and pace, and even on the run, produced spectacular winners. Jabeur held to 30 for 2-1 while Kenin struggled to gain parity. She missed 5/10 first serves, double faulted and faced double break point following a massive forehand down the line from Jabeur. With an amazing forehand and two outstanding backhands down the line, she held for 2-2.
Jabeur stepped up to the line and struck two aces on her way to an easy hold for 3-2. Kenin managed to escape in her last service game but this time was not as fortunate. She missed 5/12 first serves, double faulted and whiffed her opponent's sliced backhands to drop serve when she netted a forehand.
Jabeur is highly adept and alternating between topspin and slice and this invariably extracts errors from her opponent. Serving up a break at 4-2, Jabeur quickly reached 40-0 but failed to consolidate the break as she dropped serve committing five unforced errors including a double fault.
The young American, incessantly eager, and ready to pounce, opened with a double fault but held to 15 for 4-4. Jabeur, clearly still rattled from her missed opportunities, hit too many second serves, another double fault and faced two break points but held for 5-4 with three aces.
Kenin, serving to stay in the set, opened with a huge, crosscourt forehand and held to 30 when Jabeur's return sailed long. Jabeur continued to miss with the first serve but struck a 112mph ace up the tee and held for 6-5 with a well-placed lob. Kenin, serving to force the tiebreaker, wasted no time as she held at love for the first time in the match.
Jabeur served first in the breaker and won the first point with a fantastic crosscourt forehand hit behind her opponent. Each made several unforced errors and were tied at three apiece when they changed ends. Kenin assumed the lead at 5-4 when Jabeur's forehand went wide and won the next two points to secure the set 7-6.
Kenin, demonstrably pumped and laser-focused, served first in the second and held easily to 15 for 1-0. Jabeur, in stark contrast, appeared preoccupied with her uneven performance and quickly went down double break point following another double fault and dumped serve when she whiffed a forehand.
Kenin, serving at 2-0, failed to consolidate the break and dropped serve when she donated another double fault and netted a forehand. Jabeur continued to go for her shots off the ground and was effective with the drop shot but despite throwing in two aces, dropped serve for 1-3.
Kenin was relentless, hitting winners seemingly at ease both down the line and crosscourt. As her opponent's unforced errors continued to accrue, she held at love for 4-1. Jabeur desperately needed to hold and she did just that with her 10th ace, a brilliant backhand down the line pass and a blistering forehand down the line on game point.
Kenin, serving at a high percentage, continued to unleash her potent groundstrokes, and held to 30 for 5-2. Jabeur, serving to stay in the match, faced two deuce and one match point but held with an overhead smash, forcing her opponent to serve it out.
Kenin, stopped a rally when she thought Jabeur's shot was long but as the replay illustrated, it was not, and she lost the point. It would have been easy to lose focus and drop serve but after 1 ¾ hours, she converted her second match point with a spectacular backhand down the line to reach the fourth round at the US Open for the first time.
Kenin's numbers were most impressive given the quality of her opponent. She won 73% of first serve points and 52% of second serve points. She converted 3/7 break points and was 7/9 at net. Although she had 9 more unforced errors than winners, this is quite reasonable given how hard they were hitting and how often her opponent sliced the ball and employed the drop shot.
Next up for the #2 seed is the #16 seed, Elise Mertens of Belgium. They played twice before, on grass and hardcourt and Kenin was victorious on both occasions, each match going the distance.
Teaser Image: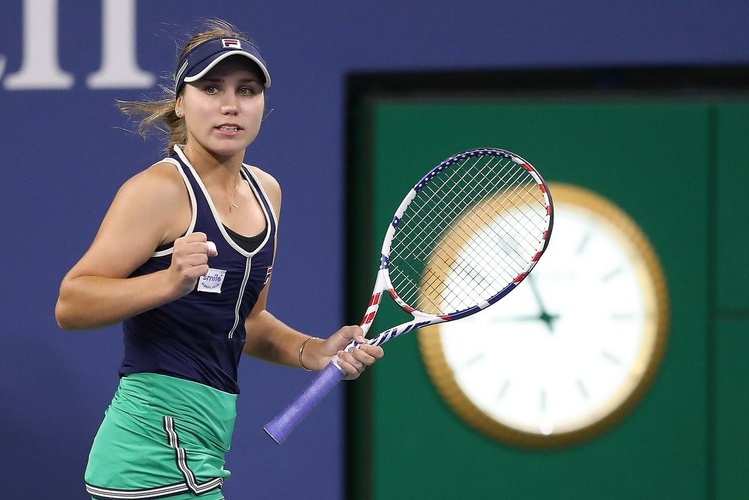 Inline Images: