Denis Shapovalov, the twenty-one-year-old Canadian, was looking to duplicate his 4th round appearance in 2017 while his opponent, the twenty-two-year-old American, Taylor Fritz, was seeking his first.
Shapovalov, a lefty and the #12 seed, won both previous matches in straight sets, but this was their first best of five, grand slam encounter. Incredibly, Shapovalov already made history as one of three Canadian men (Vasek Pospisil and Felix Auger Aliassime) to reach the third round of a slam.
On Arthur Ashe stadium on a sunny afternoon, Taylor Fritz opened the match with a 143mph serve and an ace on consecutive points and held to 15 despite throwing in a double fault. Shapovalov served even better, going 5/5 on first serves and held to 15 for 1-1.
Fritz continued to go big with the first serve clocking one at 147mph on game point for 2-1. Shapovalov, not widely known as a big server, struck two aces in his next service game and once again held easily to 15 for 2-2.
Both players striking the ball with authority and pace, looked for any opportunity to pounce. Fritz opened the fifth game with an ace and with another spectacular serve and crosscourt forehand, held for 3-2.
The first sign of trouble came in the sixth game as Shapovalov donated a double fault and faced three deuce and two break points but battled to hold with an ace up the tee on game point.
Fritz held easily and quickly to 15, hitting three aces for a 4-3 lead. Shapovalov, serving with new balls, made a few errors off the ground and faced triple break point, dumping serve when he threw in another double fault. Although Fritz missed 4/6 first serves and donated a double fault, he struck his 6th ace in closing out the set 6-3 in just thirty-three minutes.
Shapovalov served first in the second and opened with an ace. Although he was having issues with the toss, he held at love with an extraordinary forehand down the line. His opponent returned the favor and then some, striking two aces, holding at love for 1-1.
Not to be out done by the young American, the younger Canadian held at love for 2-1. Fritz upended the pattern by holding to 15 but in their next service games, they each held at love as they served huge; Shapovalov hit another ace while Fritz hit three!
Level at 3-3, Shapovalov continued to execute the forehand down the line but also made successful forays to net, holding to 15 for 4-3. Fritz quickly went down triple break point as the unforced errors flew and dropped serve when he overcooked the forehand.
Serving for a set is seldom simple and for Denis Shapovalov, it came close to a nightmare as he soon faced triple break point. While he missed 4/8 first serves, he won the longest (29 shots) and most enthralling rally of the match with a deft forehand crosscourt drop volley and despite being issued a time violation, he secured the set with a fantastic forehand down the line.
Fritz served fist in the third and had a more difficult time holding as he continued to miss the first serve. He faced break point when Shapovalov unloaded on another massive forehand down the line and dropped serve when his opponent crushed the crosscourt forehand.
It appeared that the Canadian had grabbed the momentum, but he soon faced double break point after mishitting a forehand. Despite facing two deuce points, he gained the advantage with a well struck overhead and closed out the game when Fritz whiffed a forehand.
Although he failed to break back, Fritz maintained his focus and held to love for 1-2. Shapovalov opened with a double fault but hit his sixth ace and a 123mph second serve to close out the game for 3-1.
Fritz continued to miss on the first serve but with an ace and a marvelous forehand, held for 2-3. Shapovalov continued to move forward and it paid dividends. Although he went up 30-0, he soon faced break point when he netted a backhand and dropped serve when he netted a forehand.
Back on serve at 3-3, Fritz easily consolidated the break as his opponent continued to misfire. Shapovalov, down a break a 3-4, opened with a double fault and by the end of the game, donated two more and dropped serve.
Fritz, up 5-3, served for the set and the lead. Shapovalov, clearly frustrated with the second break of serve, smashed his racquet and received a code of conduct violation. Just when you thought he would completely implode; he broke back for 4-5.
Shapovalov was in deep trouble as he donated another double fault and faced two break points following an outstanding backhand pass from Fritz. Although he leveled at deuce, he was unable to hold serve and lost the set 4-6. Fritz, with 2 sets to 1 lead, seemed to be in the driver's seat but that would soon change.
The American served first in the fourth and with a colossal forehand down the line, held at love for 1-0. Shapovalov, unlike his opponent, did not appear confident or composed. As the unforced errors continued to mount, he faced break point and dumped serve when he gifted another double fault.
Fritz, up 2-0, continued to serve big and closed out the game with an ace down the middle. Shapovalov, serving at 0-3, found his rhythm on serve and despite throwing in his 9th double fault, held with an ace out wide.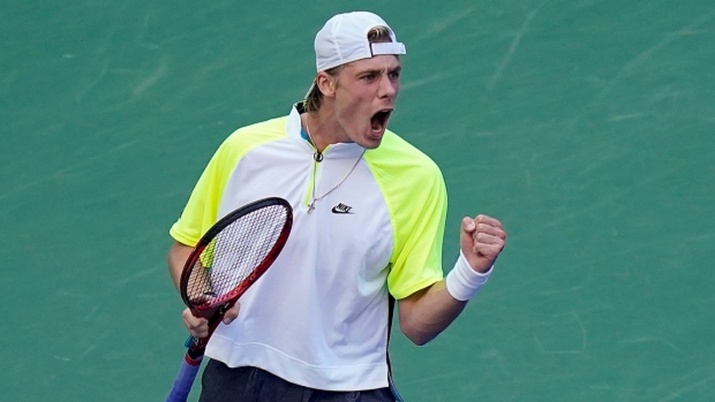 Fritz, just three games from the fourth round of his home slam, dug himself a huge hole as he continued to misfire on the forehand. Despite facing three deuce points, the forehand bailed him out and he held for a seemingly insurmountable lead.
Shapovalov, keenly aware that time was running out, upped the intensity as he held to love with an ace. Fritz, poised and dialed in, served with new balls and held to 30 for 5-2 with an exceptional inside-out forehand.
Shapovalov, hanging on by a thread, kicked it up a notch, unfurling on a massive inside-out backhand, forehand volley winner and an ace on consecutive points to hold for 3-5.
Taylor Fritz a mere four points from the fourth round, could not cross the finish line. His enormous serve had deserted him when he needed it most. Even though he threw in a 139mph ace to save break point, he dropped serve when he whiffed a blistering backhand from his opponent.
Shapovalov, despite opening with his 10th double fault, leveled the set at 5-5 with an ace up the tee and a fantastic forehand down the line.
Fritz, steadfast and focused, refused to submit and held at love for 6-5 with an astonishing inside-out forehand. Shapovalov once again stood up to the line fighting for survival and the tiebreaker. He opened with an ace, finished with two more and never looked back.
The Canadian was energized and galvanized. Fritz served first in the breaker and crushed a forehand down the line, but it was Shapovalov that came out swinging; he had two aces while the player known for his huge serve had none. Shapovalov snatched victory from his opponent's hands with a huge forehand down the line to claim the tiebreaker 7-5 and the fourth set.
It was a remarkable turnaround that no one except Shapovalov, saw coming. The fifth set began three hours after the match commenced. Fitness was not an issue due to the relatively mild conditions and the fast pace of play. Shapovalov served first and held to 15 behind huge serves.
Fritz missed a routine backhand and quickly faced break point when he netted a forehand. Shapovalov seized the moment and ripped a forehand down the line for the break. Serving with the lead and new balls, Shapovalov ramped up the pressure by holding at love for 3-0.
A short while ago, Taylor Fritz was 4 points from the fourth round. His first serve was no longer a reliable weapon as he faced two deuce points before finally holding for 1-3.
Shapovalov, with a spring in his step and a glimmer in his eyes, opened with an ace out wide and with another out wide on game point, held at love for 4-0. Fritz was determined to hold serve and he did despite missing 3/5 first serves.
The Canadian saved the best for last, hitting three aces in a row – two at 129mph - for 5-2. Fritz, determined to hold serve and force his opponent to serve out the match, came up short as Shapovalov pummeled the forehand and closed it out when Fritz overcooked a forehand.
This was an exceedingly hard hitting and hard-fought match with many shifts in momentum. Denis Shapovalov, incredulously, finished with more aces than Fritz 22/18 though he donated twice as many double faults 10/5. He won an astounding 76% of first serve points and a respectable 48% of second serve points. He was stellar on break points converting 6/9 while his opponent went 5/15. Shapovalov had almost twice as many winners as unforced errors and will need to replicate those stats when he takes on the #7 seed, David Goffin in the round of 16.
Teaser Image: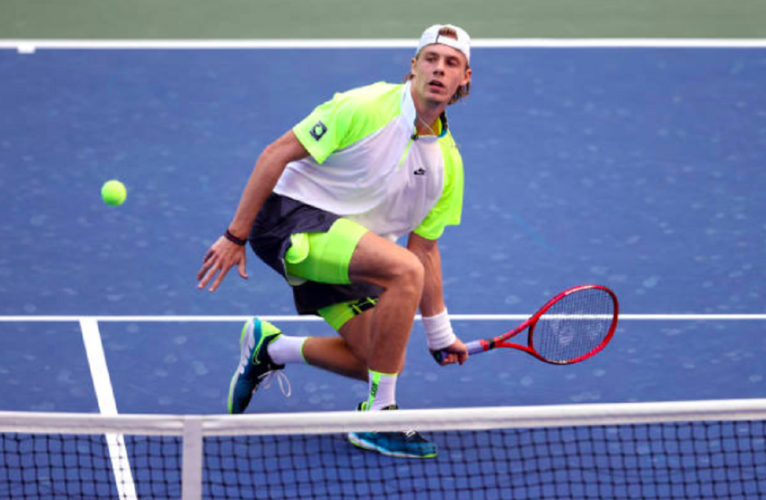 Inline Images: