Despite not having competed in five months due to the COVID-19 pandemic, Jennifer Brady is having the best season of her career. On August 16th in Lexington, Kentucky, the 25-year-old from Harrisburg, Pennsylvania won her first tour title without dropping a set and reached a career high ranking of #40.
The young American has a formidable serve and forehand but her two-handed backhand is also a weapon. Anna Blinkova from Russia, is a promising young talent who defeated Brady last summer in their only previous meeting. The soon to be 22-year-old is currently ranked #61 having reached a career high ranking of #54 early this year.
This match was supposed to have been the fifth and last on court 11th but due to several previous matches going the distance, was moved to court 17. Brady won the toss and elected to serve. Although she missed 4/5 first serves, she closed out the opening game with an ace.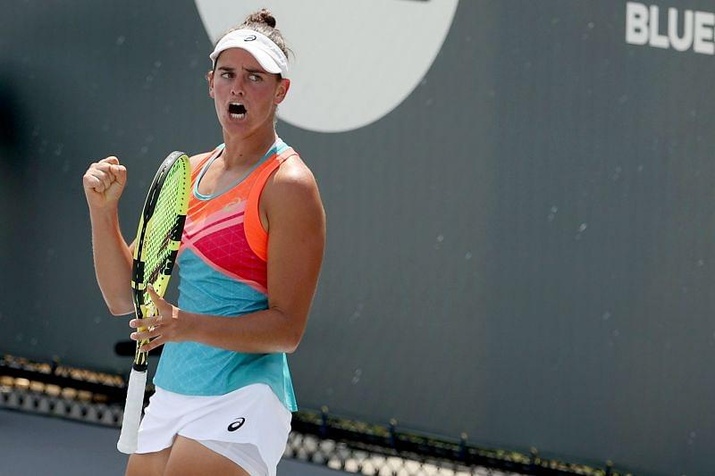 Her opponent had an even more difficult time holding as she went 7/12 on first serves and faced three deuce and two break points. Blinkova managed to hold for 1-1 with a fantastic forehand hit behind her opponent.
Brady struck her second ace of the match and held to 30 despite missing 5/6 first serves. Her powerful groundstrokes and aggressive style allow her to dictate play even when she misses the first serve.
Blinkova could not buy a first serve and faced double break point following an exquisite inside-in forehand return winner from Brady. Blinkova donated a double fault and the game to go down 1-3.
Although she played with poise and confidence, Brady had difficulty consolidating the break as the errors of the ground mounted. While she faced four deuce points, she saved break point with a spectacular forehand down the line winner and with a huge ace out wide, held for 4-1.
The two engaged in extraordinary, hard hitting rallies with each looking for the short ball to put away. Blinkova possesses potent groundstrokes and went toe-to-toe with Brady, often opening up the court with her two-handed backhand, then finishing with the forehand. With authoritative ball-striking, she had one of her easiest services games, holding to 15 for 2-4.
Brady returned the favor, holding easily to 15 for a commanding 5-2 lead. Blinkova, serving with new balls, remained offensive and once again held to 15 for 3-5. Brady opened with a great serve and crosscourt forehand winner and closed out the set with her 4th ace.
Blinkova served first in the second and held to love for the first time in the match. Brady quickly found herself in the hole as she missed 6/8 first serves and dropped serve when Blinkova ripped the backhand return down the line.
The Russian, up a break at 2-0, seemed to rush as she opened with a double fault and dropped serve following another double fault and backhand error. Brady, not afraid to go big on the second serve, donated her first double fault of the match but managed to hold for 2-2 when her opponent's return sailed long.
Blinkova appeared rattled as she quickly went down triple break point following a couple of errors off the ground and dumped serve when she threw in her 4th double fault. In the following game, Blinkova continued to unload on the backhand and created a break point but was unable to convert when she missed the return.
Serving at 2-4, the Russian became a bit complacent, missing off the ground and with the serve as she gifted her opponent another double fault and the game when she overcooked the forehand.
Jennifer Brady, serving for the match at 5-2, opened with a monstrous serve down the middle, a forehand down the line winner and her fifth ace for triple match point. She closed out the set and match with an out of reach forehand.
Despite 5 double faults and a low first serve percentage, Blinkova had decent numbers on first and second serve points won winning 60% and 44% respectively but it was the unforced errors and return points won that sealed her fate.
She had 18 winners to 24 unforced errors while Brady clocked 23 winners to 14 unforced errors. Blinkova was 1/4 on break points while Brady went 4/10. The Russian won a scant 35% of return points while her opponent won 48%.
Next up for the American is a fellow American, Cici Bellis, who is on the comeback trail following multiple surgeries over the last several years. The 21-year-old Bellis defeated Brady 7-6, 7-5 on a hardcourt in Sydney two years ago in their only tour level meeting to date. With a coveted spot in the third round of a grand slam at stake, this figures to be a hard-hitting and competitive match.
Teaser Image: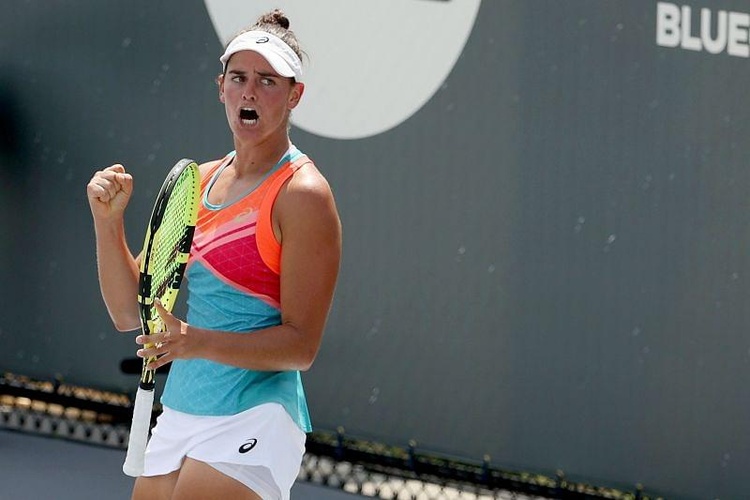 Inline Images: