Medvedev defeats Tsitsipas 7-6, 7-5 to reach Shanghai Masters final
Although Daniil Medvedev led their head-to-head 4-0 including a win on the dirt this past spring in Monte Carlo, Stefanos Tsitsipas came into their semifinal encounter exceedingly confident having dispatched the world #1 Novak Djokovic, in the previous round.
The 23-year-old Russian, having reached the US Open final last month, has achieved a career high ranking of #4 while his 21-year-old opponent from Greece, is currently ranked #7 having reached a career high ranking of #5 this past August.
Medvedev, seeking his second Masters 1000 final of the year, having won the Western and Southern Open in mid-August, leads the ATP Tour with an astounding 54 match wins.
In one hour and thirty-six minutes, Medvedev, reached his sixth consecutive final of the season. Despite the close score-line, this semifinal often appeared one-sided as the Russian more often than not dictated play and the pace of the match.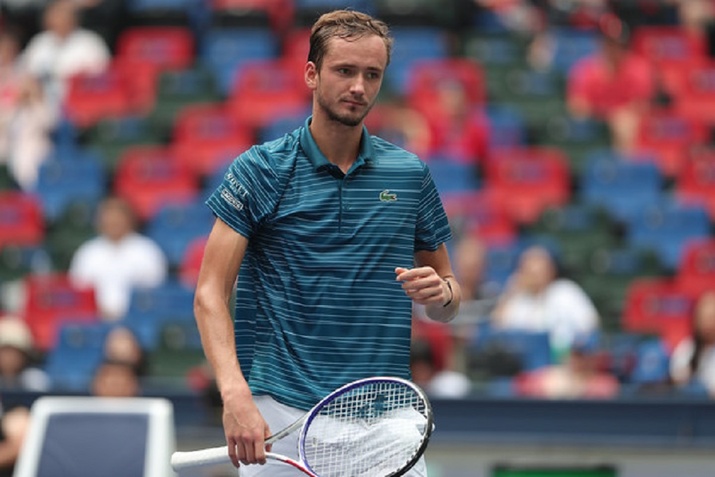 Tsitsipas won the toss but elected to receive and might have cost him the first set as he was always serving with score board pressure.
Both held with relative ease thru the first eight games, often holding at love with an ace. While Medvedev often missed with the first serve, his opponent was unable to capitalize on this steady feast of second serves.
On serve at 4-4, Medvedev quickly went down triple break point following his first double fault but held for 5-4 with two aces and a brilliant inside-out forehand.
While both were striking the ball with authority and were exceptionally patient, they often avoided high-risk shots, opting for a more calculated and high percentage strategy.
Despite donating a double fault, Tsitsipas held to 30 for 5-5. Medvedev returned the favor to lead 6-5 and force his opponent to earn the tiebreaker which he did with a fantastic crosscourt forehand pass to level the set at six games apiece.
Medvedev served first in the breaker and with two consecutive overheads, took the first point. They remained on serve thru 10 points and it was Tsitsipas that blinked first, shanking a forehand to give the Russian a set point at 6-5.
Though he missed the first serve, Medvedev converted and secured the set 7-6 when his opponent's backhand went wide.
Tsitsipas served first in the second and following two inside-out forehand winners on consecutive points and an ace, held to 15 for 1-0. Medvedev continued to serve big, this time putting all his first serves in play and easily held to 15 for 1-1.
By mixing up the pace and astutely changing direction, the Russian tightened the noose, earning his first break point of the match when he ripped the return crosscourt. Medvedev employed his signature squash forehand and formidable backhand down the line to convert and take the lead 2-1 and with an ace down the middle, consolidated the break for 3-1. Tsitsipas, with a huge serve out wide, held to 30 for 2-3.
The Russian appeared almost casual with his ball striking and demeanor while his opponent steadily became more deflated and dejected. With an ace out wide, Medvedev held for 4-2, just two games from the final.
After losing the first point of the seventh game, Tsitsipas served an ace down the middle and smiled as the crowd erupted in boisterous applause and held to 15 with his 8th ace of the match.
Medvedev continued to hold with relative ease as his well-placed serves continued to confound his opponent. Tsitsipas opened the 9th game of the set with an ace and though he then missed three consecutive first serves, held to 30 when his opponent's return sailed wide.
Medvedev served for the match up 5-4 but was unable to close as he missed two down the line backhands on consecutive points. The Russian faced triple break point following two subpar volleys and dropped serve when he overcooked a forehand.
Now level at 5-5, Tsitsipas, urging on the crowd, fed off their energy but it was all for naught as he faced double break point following two forehand errors on consecutive points. The forehand would once again betray him as he dropped serve following yet another shanked forehand.
Medvedev, once again served for the match at 6-5 and this time slammed the door on his opponent. He quickly went up 40-0 and with another well-placed serve and crosscourt forehand winner closed out the set and match.
Daniil Medvedev donated just one double fault, a far cry from those he gifted his opponents during his incredible run to the US Open final.
In this match, however, there were three more salient stats: winning percentage on second serve points, break points converted and receiving points won. Medvedev won an astonishing 70% on second serve points compared to just 52% for Tsitsipas, went 2/3 on break points while his opponent went 1/5 and won 23 receiving points compared to just 15 for Tsitsipas.
Medvedev has reached his sixth consecutive final; quite a mind-boggling achievement. He will be competing for his second Masters 1000 title of the season doing battle with either world #6 Sascha Zverev or the 2019 US Open semi-finalist and world #13, Matteo Berrettini.
Teaser Image: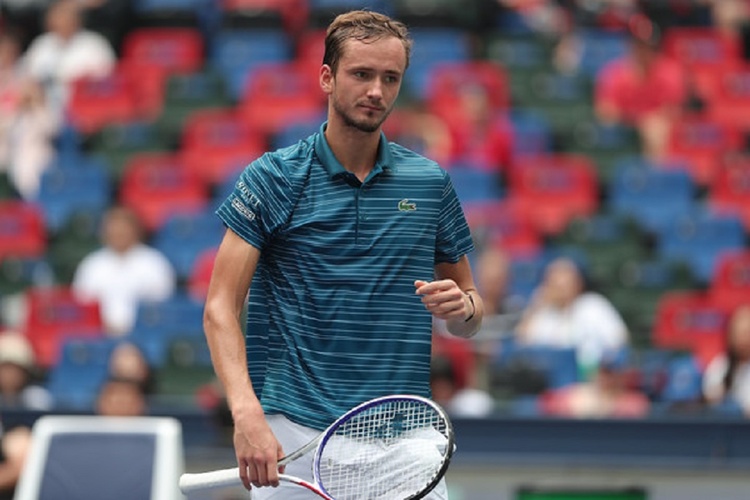 Inline Images: