This year's Wimbledon has seen some stunning upsets and simply sublime stretches of play. Yet for all of the ups and downs witnessed at this year's edition of The Championships, it has ultimately come down to the top seed versus the second. Theirs is one of the greatest rivalries in the history of the sport, and on Sunday, Novak Djokovic will square off against Roger Federer with the right to be crowned the 2019 Wimbledon Champion hanging in the balance.
The pair have met on forty-seven other occasions, so there are apt to be few if any surprises in their respective games as both men have already acknowledged. Federer may need to be the one to find those rare few surprises, however, because Djokovic's game presents him with a lot of problems. One of Federer's greatest weapons is his serve, but the Serb's return is the best in the game and will likely neutralize it. His defense is better as well, his ground game is more consistent, especially from the backhand wing, and he gets plenty of good mileage out of his own serve. It is a total package that presents a huge challenge to most opponents, including Federer, and if he is firing on all cylinders, it is difficult to envision anyone getting the better of him.
None of this is to say that Federer should be preparing a runner-up speech. On the contrary, with the display that Federer put on in his victory over Rafael Nadal in the semifinals, a victory on Sunday is very much within his grasp. His serve is more effective than the top seed's, though he will have to keep his percentage high and really hit his spots to combat Djokovic's stellar return. Federer's forehand is also flatter and more penetrating, and while his backhand can be a potential liability, the variety the Swiss can produce from that wing could be instrumental in taking Djokovic out of his rhythm and making things uncomfortable for him. Furthermore, Federer owns the superior skill set in the forecourt, and if he picks his spots well, he can rush Djokovic to procure some errors. In short, Federer has all of the tools to add to his impressive haul of twenty major titles, but he is going to have to be the aggressor and red line his game a bit to make Djokovic feel the pressure. Anything less is apt to be a recipe for disaster.
A major component in successfully executing a game plan is belief that one can get the job done. Belief is not something either of these men lacks given all of the success they have enjoyed thus far in their illustrious careers, and yet that does not mean nerves or the occasional seconds of doubt cannot creep into the mind. Djokovic has to contend with being the favorite, as well as defending his title. He also knows that when he takes to that court, the majority of the fans are likely to make him feel as though he is playing a local British player, so beloved is Federer. Still, it could be Federer who feels the pressure of the moment more, despite being the underdog. He does trail in this rivalry 22-25. He has lost his last three encounters with Djokovic and last four at the majors, including two tight losses in the finals here. And naturally, as great as he is, at thirty-seven, Federer knows his window is closing to win these precious titles. Most agree Wimbledon is his best look at adding to his slam tally, so no doubt he will feel the pressure to make the most of this opportunity.
It is always a treat when these two marquee masters take to the court against one another, and the occasions do not come any more special than when that meeting takes place on Centre Court in the final of Wimbledon. Both men have already proven themselves worthy champions. Neither would be a surprise victor. Like so many of their past battles, the margin between victory and defeat – or more appropriately, triumph and disaster – could be razor-thin. But for all of the captivating and enthralling shot-making that will be on display, barring something special from the Swiss or a bad day at the office for the top seed, Djokovic has to the one favored to win this match and successfully defend his Wimbledon crown.
(Photo Source: Getty Images Europe)
Teaser Image: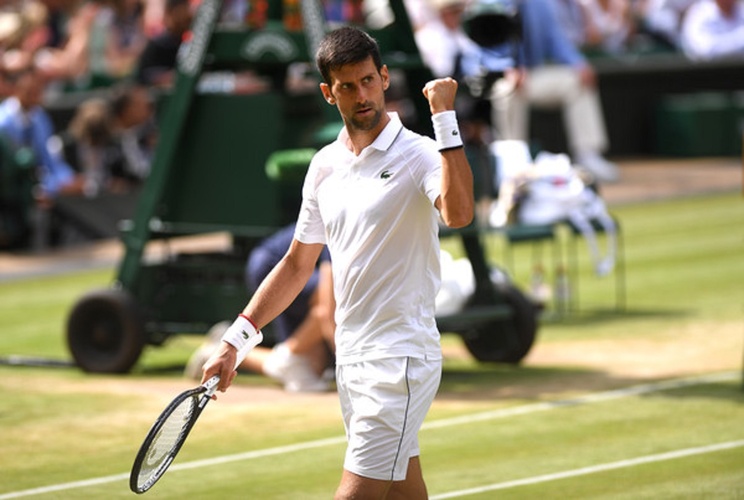 Inline Images: