The first couple of weeks of February are always quiet, giving everyone a chance to breathe and digest what occurred in Melbourne. There was certainly plenty to digest, too. Naomi Osaka broke the jinx by not only posting multiple solid results following the capture of her maiden major in New York, but she backed it up with a title run in Melbourne. There was the breath-taking brilliance of Novak Djokovic, who sent Rafael Nadal packing in a display of utter dominance to secure his seventh Australian Open crown. Then there were the stunning manners in which both Roger Federer and Serena Williams made their exits. But one story that perhaps deserves another look – particularly in light of what occurred earlier this week – is Petra Kvitova's trip to the Australian Open Final.
Despite her status as a two-time Wimbledon Champion, Kvitova is hardly a household name. This is in some part due to her personality, which prefers to be out of the spotlight, and also in large part to the inconsistencies in her level of play that have plagued her throughout her career. She can be equally capable of defeating anyone or losing to anyone on any given day. Sadly, what many have come to know her for is the horrific knife attack she endured in December of 2016. As tragic as that event was, however, it is her subsequent journey back to professional tennis, that trip to the Australian Open Final and rise to Number 2 in the rankings, along with all that has come with it, that should be the real story that makes others take notice.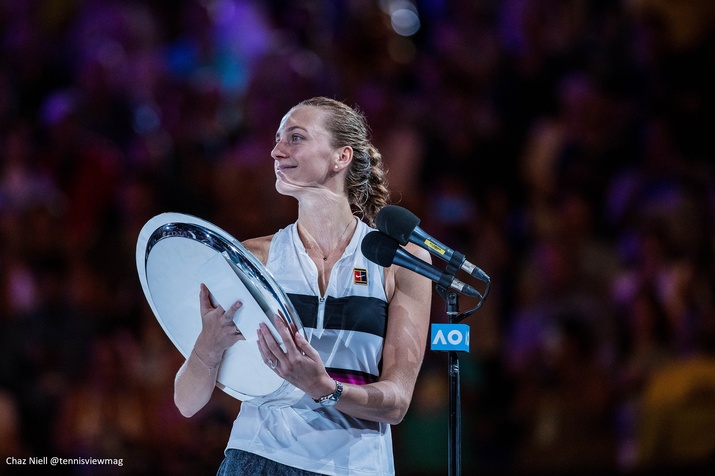 It is well known that it was Kvitova's left hand – her dominant, playing hand – that suffered the bulk of the damage in the attack. With cuts to all five fingers and severed nerves, there were initial fears that the damage was so extensive she would never play tennis again. That surgeons were able to work for over four hours to get her hand to a place where physical therapy could allow her to play competitively again was nothing short of amazing, and all credit to Kvitova for putting in the hard yards to make the most of it. But as she has noted, she does not nor likely ever will have full mobility in that hand again, and the nerve damage has left her without feeling in portions of her thumb and index finger. This makes her comeback unique compared to many others, in that it was not simply a matter of rehabbing a common injury or merely getting back into physical shape. She had to face the fact that that racket in her hand was never going to feel like it did when she won those two Wimbledon titles and determine how to get around the challenges her left hand now posed.
What has been arguably more impressive than overcoming the physical challenges though, was overcoming the mental hurdles. As any athlete can attest, it is difficult to overcome a serious physical injury, especially one that requires surgery and prolonged rehab. There is also the challenge of getting back into shape and match tough. But Kvitova also had to deal with the fact that her injury was the result of a physical assault that occurred in her own home, and that chapter in her life was not yet closed. She had to testify in court earlier this week in the trial of her alleged attacker. She was spared having to face the attacker there in the court room, as her testimony was provided via live video elsewhere, but she still had to relive every moment and every detail of that attack. She knew the trial and her need to provide testimony was coming when she took to the court in Melbourne and that she was able to put it on the back-burner to reach the final there is very admirable indeed.
None of what has occurred since her return to tennis is apt to make her any more famous outside of tennis circles. Her enigmatic play and personality will probably see her out of the spotlight more often than not. But her ability to turn such a horrific chapter in her life into a positive as she embarks on what she looks at as her second career is one of the more inspirational stories in sports. Whether or not she eventually goes one better than she did in Melbourne should not matter. Her ability and drive to overcome such adversity should be celebrated and admired.
Teaser Image: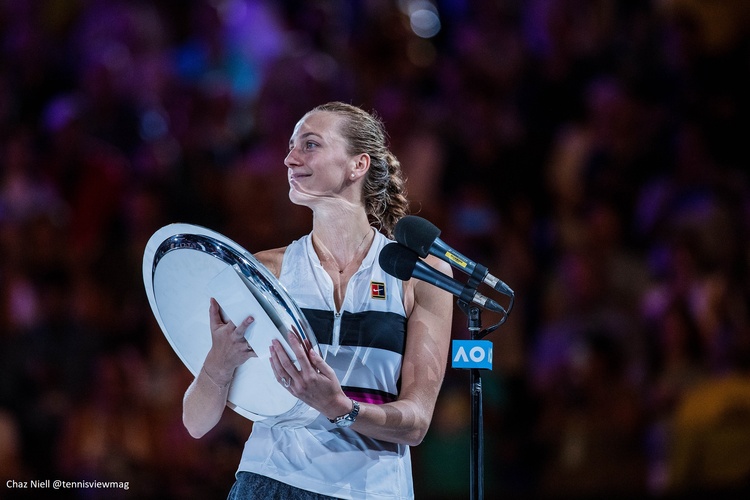 Inline Images: