On the eve of the year's first major, we break down some key narratives from the week before it as players completed their preparations for Melbourne. Most of the action happened at the joint tournament in Sydney.
---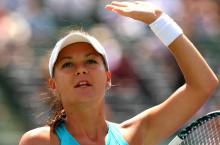 Polish and poise: Cruelly denying Dominika Cibulkova—a very talented player—a single game in the final, Aga Radwanska rampaged ruthlessly through a draw for the second straight week. This Premier title meant more than last week's International title in Auckland, for Sydney featured a much stronger field with every woman ranked between #4 and #10. The top seed in this draw, the Pole prevented anyone from vaulting her with ease as she extended her streak of consecutive sets won to eighteen. Radwanska now will attempt to become the third straight Sydney finalist to reach the Australian Open final, a reasonable goal with recent nemeses Azarenka and Serena in the other half there.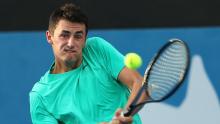 One Aussie up, one Aussie down: After he had recorded three victories over top-25 opponents at the Hopman Cup, Bernard Tomic seized the opportunity to build on his momentum by hurtling through the Sydney draw to his first career title. Especially impressive was his composure in the final, when he faced only one break point on his serve and overcame several missed opportunities to close out the match in commanding fashion. Perhaps the withdrawal of funding from Tennis Australia spurred Tomic to find some self-reliance, or reorganize his priorities around his tennis. Whatever the cause, he played his most focused, thoughtful, and poised tennis of his career over the past two weeks. (Runner-up Anderson, by the way, enjoyed another excellent week on the heels of his fine performance at the Hopman Cup, which makes him one of the unseeded players to watch in Melbourne.)
Neither thoughtful, focused, nor poised was the disheveled effort submitted by top Aussie woman Samantha Stosur, who crashed out in the first round for the second straight week. Recovering from offseason ankle surgery, Stosur has lost six of her last seven matches in Australia and seems to wilt under the same spotlight that inspires Tomic.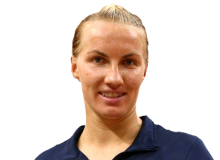 Highly qualified: In a WTA draw with an extremely low direct-entry cutoff of #33, the qualifying draw featured plenty of talented players. Among them was two-time major champion Svetlana Kuznetsova, who had fallen outside the top 70 amidst injury struggles and an apparent dip in motivation. The much-loved "Sveta" burst back onto the scene with a flourish this week by reaching the quarterfinals of the main draw with five successive victories, culminating with an upset of world #10 Wozniacki under the scorching heat. Even more impressive, arguably, was the accomplishment of 17-year-old American phenom Madison Keys, who also reached the Sydney quarterfinals. The teenager not only drubbed two quality foes in Safarova and Zheng but came within a tiebreak of upsetting the sixth-ranked Li.
On the men's side, another young American followed in the footsteps of Keys. Ryan Harrison recorded what he called the best win of his career by stunning the top-seeded Isner in straight sets. Although it amounted to intra-American cannibalism, this result will have boosted Harrison's confidence ahead of a second-round meeting with Djokovic in Melbourne.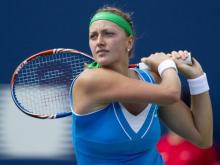 Czechmate: Disasters in Brisbane, Petra Kvitova and Lucie Safarova suffered equally dismal setbacks in Sydney. While the top-ranked Czech, not long ago a Wimbledon champion, won just two games before exiting the tournament, the second-ranked Czech and fellow lefty scraped just three games away from Keys. This nation has established a reputation for producing players who veer between torrid and frigid, but their two leading ladies have chosen a poor time to settle into the latter zone. Especially remarkable is Kvitova's collapse, which has included seven losses over her last ten matches and no quarterfinal appearances since last August.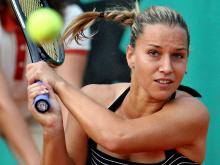 Domi-nation: Radwanska may have double-bageled her in the final, but before then Cibulkova compiled one of the best weeks of her career with three wins over top-10 opponents. Ranked higher than you might expect at #14, she punched well above her unassuming size in straight-sets victories over Kvitova and Errani, followed by a more arduous victory over the fifth-ranked Kerber. Here's hoping that the impetus gained from that stirring surge stays with the recently engaged Cibulkova longer than the embarrassment of the final. Considering her experience and tenacity, it probably will.
Home away from home: At Sydney last year, Julien Benneteau reached the final before losing to Jarkko Nieminen in a match of all-unseeded finalists. At Sydney this year, Benneteau came within a point of repeating the feat before succumbing to Kevin Anderson in a third-set tiebreak. While it is easy to understand why some players excel on home soil, or the opposite, it is less easy to understand their affinity for a particular small tournament thousands of miles from their origins. One could compare Benneteau's success to achievements like Hantuchova's two titles at Indian Wells or Davydenko's consistently strong results in Doha: instances when the past apparently can influence the future.
Can you spare the time? Two matters of controversy surfaced in Sydney last week, one of which related to the ATP rule on time between points. The players association lately had voted to enforce this rule more strictly, according to Anderson, and hold players to the 25 seconds required between points. Umpires obediently issued a shower of warnings upon violators such as Isner and Feliciano Lopez, only to find that the players found the concept more pleasant in theory than in practice. Flustered by the unexpected intrusion, both Isner and Lopez allowed their frustration to undermine their play in an ominous foreshadowing of what could happen in Melbourne. There, the rule specifies just 20 seconds between points, a span that many familiar names often find insufficient.
If you can't stand the heat,…: Get out of the kitchen—or rather, Sydney. The second (literally) "hot topic" of the week, an overpowering heat wave swamped players and fans alike, reducing the attendance of the latter and hampering the efforts of the former. Fortunately for the Australian Open, the roof over Rod Laver Arena will protect many of the leading stars from such a burden, and the heat should grow less extreme soon. Nevertheless, the experience separated many of the fitter, more resilient players (mentally and physically) from others who found the heat an impossible obstacle to overcome.
The seventh, unsealed: At an otherwise forgettable small tournament in Hobart, Tasmania, Elena Vesnina finally notched the first WTA singles title of her career. The Russian doubles specialist had lost her previous six singles finals, some in painful fashion, so she must have felt ecstatic to break through in claiming an accomplishment that she will remember forever.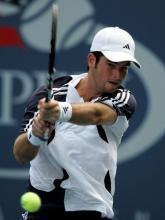 Some nibbles of kiwi: A companion to the small WTA tournament in Auckland, the ATP tournament produced a few headlines of note, especially for an American audience. Brian Baker scored a three-set upset over Jerzy Janowicz, the surprise finalist at the Paris Masters 1000 tournament last fall, and Sam Querrey carved a path to the semifinals that built upon his resurgence in the second half of 2012.
Meanwhile, the top-seeded David Ferrer cruised to a title defense that thrust his disappointing performance the previous week in Doha behind him. With a top-four seed in Melbourne, Ferrer will value the positive jolt of momentum. Among his victims was Gael Monfils, who followed a pair of main-draw wins in Doha with three more here as he gradually edges back toward the spotlight. Among Querrey's victims was Tommy Haas, rebounding from a toe injury at the Hopman Cup last week to compile some match preparation for Melbourne in a solid albeit not spectacular effort.
Teaser Image: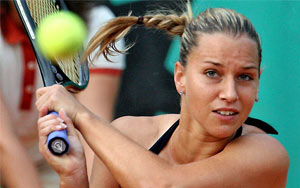 Inline Images: