The highest layer of the ATP looks very similar at the start of 2014 to how it did at the start of 2013, 2012, and seasons even earlier. But the balance of power constantly shifts among the Big Four, adding or altering nuances in their rivalries. The 2014 Australian Open will write a new chapter in this golden age of men's tennis, for which a breakdown of the title favorites prepares you.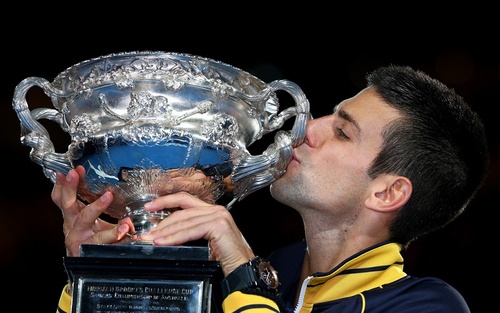 Novak Djokovic: Four of his six major titles have come at the major where the medium-speed hard courts and sunny vibe suit the Serb better than any other. No other man had done what Djokovic already achieved in Melbourne last year by claiming a third consecutive Australian Open title. As was the case in 2013, he begins the new season on a long winning streak from the previous fall, including two wins apiece over leading rivals Rafael Nadal and Roger Federer. Nadal has won their last two meetings at majors, however, so Djokovic will have some demons to exorcise should the final feature a rematch of their 2012 epic on Rod Laver Arena. Still, he never has lost to Nadal, Federer, or Andy Murray at this tournament since 2006, a contrast to his results against them at the other three majors. And Djokovic tends to play his most focused, determined tennis when he has a point to prove, which he does in his quest to regain the No. 1 ranking from Rafa. A new partnership with Boris Becker intrigues but may not mature for months to come.
Rafael Nadal: The undisputed player of the year in 2013, Nadal not only finished with the top ranking but won nearly all of his most important clashes against his main rivals. Although he never faced Andy Murray that season, a large lead in their overall head-to-head should give him the edge if they meet in Melbourne. Nadal often has struggled with his fitness at the season's first major, retiring in a 2010 quarterfinal and limping through a loss in 2011 before withdrawing from the event last year. Shaking off the rust in an Abu Dhabi exhibition and the ATP 250 tournament in Doha, he has shown no signs of physical frailty so far while gradually finding his rhythm. Many had doubted Nadal's ability to still contend on hard courts after a long drought without a title on that surface from 2010 to 2013. When he won three Masters 1000 hard-court tournaments and the US Open last year, he silenced the skeptics for good. Slower and higher-bouncing than the US Open, this court should suit Nadal's game even better.
Andy Murray: In three of the last four years, Murray has charted a course to the final Sunday at the Australian Open. Each time, he has fallen well short of claiming the title, winning one total set in those three attempts. Murray cannot afford to look far ahead this fortnight after his unimpressive form in the Abu Dhabi exhibition and Doha. Recovering from back surgery, albeit minor, may require more time than he would have hoped. Murray has defeated both Nadal and Federer at the Australian Open before, while he did not lack chances to take control of last year's final against Djokovic despite the ultimately routine scoreline. Much may depend on his first-week draw, which could allow him to catch his breath or bounce him from the tournament before he settles into it. Normally among the fittest competitors in the ATP, Murray could find the best-of-five format a test of his stamina (physical and mental) at a time when he lacks match practice. Four finals in his last five non-clay majors make him impossible to overlook, though.
Roger Federer: Like Djokovic, Federer brings a champion of years past to his box at the Australian Open in Stefan Edberg. The Swede could continue to refine Federer's forecourt prowess, but—also like Becker—he is unlikely to spur dramatic changes. Making his debut at the small Brisbane tournament this month, Federer gained the momentum that he needed to dull the blows to his confidence suffered during a dismal 2013. He might prefer a faster surface to unleash his weapons, such as those at Wimbledon or the US Open, yet his best result at a major last year came with a five-set semifinal loss to Murray at the Australian Open. Federer must advance efficiently in the early rounds, for his ability to recover from long matches dwindled in 2012-13. Realistically, it is difficult to imagine him defeating two or more of Nadal, Djokovic, and Murray at the same tournament, the task that probably will confront him without a top-four seed. Federer does not need a title in Melbourne to reassert himself, however. A strong fortnight with one signature win would do.
Juan Martin Del Potro: The only man outside the Big Four to win a major title in the last eight years also has emerged from the pack as the man most likely to challenge their supremacy. Back in the top five, Del Potro defeated each of Nadal, Djokovic, Murray, and Federer last year. Yet he never quite broke through to win a title at a Masters 1000 tournament or major, settling for two finals and a Wimbledon semifinal together with four titles at the lesser ATP 500 level. Del Potro fell in the first week at both hard-court majors last year, a shocking result considering the rest of his season and his prowess on the surface. More fragile than his higher-ranked rivals, he struggled to string together long periods of health last year amid illnesses and injuries to multiple joints. Del Potro remains the man who defeated Nadal and Federer on consecutive days at the US Open, although he never has solved Djokovic or Murray at a major. Playing the week before a major, as he will in Sydney, seems a dubious choice.
The rest: Despite the visible potential of Milos Raonic, Jerzy Janowicz, and other rising stars, it is almost impossible to envision the Australian Open champion emerging from outside the top eight. Ranked at No. 10, 2008 Australian Open finalist Jo-Wilfried Tsonga thrust Federer to the brink in a quarterfinal last year and embraces the carefree mood Down Under. As visible as his explosive athleticism are the flaws deeply rooted in his game, from his backhand to his return of serve. If Tsonga's lack of consistency and focus him back from becoming a serious contender, David Ferrer's lack of weapons and belief against the elite have done the same. Reaching his first major final last season at Roland Garros, the world No. 3 has played the role of best supporting actor seemingly too long to escape him. And then there is the enigma of former Wimbledon finalist Tomas Berdych, who has threatened Federer and Murray repeatedly while failing to win a hard-court match against Nadal or Djokovic since 2007. Artists of the one-handed backhand, Stanislas Wawrinka and Richard Gasquet probably lack the experience at this level to play more than a spoiler role.
Teaser Image: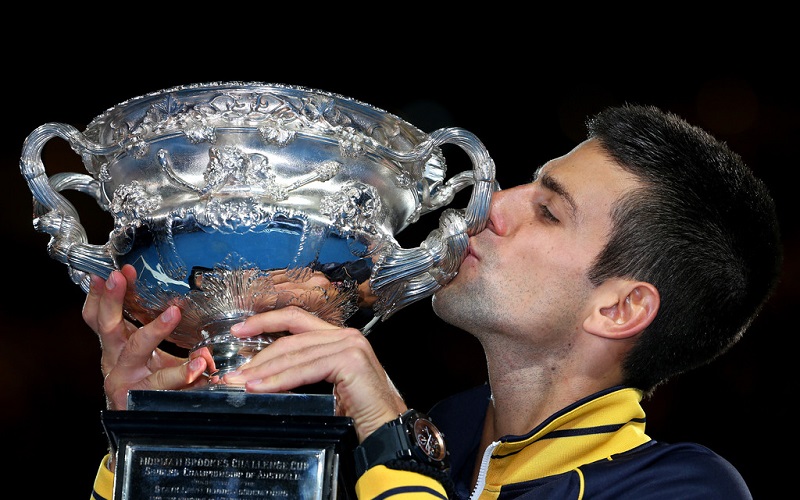 Inline Images: