The Laver Cup is history. Their pristine record is intact. Team Europe crossed the finish line to 13-points first but quoting Isner, "by a whisker."
If you were not at the event start-to-finish, then you cannot know how close Team World came to beating Roger Federer and his band of brothers on Swiss soil. On Day 2 Roger's voice cracked in his on-court interview. As he thanked fans for helping him get thru over Kyrgios, I sensed a real emotion and reality that he could not have lived being the "weak link" for Team Europe. I have attended countless tennis competitions and this one holds its own with Grand Slam finals. It feels like a supercharged sprint from Quarters to the Final in a few days.
End of Day 1-Europe leads World 3-1 a familiar scoreline…
The viewing experience was a "wide world of sports" occasion played out in bloody detail. In a mere matter of minutes, a team that could taste victory was left empty in agony. While the Swiss-European crowd was thrilled with the result, it was also clear how much respect they held for Team World.
This year 8 of 12 matches went to a 3rd super breaker and three others had 2nd set deciding breakers. I cannot adequately convey how much energy, passion and emotion was sustained by the teams. Sitting on the sidelines, I was exhausted. Post final, John McEnroe described his emotions stating, "This one is going to sting for a long time." The American Captain also spoke of how proud he is of the performances of every member of Team World.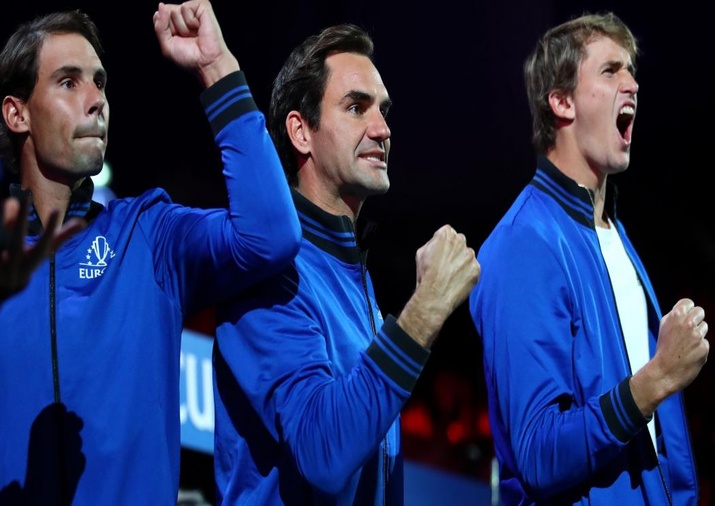 In his words. "We fought ours hearts out an were in a position to win. I am very proud of this team. The energy in the crowd was incredible… they inspired us as well. We appreciated it. It was an awesome weekend."
End of Day 2-Europe lead 7-5, reliving 2018?
This year Team World had the win literally in their hands. Beating Roger and the deep European bench at home was something few thought possible. On paper, it appeared to be a ranking mismatch before adding hometown Geneva. Nick Kyrgios pointed out early on, "ranking are overrated" especially in this format. A win on paper loses it's stream when you step on court serving over 200KMP consistently. Team World's belief was evident and the performances one after the other showed they had no fear.
Let's pick up with Saturday. Team World stuck first with an Isner win over 2018 closer Zverev. The score now even at 3-3.
During an earlier event presser, teammate Dominic Thiem spoke about his team. On a light note, he thinks perhaps three-time Laver Cup Champion Sascha Zverev needs a new Rolex… On a series note, he described the mental toughness of Roger and Rafa but yielded the status of ultimate ICEMAN to the Swiss. Once again Team World kept the cup in reach with a doubles win by Kyrgios/Sock and Isner singles. As expected, Roger and Rafa turned in crowd thriller wins as well.
Day 3-Scoreline: Start Europe leads 7-5, then World 7-8, World 7-11, World 10-11, Finish Europe 13-11!
On Day three, match wins are worth three points. We began with a bit of drama. Last minute order of play shifts were made due to injured players, Rafael Nadal and Nick Kyrgios. Both were on deck to represent their teams in singles and doubles. Instead, the young guns stepped up to fill their shoes. Team Europe's Stefanos Tsitispas and Team World's Taylor Fritz were drafted last minute. You would never know it by their performances. Fritz in particular scored a critical win over Dominic Thiem to push Team World into victory striking position, Europe 7-World 11. Team World succeeded in applying pressure when they needed it most.
BUT, Iceman Federer stepped onto the Black Court against Team World veteran Isner. Even Roger must have had a fleeting question in this must win moment. One slip, one lapse and the cup would have vanished from Team Europe's view on his watch. Roger took care of business but it was not easy. Aces were flying and the big American found success at net too. Final set 76(3), Federer.
The crowd went nuts… Their cheering and "We Will Rock You" rendition would make Freddie Mercury & Brian May proud. So they marched on as Zverev vs. Raonic took center stage. When asked about his confidence in the German to close, Federer responded affirmatively, and then with a nervous laugh, "I hope so." Split sets lead to a the deciding 10pt breaker. One might have thought the big serving Canadian would have the advantage. BUT, Zverev had experience, and Rafa & Roger literally in his corner. They marched him off court before the breaker stressing to their teammate no negativity, NONE… It worked. He celebrated every Team Europe point urging the fans to participate. And they did. You know the rest. Team Europe wins 13-11.
Despite the sting, Team World's Nick Kyrgios offered high praise for Taylor Fritz stating, "Fritzi" stepped up today. You know probably one of the most special moments he's going to remember for the rest of his career. Probably one of the more special moments in my career watching a tennis match."
"He (Fritz) stepped up on Day 3 of Laver Cup." PARAPHRASE: It would have been selfish for me to go out there instead of giving Taylor who was ready for the opportunity. "I'm super happy for him."
John Isner, "We showed we belong on that court with that team. It stings to lose…in agonizing fashion but that is what makes this event so special."
Rafa: "Winning by teams is just amazing because you celebrate together and is a special thing." And…losing is less painful together…Is a great feeling."
Borg: "We were a little fortunate. I'm very happy. I was so nervous… I'm so proud of my team"
So going back to the opening question, Is Laver Cup a real competition? I do not believe any fans who sat in the seats of the Palexpo could conclude anything other than YES. Both teams played with heart, passion and grave intensity from start to finish. Laver Cup is the "new kid" perhaps making waves and initially being misunderstood. This third season has proven it belongs as part of professional tennis and it is here to stay. Like every great champion, small tweaks and unexpected changes are certainly possible. (Remember the Sabre in Cincy?)
Historically, when Roger is involved, good things happen. His mark on the event both on and off court is evident. For starters, Laver Cup will land back on Team World turf in 2020. The renowned American sports town of Boston Massachusetts won their bid to host. Yes, hosting Laver is like bidding on the Olympics. It is that good. So now we wait and watch to see which best of tour players fight for the glory of the cup that honors one of the GOATS of tennis, Rod Laver.
Teaser Image: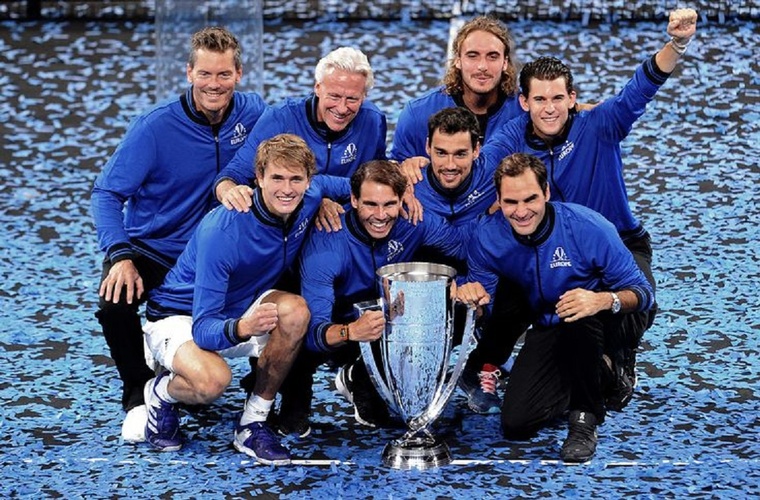 Inline Images: