The Porsche Tennis Grand Prix in Stuttgart was shaken up by injury yet again on Saturday, when Naomi Osaka withdrew from her semifinal match against Anett Kontaveit three hours or so before her match was set to begin.
Osaka suffered an abdominal injury that she has struggled with before. Late in her quarterfinal against Donna Vekic, she first began to feel the pain, but managed to persevere. She hoped a night's rest would be enough to recover, but it was not: "I woke up today and I had to like roll out of bed because I couldn't really do much. So, and then I decided that I wasn't able to play." The feeling is a familiar one for Osaka: "It's something that I've had before. It's like an ab strain. Thankfully because I've had it so many times, I'm able to tell what it is and I think I know what I have to do in order to make it better."
Despite the disappointment, Osaka is pleased with her results overall: "I'm just happy I won two matches honestly. I think this was a really good boost for me because it let me know that even though like I'm internalizing like either pain or just feelings I can still win matches and just fighting alone and willpower which is something that, like whenever I want to win a lot I tend to panic, but I feel like I found the calm space again. I think it's something that's really good and I'm really glad I played this tournament."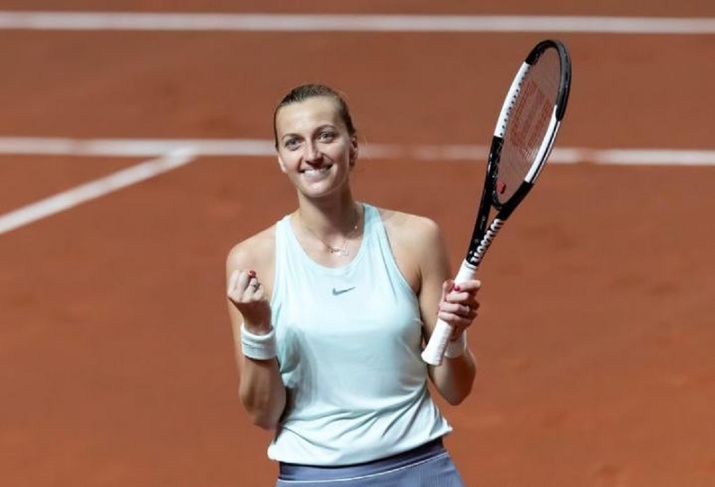 Luckily for the crowd that had already assembled, the first semifinal turned out to be three great sets of tennis. Petra Kvitova took the first set in a tiebreak. A resurgent Kiki Bertens claimed the second set 6-3. In the final set, Kvitova did not let up and dominated to a quick 5-0 lead and then a 6-1 victory in the third, for a final score of 7-6(3), 3-6, 6-1.
Bertens described the third set assault from Kvitova with little regret, as there is little anyone can do to slow down the Czech when she zones: "I think in the beginning of the third set it was just a little bit, I would not call it unlucky but it was just going too fast. I had some chances, didn't take them and then you see she keeps on getting the point short, she's just going for her shots and then she is at her best. Then it was just going too fast for me."
Kvitova was not under the impression it was easy and credited her ultimate victory to an early adjustment to trust her gut more within the match. "I was playing forehand crosscourt and then suddenly I played it down the line and I missed it and I was like, okay when you don't feel it, just don't go there," she said laughing. "I was so angry to myself and since then I just played what I really felt and it's very important with Kiki, she's catching everything. So, it's really difficult to play well. And then when she's sliding to the forehand from that slice it's difficult to do anything."
Kontaveit watched the first set of the match from the stands, checking out the competition on what turned out to be her day off with the walkover. "It's definitely going to be a tough battle tomorrow with Petra. But I thought they played a great match, there was a lot of hard hitting. I think they are both really great players. It was an entertaining set to watch."
Kontaveit and Kvitova have played on five occasions. Kvitova leads their head-to-head 3-2. Two of them were on clay last year, where they split the difference.
(Photo Source: EPA-EFE/RONALD WITTEK)
Teaser Image:
Inline Images: