On the 50th anniversary of New York City's marquee tennis tournament, the NikeCourt fall 2018 collection travels back in time to celebrate the aesthetic that once defined tennis and modernizes it for today's generation of players.
"When tennis began, people wore long-pleated skirts and sweaters, and sweater-knit polos," says Abby Swancutt, Apparel Design Director for NikeCourt. "For the collection, we took this classic nod, but we gave it a retro feel, all while using some of our most innovative materials."
A contemporary play on the styles worn by athletes at Forest Hills in 1968, the collection's use of single, declarative shapes appears in small ways throughout the apparel — the details of a waistband, or a plummeting stripe down the sleeve of a jacket. Its throwback color scheme is based in muted oranges, peachy tones, and forest greens, and the garments are set with expressive color blocking and white accents.
While the fashion elements point to the sport's past, the pieces drive tennis into the future with key performance details. The NikeCourt Zonal Cooling Slam Dress, for example, features areas of ventilation to keep players cool in the hot NYC summer evenings, while its racerback design and side slit allow for a dynamic range of motion on the court.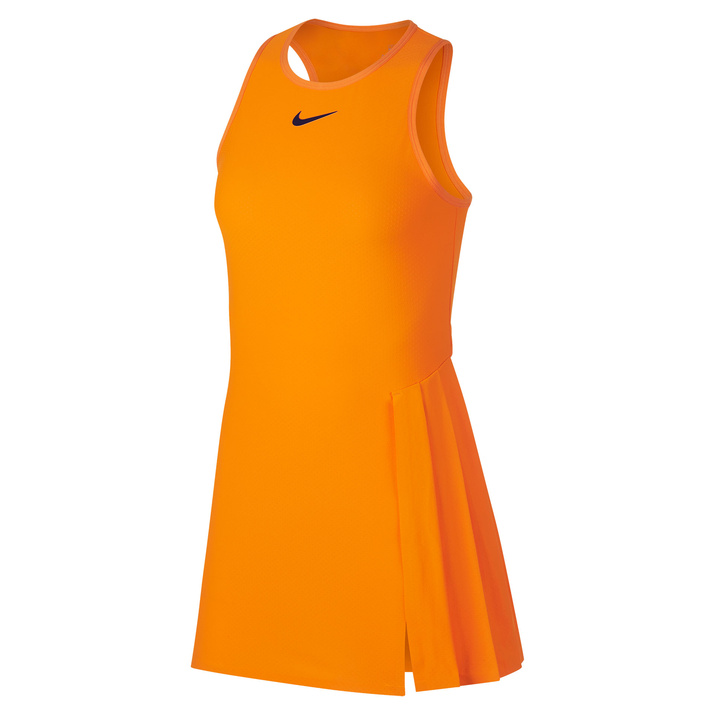 Modern tints take on a different energy in the collection's evening wear. Solid prints give way to bold stripes, like those on the men's NikeCourt Dri-FIT Advantage Polo, which has a diagonal orange stripe that pops against the tournament's blue courts.
"We look at New York City as a stage," says Swancutt. "It's not like other tournaments, where you sit there and you're silent. At Flushing Meadows, it's loud, it's fun, and there's a lot of energy. Day or night, the players want to put on a show."
For more, visit www. nike.com