Tuesday began with full sun, a packed schedule, and players with aspirations in their hearts. I began the day with the ambitious goal of watching 12-matches on 6 different courts with names like Serena, Federer, Kvitova, Azarenka, Kasatkina,Tsitispas, Medvedev, Shapovalov, Kyrgios to the stellar doubles pair Lopez-Lopez. I set the bar high knowing even a 50% success rate would be an exceptional day. And, well, it was.
So, what happened Tuesday?
First, a reminder that the Western & Southern Open is a full-scale entertainment venue showcasing the best of the WTA and ATP tours but also an eclectic and accomplished group of musicians. In the course of seven days, 35 musical acts will perform around the grounds. This attraction should not be missed. The event makes it easy to enjoy as the artists are conveniently located in the areas where you can grab a bite and take a "repose" from the heat on and off court.
For a fan guide to the #CincyMusic lineup, visit https://www. wsopen.com/fan_guide/listen/?intloc=headernavsub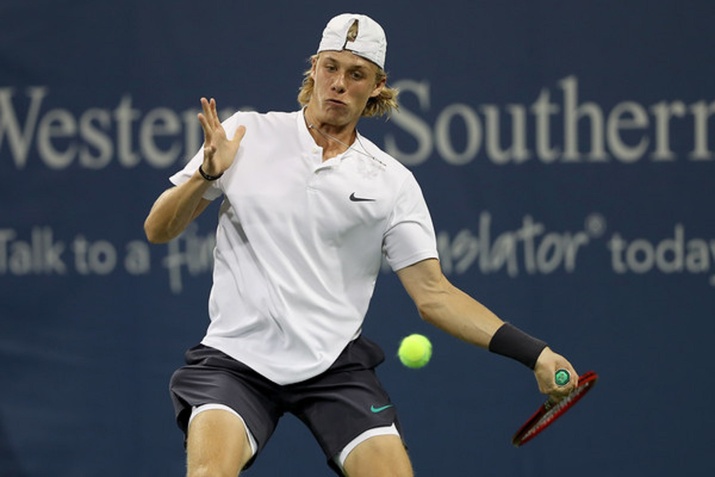 Impressive Straights
Maria Sakkari d. Naomi Osaka 6-3 7-6(10)
While countryman and headline maker Tsitsipas crashed out today, Sakkari carried the flag for Greece. I first saw Maria at a small event in Carlsbad in 2015 where I witnessed an eager, speedy, young player who played deep and ran down everything always with a smile. Since then, she has added new dimensions to her game and adjusted her court position to be more aggressive. While the smile remains, her game shows progression and hard work. Her fitness is evidence of dedication and training which has enabled her ascent to the No. 31 spot in the WTA rankings.
Denis Shapovalov d. Kyle Edmund 6-4 7-5
This late-night match appeared to be going the way of the Canadian up a set and 3-0 in the 2nd set. But there is nothing worse than an opponent that refuses to quit, aka Kyle. Edmund fought back while Denis seemed to tighten under the pressure of closing. The top-Brit nearly pressed to a tiebreak. With mom in his corner, "Shapo" regrouped and put his head down. He closed with an emotional fist pump and appreciation for the crowd who hung on till the nearly 12:30AM finish.
Caroline Garcia d. [WC] Victoria Azarenka 6-4 7-5
David Goffin d. Stefanos Tsitispas 7-5 6-3
Roger Federer d. Peter Gojowczyk 6-4 6-4
Notable 3-Setters
Petra Kvitova d. Serena Williams 6-3 2-6 6-3
From the start, this match had the atmosphere of a final. An undoubtedly pro-Serena crowd got involved quickly and exploded as Serena dialed in, hitting her marks. Former Wimbledon Champion Kvitova leveraged her experience, serving well, absorbing pace, and pushing Serena to defense.
[Q] Tatjana Maria d. [Q] Allie Kiick 5-7 6-3 6-3
Tatjana was the only mom left standing at the end of Tuesday. It is always impressive to see qualifiers progress in the main draw. Maria is making a mark in Cincy and will have a huge challenge facing US Open Champion, Sloan Stephens who will no doubt have the crowd support.
Nick Kyrgios d. Denis Kudla 6-7 7-5 7-6(11)
Clearly playing with pain, Nick Kyrgios surprised the crowd and perhaps himself. After losing the first set breaker it seemed he might give up. Instead, he dug in doing the best he could despite very compromised movement due to a strapped knee that required attention by the physio during the match. The Aussie entertainer delivered 39 aces and multiple tweener winners. This match produced crowd laughter as I have not heard before.
Hyeon Chung d. Jack Sock 2-6 6-1 6-2
The ATP NextGen Milan Champion took out American favorite Jack Sock on center court. Chung continues to show no sign of being intimidated by anyone.
Karen Khachanov d. Albert-Ramos Vinolas 2-6 6-3 6-2
Misha Zverev d, Damir Dzumhur, 63 64
This match gets my "artistic genius award" due to the shot variety, net play, and graceful strokes blended with power.
While this was only a fraction of the Tuesday action, I left happily exhausted and ready to do it all again Wednesday.
(Photo source: Matthew Stockman and Rob Carr/Getty Images North America)
Teaser Image:
Inline Images: