One of the distinct qualities in professional tennis is the ease with which it is possible to distinguish between the champion and challenger. Even when the actual tennis paints a dramatically different picture, the lower-ranked player faces the ordeal of tirelessly attempting to retain their intensity and match their opponent's level across multiple sets. This usually comes to the fore in the form of self-preserving fist-pumps and a visibly more palpable emotion. For the champion, however, navigation past lower-ranked players is but a calm and low-profile exercise in survival, and they treat it as such.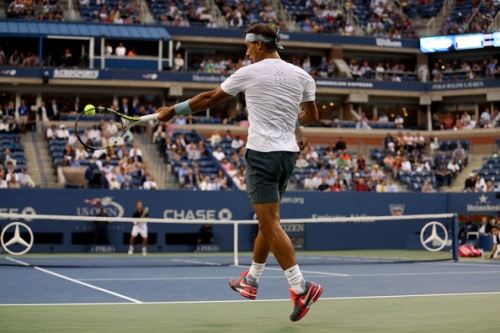 A set into their semifinal battle, there appeared to be little difference to how Rafael Nadal and Richard Gasquet carried themselves across the court. Nadal had powered the first set, capitalizing on a spate of unforced errors in the first game before driving on cruise control to close the set with effortless aplomb. However, the early break appeared to steal a weight from the Frenchman's shoulders, and it allowed him to slowly trawl back to a fighting position.
With every game, Gasquet's level continued to rise. His serve became increasingly potent as he directed it to the corners of the court and fortified his service games against a champion so hungry to finish him off. This was free-flowing and attacking tennis, and his famed backhand ratcheted up point after point with its gloriousness and often presented him with the opportunity to bomb forward and kill points with deadly volleys. On return, Gasquet has been forever criticized for his tendency to move back as the ball approaches, generously offering his opponent time to recover and crippling the effectiveness of his return. But here he resembled a completely different player as he stepped forwards to take most returns on the horizon. The result was a mixed bag, but when his backhand properly connected with the return, it usually sent shockwaves across the court
After dropping his own serve, Gasquet had inflicted on Nadal his first loss of serve in weeks and the pair appeared to be galloping in unison towards a second-set tiebreak. By this point, Gasquet's no-nonsense demeanor appeared to be reaping its rewards. Despite hitting and competing to a considerably higher level than usual, there was no melodramatic "c'mon" from Gasquet, imploring him to retain his level. Nor did he resemble a player desperately attempting to keep his level high. Instead, his calm and distinct nonchalance towards the situation he found himself in presented the image of a player completely at ease.
Predictably, the facade did not last. With a double fault to open and close the eventual tiebreak, the grip that he had stolen on the match was relinquished with ease. On the other side of the court, it was business as usual for Rafael Nadal. Throughout the match, the world No. 2was left with little requirement to rise out of his shell and ascend to any kind of spectacular or otherworldly level, but he competed with his typical tenacity throughout.
Nadal clinging to the baseline with his advanced court position has perhaps become the enduring hard-court image of 2013. For so long, people implored him to step forward and command the court rather than relying so heavily on his athleticism to drag him through matches. One of the many clichés in tennis suggests that a committed tennis professional is always improving, irrespective of their results and form. The premise is a flawed one, but in the case of Nadal it is undeniably true. Over the years, the Spaniard has demonstrated the perfect ability to improve with each and every year and slowly ascend to a higher level than the last. This new approach to hard courts perhaps presents his most significant improvement yet.
Even in the face of this briefly sustained assault on his backhand, Nadal refused to budge from the baseline. In the past, he would have happily sunk back to behind the baseline and dug out the victory the way that he always knew how. The result likely would have been identical, but it would have been without the ease and efficiency of advancing with as little damage inflicted to the body as possible. And as he nears another forever bruising final encounter against his most punishing rival, Novak Djokovic, a clean and efficient victory was all he could have hoped for.
Teaser Image:
Inline Images: