The Australian Open fortnight was a roller coaster of two weeks. Tennis fans witnessed a tournament with a plethora of injuries to the likes of Nadal, Djokovic, and Wawrinka, but on the bright side, saw some new notable names in the semis with the likes of Hyeon Chung, a talented youngster from South Korea, and Kyle Edmund, a 22-year old from Great Britain. Ultimately, the final saw Roger Federer make history once more to win an astonishing 20th Grand Slam title defeating Marin Cilic in 5 sets. Let's look at some of the most memorable matches leading up to this final. These matches didn't always shine in quality but will be remembered by fans later down the stretch.
5. 2nd Round Result : Jo- Wilfried Tsonga defeated Denis Shapovalov 3-6 6-3 1-6 7-6 7-5
This was an intriguing second round match-up for different reasons. Denis Shapovalov, an 18-year old lefty from Canada, is well known for his terrific run to the US Open 4th round last year. He also dispatched Juan Martin Del Potro, Rafael Nadal, and Adrian Mannarino to advance to the semifinals of the Montreal Masters after being down four match points in the first round against a qualifier. His lively lefty arm, along with his crafty one-handed backhand makes for a lot of highlight reels. At the second round of the US Open last year, Denis met Tsonga and impressively dispatched him in straight sets. This match however would play out very different.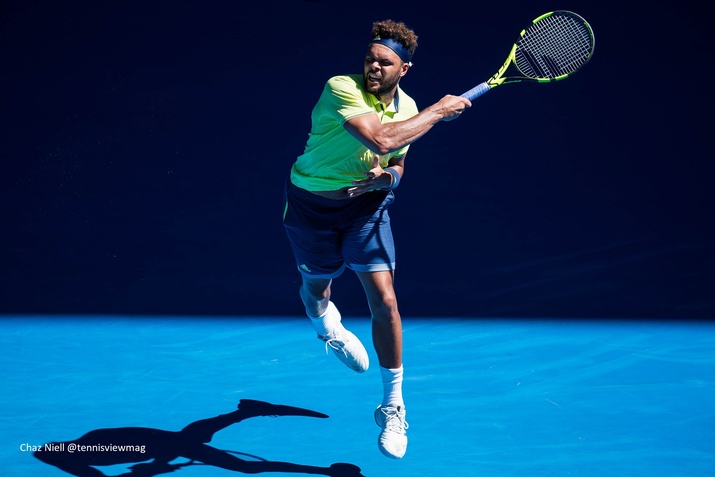 This was a different Tsonga. More energized, and ready after a long off-season, playing the Australian open 10 years after his famous run to the finals in 2008. The first set saw Denis produce some excellent first strike tennis with his serve hitting all corners, and his forehand doing the damage. Jo looked scratchy and unable to dictate play from the baseline with his two best shots: the inside in forehand and the inside out forehand. The match turned around in the second set as Tsonga wrestled back control from the back of the court, serving much better, and keeping the points shorter. His experience in big match situations was showing. Shapovalov, however, was stronger as an array of unforced errors from the Frenchman saw Denis lift his level to take the third set in just over 20 minutes. Shapovalov and Tsonga both produced a much higher level of play in the fourth set, each protecting their service games very well. Tsonga's backhand short slice, and his big ball striking off the forehand pressured Shapovalov to go big. Sometimes too big, which cost him the tiebreak. Now, out of nowhere Tsonga extended the match into a deciding 5th set. A territory that Denis will need to get very familiar with, if he wants to get to the next level. With Shapovalov still the better player in every category, it was interesting to see the match getting extended by the grit of Tsonga. Shapovalov played phenomenally to start the fifth set going up 3-0 and comfortably holding his serve until 5-2. Tsonga, a fierce veteran, dug deep to hold for 3-5. What followed was a breakdown from the Canadian. Two double faults and some poor mistakes let Tsonga hang around and even up the score. Shapovalov's feet froze as nerves ignited wild misses off his reliable forehand wing. At 5-5, Tsonga showed impressive resolve and hit two excellent line-licking forehands to crush the Canadian's chance for victory.
Despite a great performance from Shapovalov from almost start to finish, Tsonga's big match experience at the slam level in the decisive moments in the fifth set earned him a victory which was never in his hands. A crushing loss for the young Shapovalov, who despite choking, is showing a tremendous skill set and a good winner's attitude. Matches like these are the perfect learning ground for the much anticipated bright future of Denis Shapovalov. But Tsonga, the number 15 seed, lived another day despite winning 8 less total points in the match than his opponent.
4. 3rd Round Result: Hyeon Chung defeated Alexander Zverev 5-7 7-6 2-6 6-3 6-0
This match was significant for many reasons. Alexander Zverev, 20-year old world number 4 from Germany, had a breakthrough season last year winning 2 masters 1000 titles beating Novak Djokovic and Roger Federer in the finals. He won 5 titles overall, winning 55 matches in total. At 6' 6", he is one of the best movers in the game. With a professional attitude, big groundstrokes, and a big serve, Zverev is touted as the best next-gen player in the world who has the game to lift multiple slams in the future. The problem for him has been his consistently poor slam results. He has yet to beat a top 50 player at any slam, or get past the fourth round, a feat many believe should have been accomplished by now. Standing in his way was an opponent not to be taken lightly. Hyeon Chung from South Korea, the winner of the first annual Next Gen Finals in Milan, an event which Zverev opted to skip to participate in the Nitto ATP finals in London, because he was a top 4 player.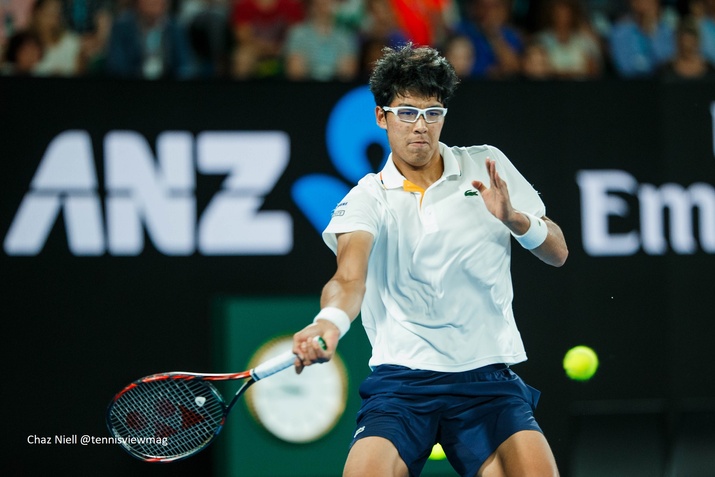 The first set saw big hitting from both players. Chung is an excellent mover who can dig his way out with defense and play offense too. He has a tremendous two-handed backhand which he can use to change directions. He is able to dictate play from the middle of the court. He is physically very strong and can slide on hardcourts, similar to the way Novak Djokovic does. Zverev was serving bigger and was able to win the short points, taking the first set 7-5. The second set went to a tiebreak which saw Chung neutralize Zverev's attacks and punish weak forehands from him. Zverev tends to sometimes hit forehands which break down under pressure. It is a shot that can be vulnerable under pressure. The third set saw Zverev take control and he won it 6-2. If this was a best of three set match, the match was his. However, Chung stayed composed and played big from the middle of the court stepping in on every backhand and forehand dictating the tempo of the rallies. He upped his intensity, while Zverev looked frustrated and tired. Chung was making very few unforced errors as he took the fourth set 6-3. The strong hitting and excellent defense continued in set 5 as Zverev simply had no answers to Chung's game. His forehands started to spin more and land short in the court. He started playing from 5 feet behind the baseline, something which he did not have to do in the first three sets. He frustratingly smashed a racquet and Chung the double break, which quickly turned into a bagel.
An impressive victory for Chung. His first top 10 victory on a big stage at Rod Laver Arena, which caught the attention of many fans. Another disappointing loss for Zverev, who was expected to go further in the tournament. But, a wakeup call that he needs some work on his mental game and shot tolerance in the fifth sets of these matches, that he is expected to win. Chung showed incredible composure and was able to lift his game and show Zverev that he is also the best next generation player there is.
3. 4th Round Result: Grigor Dimitrov def. Nick Kyrgios 7-6 7-6 4-6 7-6
This was indeed a much highly anticipated battle between two of the best talented shot-makers in the game. The pair had just met a week before in a great three set serving display from Nick Kyrgios who ousted Dimitrov in 3 great sets before going on to win the title. This was a different situation however as grand slams tend to favor the player who can maintain a higher level of play for longer. Going into this match, while Dimitrov was certainly the favorite on paper, Kyrgios was playing more impressive and composed tennis in the early rounds. He was getting through his matches with a renewed look on his face. He seemed more focused, and more intent than usual, on keeping it "even-keeled" throughout the course of a match as he said prior to this clash. Grigor on the other hand was struggling with his game, particularly his second serve which saw him hit over 15 double faults in his 3rd round match.
A night session match with over 15 000 people in the stands, the encounter lived up to its expectations. Both players served terrific and produced incredible shots on the run. Dimitrov's defense and ability to cover the forehand part of the court put Kyrgios in uncomfortable positions later in both tiebreaks. Kyrgios however impressively fought back and got the crowd on their feet as he took the third set and came back from a break down in the fourth. His impressive serve wowed in the third and fourth sets as he continued to hit second serves at 203 KPH to save breakpoints. Grigor's variety from the baseline was what ultimately won him the match in a terrific contest which lasted 3 hrs. 20 min. It showed us that while Kyrgios is showing maturity, Dimitrov is still a better all-round player in best of 5 set scenarios. It was certainly a winnable match for the Aussie, who can be very proud for his point for point effort and ability to grind for over 3 hours, something with which he has struggled with in the past. This is certainly a rivalry tennis fans better get used to seeing. It is a great one for the sport.
2. Quarterfinal Result: Marin Cilic defeated Rafael Nadal 3-6 6-3 6-7 6-2 2-0 (retd)
It seemed the tennis gods wanted another Federer-Nadal clash, another epic match between the two best players in the world. Nadal had played impressively in route to the quarterfinals, dropping just one set along the way to Diego Schwartzman. He had battled injury at the end of last year, pulling out of the Paris Masters and ATP finals due to an injured knee, but still gaining the year end world no.1 prize by a sliver over Federer. He took extended time off and withdrew from his tune-up events leading into the Australian Open. He shrugged off all concerns of the knee as he looked to be moving very well and playing some of his best tennis. A difficult challenge now awaited him in the quarterfinals against 2014 U. S. Open champion Marin Cilic.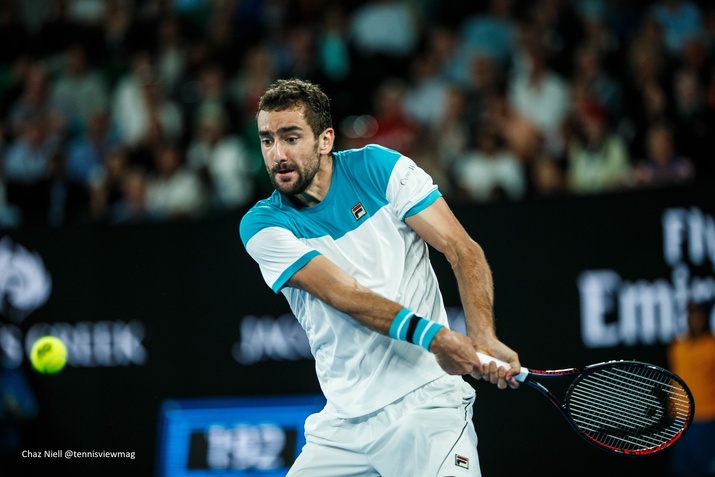 Marin Cilic has the ability to serve extremely well, and play an excellent ground game, enough to take the racquet out of your hand, even if you are an incredible defender and fighter that Nadal is. Nadal looked to be stronger in the first set and a half as he served his spots well and was able to stretch Cilic wide to the forehand. He was closing well at the net too. Cilic however began serving better, and hitting his forehand closer to the lines, going for a little extra. He was hitting winners, and his first serve percentage shot through the roof as he came back from a set and a break to steal the second set 6-3. The third set was a tight affair, as Nadal stood way back to return the Cilic serve. However, he was still unable to cut of the angles and get a good read on it. This kept Nadal uncomfortable, until the tiebreak where he pulled off two stunning passing shots to take the third set, and two sets to one lead. Then, a sudden turn of events occurred. At 1-3 in the fourth set, with Cilic up a break, Nadal started limping to a short drop volley. He seemed to be affected by an upper leg/hip injury. He labored in between points and took a medical time out at 1-4, eventually losing the set 2-6. In the fifth set, Rafa labored extensively, unable to move or serve at 50% capacity. Showing great will and heart, Nadal kept playing. Cilic hammered winners left and right, and soon hit his 83rd of the match, to break for 2-0 in the fifth before the Spaniard gave in and eventually retired. He was furious and limped off the court. A day later, we found out that the injury will keep Rafa out of competition for 4-5 weeks. Nonetheless, it was a terrific performance of aggression from Marin Cilic, who was able to extend the match and make it physical. It is also a reminder that with Nadal's physical grinding style, comes the toll of injuries and setbacks.
1. 4th Round Result: Hyeon Chung defeated Novak Djokovic 7-6 7-5 7-6
This match, apart from the final, has earned the top spot in my mind as the most memorable match of the tournament. Most notably because, while it is true that Novak Djokovic was out of the game for 6 months and was suffering with a nagging elbow injury, to beat the 6-time Australian open champion in any shape or form on this court is almost as difficult as beating Nadal at Roland Garros or Federer at Wimbledon. To do it in straight sets is almost incomprehensible, especially after beating another top 5 player two days before in a physically grueling 5 set battle.
Djokovic's serve looked shaky the whole tournament as he tinkered with his serving motion, making a more compact swing to limit the strain that his right elbow can handle. It was clear that the motion was almost the same speed, but his second serve was much more attackable, and lacked the same placement as before. The rest of his game looked solid, but he still seemed to lack the fire in his eyes. The confidence and fire that got him to win 4 majors in a row. Obviously, it takes weeks and months of competition to get back. But against Hyeon Chung, he was in trouble.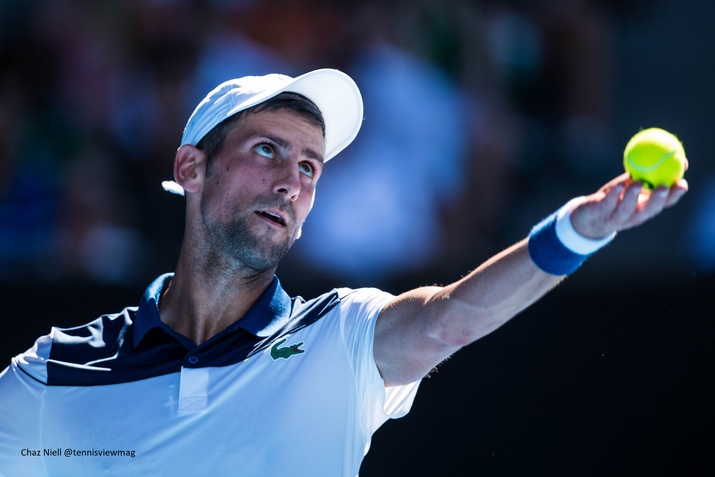 Djokovic started the match very poorly, committing two double faults and gifting away the break. Chung stormed straight out of the blocks, in what seemed like playing himself in the mirror. His game showed an uncanny resemblance to Djokovic's. The way he can change directions off the backhand, the depth of his return, his flexibility of the forehand, his tremendous racquet head speed was all very Djoker-esque, with a weaker serve. Djokovic was unable to take advantage, as Chung stormed to a 4-0 lead. While Novak mounted a comeback, his elbow looked shaky as he gave his box nervous looks of agony throughout the match. After each player broke twice, the tiebreak was decided by two unbelievably incredible forehand defensive shots from Chung which saw him convert from defense to offense in an instant. Djokovic continued to make many unforced errors and several weak second serves. He was certainly a shadow of his former self, against an inspired opponent who was making him work 120% for each point. Breaks were traded as incredible defense once again gave Chung a two-set lead. Chung's surge continued as he went up a break in the third, as breakpoints were squandered by mistimed groundstrokes from Djokovic. The third set carried on as the legs of Chung began to find an extra gear, reminding me of what Djokovic was able to do when he dominated all those years. His physical and mental strength was superior. The set went to another breaker with Chung pressing Djokovic into long rallies, and a victory soon followed, as 15 000 fans jumped out of their seats to cheer the young Korean. Djokovic fans should be worried after this loss, as his elbow is not ready for him to make his way back to the top of the game. Flashes of his brilliant game were still there, but the elbow is making Djokovic compromise his serve and offense abilities. He won only 39% of second serve points and hit 57 errors to only 36 winners, reflected a poor performance from the Serb. Nonetheless, it was a huge victory for Hyeon Chung, who reached the semifinals.
Teaser Image: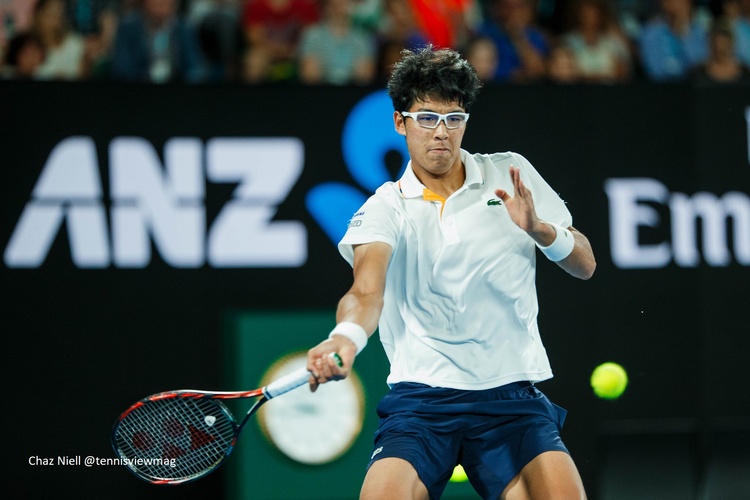 Inline Images: