Yonex is pleased to announce the new flagship model of the multi-Grand Slam winning VCORE tennis racquet series, the VCORE PRO. Launching in March 2018, the new VCORE PRO has been meticulously developed in Japan for hard-hitting players who seek aggressive spin on the court.
Today, the world's leading tennis players are transitioning into a faster-paced game. For quicker points, they strike the ball early from inside the baseline to aggressively overcome opponents. To meet the needs of our transitioning game, the VCORE PRO incorporates a revolutionary next-generation graphite, "Namd1," which allows players to grip the ball and fire-off aggressive, attacking spin with its unique graphite properties. Coupled with the new LOCK BOOSTER grommet system that reduces energy loss, the VCORE PRO is designed to increase spin by 4%2, speed by 2.7%,2 and post-hit bounce height by 10 cm2, enabling players to deliver heavy, accelerating spin shots to overpower the opponent and dominate points.
Alongside three-time Grand Slam champion Stan Wawrinka (SUI), Australian Open 2018 semifinalist Hyeon Chung (KOR) will debut the VCORE PRO at the BNP Paribas Open in March.
1. Namd is a technology developed by Nitta Corporation to "uniformly disperse carbon nanotubes into carbon fiber composites."
2. Data measured with swing machine (relative to conventional Yonex products)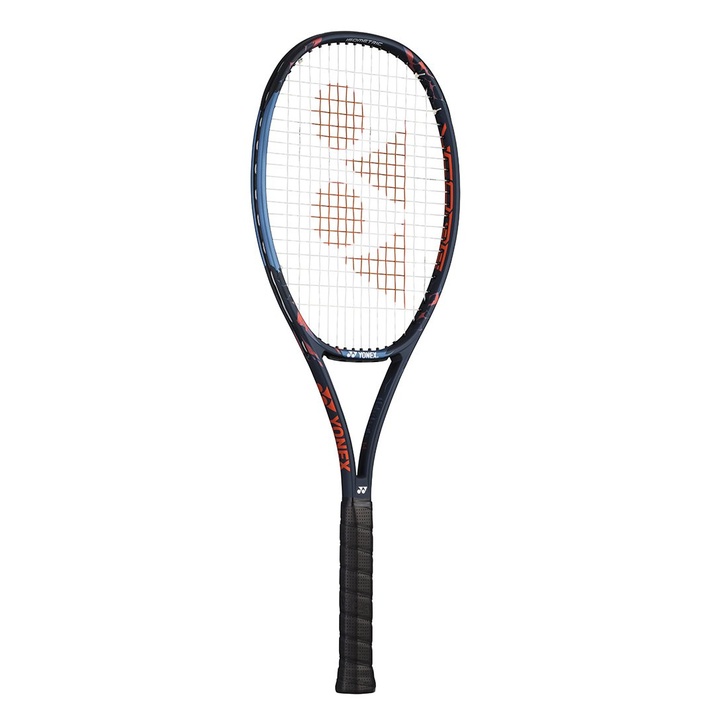 INNOVATION
ISOMETRIC: Larger sweet spot
Developed over 30 years ago, the ISOMETRIC design increases the sweet spot by 7%* Compared to a conventional round frame, a square-shaped ISOMETRIC racquet generates a larger sweet spot by optimizing intersecting main and cross strings.
*Tested by Yonex.
"Namd"Graphite: Over power with heavy drives
With "Namd" graphite's unique flex and fast frame snapback, players can grip the ball and fire-off aggressive, attacking spin. The graphite fibers are covered with highly-bondable carbon nanotubes, allowing for better cohesion with the resin. "Namd" combines "soft" and "hard" properties giving the shaft tougher flexibility and resilience for increased shaft torque,which applies high levels of power and spin to the ball.
LOCK BOOSTER SYSTEM: Crush the ball
An enhanced grommet design that promotes string contact for efficient energy transfer and ball crushing power. Three ribs inserted in-between the grommet decrease string slippage and reduce energy loss when crushing the ball.
Performance
Higher bounce due to greater spin and speed. Creates heavy drives with devastating power.
Spin: +4.0%
Speed: +2.7%
Ball Height After Bounce: +10cm
Data measured with swing machine (relative to conventional Yonex products)