Wimbledon 2017 saw the great Roger Federer win a record eighth Wimbledon crown without dropping a set. Nonetheless, it was a fortnight that will go down as one of the most memorable championships. Let's see how the big four fared at this year's championship and what it means for the rest of the 2017 season.
Andy Murray
Coming into Wimbledon, Murray's fitness was a big question mark as the hip was causing problems for him the week before. Nonetheless, he played well enough to get through some unpredictable opponents who are talented, but not as match tough and steady as even an Andy Murray in shaky form. However, after being up two sets to one against Querrey in the quarterfinals, it was evident the hip became serious and as a result, his game faded against an inspired opponent who once again dethroned the defending champion for the second year in a row. It was concerning for Murray to lose the last two sets with a score of 6-1 6-1, and it certainly would help him to get his injury sorted out to have any chance of getting back to number one in the world.
Grade: C+
Novak Djokovic
It has been quite an interesting descent for the Serb since holding all 4 majors at once last year. He has been far from his sharp, focused best on the court for most of the year, failing to win any big titles. He is at a stage in his life, where he is struggling to find the balance and motivation to be at the top of the game he was dominating two years ago. Coming into Wimbledon, though, there were some positive signs for him after winning the title in Eastbourne. He was lucky in the first week to be untested with any tough opponent.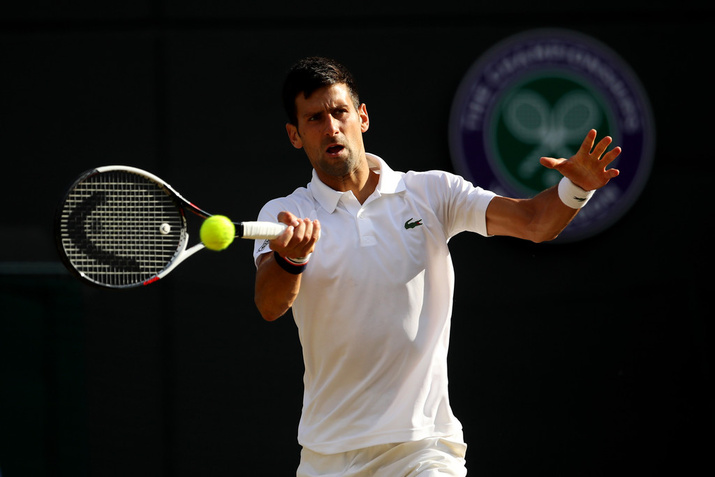 Nonetheless, a recurring shoulder problem forced him to retire, down a set and a break against Berdych. This problem has been on and off for him the past year and a half, starting at the Olympics last year. Will Novak take the rest of the year off to recharge and find the necessary energy to get back to winning ways?
Grade: B-
Roger Federer
At almost 36 years of age, the Swiss legend remarkably continues his dream year and seems to be changing the paradigm of pro tennis with his longevity and passion for the game. After an injury-plagued 2016 with several doubts and a six-month layoff after losing here in the semis last year, Federer has come back fitter, leaner, playing the best tennis of his career at the age of almost 36. He has made a commitment to taking the ball earlier, playing more forward, driving his backhand return, and is able to dominate his opponents with incredible ease and efficiency. His commitment to taking the clay-court season off, and playing a part-time schedule has seen him peak in the big moments and play pressure free tennis, proving that age is just a number. He won his 19th career major and record eighth Wimbledon without dropping a set, a feat which hasn't been done since 1976. Roger Federer continues to leave a legacy that has tennis fans mesmerized and convinced that we will never see a player like him in the next several generations. With the U. S. Open series coming up, a race is looming to see who will finish the year No.1. Federer will probably prioritize his body to make sure he is healthy and can play and win majors for years to come.
Grade: A+
Rafael Nadal
After going on an absolute tear in the clay court season, Nadal once again lost in the first week of the tournament, in a thrilling 4 hr. 48 min marathon with Gilles Muller, a very formidable opponent on the grass. Nadal fought like a lion, and had chances in a marathon fifth set, losing 13-15. Nonetheless, this was his best year at Wimbledon since 2011, when he reached the final. He can be proud of the clean match he played, and just came up short in crucial service games in the first couple of sets. It is still a defeat that stings, but once again Nadal will rebound like the champion he is.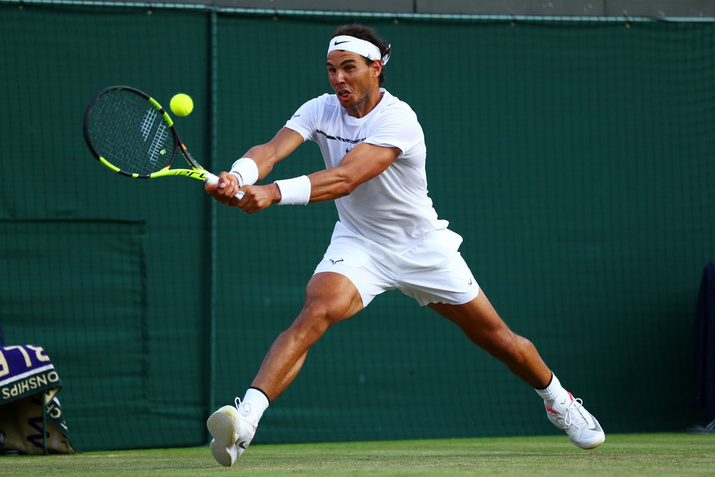 Gilles Muller placed his serve remarkably well, as Nadal stood 10 feet behind the baseline, which cost him the chance to break Muller's serve at crucial junctures in the fifth set. Muller was able to take time away with his slider serve, and execute from inside the court, at the net, and stayed calm and composed in a match where Nadal had the edge in the stats, and total points won. Nonetheless, this Wimbledon run to the 4th round will be a stepping stone to an incredible race to finish the year No.1, a prospect very achievable if he gets on a run like he has done in the past.
Grade: B+
Teaser Image: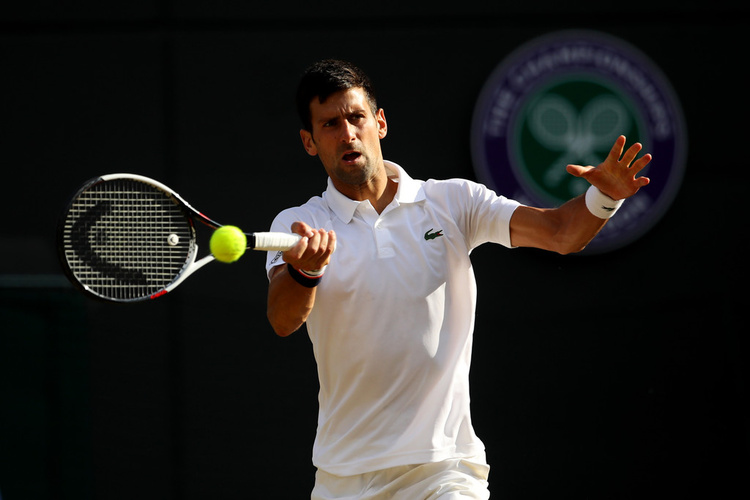 Inline Images: