The US Open is a tremendous opportunity for young Americans to make their mark on the tennis world. The 128-player draw allows for the possibility of favorable matchups, and the prestige and ranking points bestowed on a Grand Slam allows players to quickly make a name for themselves in the tennis world.
Wild cards allow the youngest and least experienced of players to get their chances on the biggest stage. The USTA gives out six wild cards to promising young Americans for the main draw and nine for the qualifying draw. The main draw might be where it is easier for a player to make a run and get some quick early fame, but the players who compete in the qualifying draws are more likely to show us real future potential.
The best qualifiers to check out are those who never before have had the opportunity to compete at this level. The talent difference between their previous competition and now can be a shock to them, but how they react can tell us a lot about their potential future.
Gage Brymer is one of the best tennis players that California high schools have ever seen. His record and his reputation as a local hero already have created a certain status about him. Still, when he got to Kalamazoo for the USTA boys 18 championships (a tournament for 18-year-olds and younger, with the winner being given a wild card into the US Open main draw and the runner-up a wild card into qualifying) as the No. 1 seed, he met his match and then some against Collin Altamirano. Altamirano defeated Brymer 6-0 6-1 in the semifinals and then defeated No. 14 seed Jared Donaldson in the final to book his place in the US Open main draw.
Donaldson, by virtue of being the Kalamazoo runner-up, is in the qualifying draw in New York. Unlike Brymer and Altamirano, he has a bit of experience playing professional players. He defeated Maximiliano Estevez, who was world No. 291 at the time, in a Futures match last year. While Estevez is not quite ranked high enough to be in qualifying at the US Open, it was still a good win over a player with the talent to be in this draw. That match alone gives Donaldson an experience that most of the wild cards in US Open qualifying lack.
There will be two more competitors from Kalamazoo in the qualifying draw, both of whom also have some big-time tennis experience. Noah Rubin, the No. 2 seed in Kalamazoo, reached the final of a Futures tournament a month ago. And, while he never has defeated a top-500 player, Rubin has played more Futures matches and tournaments than most players his age.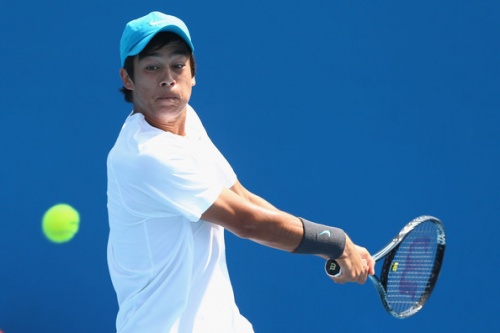 Another highlight of the youngsters in the qualifying draw will be Mackenzie McDonald. McDonald earned his spot by qualifying for Cincinnati last week. After Christian Harrison turned down a wild card because of an injured quad, McDonald was given the opportunity because of his impressive run in Cincinnati. He definitely has the ability to play with the players in qualifying, but he needs a little more strength and power before he can compete consistently on the tour.
The United States has some other young up-and-comers above the age of 18 who will be competing in qualifying in New York as well. Mitchell Krueger has been steadily rising up the rankings while playing Futures tournaments for the past year. Krueger had an impressive run at the Binghamton Challenger last month and has the talent to compete with many players at this level. Dennis Novikov, who shocked Jerzy Janowicz in the main draw last year after having received a wild card, will be in the qualifying draw this year. He has struggled since the Janowicz upset, but he has shown flashes of talent and maybe he can find last year's New York magic again.
The second place to look for young Americans, aside from Kalamazoo, is in the ranks of NCAA tennis. Jarmere Jenkins, by being this year's NCAA national runner-up, received a wild card into qualifying. Usually a wild card is given to the champion, but this year's champion (Blaz Rola) is not American, so the wild card went to Jenkins instead. Jenkins has been very impressive in both NCAA play and on the Futures tour and definitely has the skills to compete at this level.
Tennys Sandgren and Austin Krajicek are two former NCAA top players that are each working their way up the ATP rankings. Sandgren has been in a bit of a slump for parts of this year, but he has impressed on the Futures and Challenger tours, including winning five matches in Lexington last month to qualify and reach the quarterfinals. Krajicek has recently transitioned to the Challenger tour, but he reached the semifinals in Binghamton, defeating two top-200 players along the way.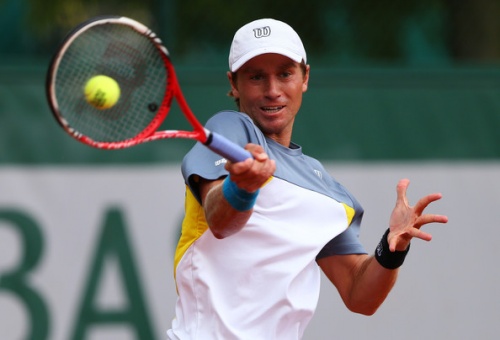 Alex Kuznetsov, heralded nearly a decade ago as a top junior, is finally coming into his own as a player on the Challenger tour. After several disappointing years, Kuznetsov has won two Challenger titles this year and is achieving a new career-high ranking every few weeks now. Despite resting a shoulder injury for the past month, he is seeded in the qualifying draw and thus has a strong chance to qualify for the US Open.
One final American to check out is Bjorn Fratangelo. Fratangelo is the 2011 French Open junior champion and has been very successful these past few years on the Futures tour. His ranking has risen to the edge of the top 300. He has not quite made a smooth transition to playing in Challengers, but he has competed well against Challenger-level players and will have his first real chance to impress us at the top levels in New York.
More familiar Americans competing in the US Open qualifying draw include Wayne Odesnik, Bobby Reynolds, Donald Young, Robby Ginepri, and Jeff Dadamo (the national playoff champion).
Teaser Image:
Inline Images: